Mrs. Bailey to Mrs. Smythe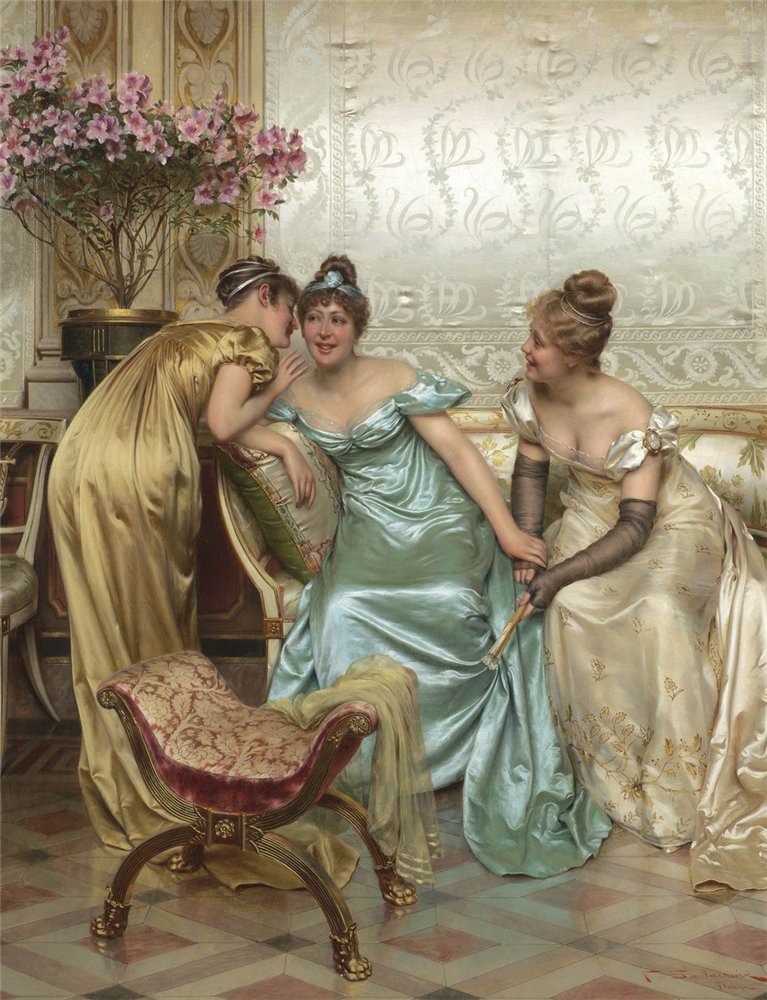 First, my dear friend, I wish to thank you for hosting the Cambridge Wives Monthly Tea last May when I was indisposed. Now my turn has come again and I find myself in a quandary. Do you suppose one is required to invite that woman who dwells at Helsington? Duke's daughter she may be, but I was never comfortable with the woman. Some have hinted we ought to ask her again if only for the titillation (Margaret Evans said that, can you believe it). Mrs. Potter still receives the woman.
Mrs. Smythe to Mrs. Clarke
Poor Maud Bailey seems to feel obliged to invite Lady Georgiana to tea this month. (If "lady" is accurate in her case.) Rumors do swirl, and Maud would get to the bottom of them if she could. She fears Margaret Evans, for one, takes salacious interest. What do you think?
Mrs. Clarke to Mrs. Evans
My dear Margaret, your Christian Righteousness continues to inspire! I understand you wish to invite the Duke of Sudbury's Scandalous Daughter to tea—in order to let her defend against Certain Rumors, of course. I beg you do not push this issue!! I myself saw the truth of the matter. As you well know I live across the lane from Doctor Mallet's recently returned son. Hero and fine soldier he may be, but he is not immune to a Woman's Wiles. I personally witnessed her coming for his bachelor house at various hours. Admittedly it has been in the middle of the day but there is no chaperone in sight. When confronted she claimed she went there for help with her studies, that the man is her tutor. Who could believe such a thing! Greek indeed. She must think we're all Babes to believe such a thing.
Mrs. Evans to Mrs. Bailey
Do not invite That Woman no matter what Molly Harding or Edwina Potter say. We'll all hear what Abigail Clarke has to report.
About the Book
Even poetry, with its musical lyrics and sensual traps, is dangerous when you partner with the love of your life. It can quickly lead past improper to positively scandalous. A battered war hero and an abused woman come together in an emotionally complex story about the seductive power of words and the triumph of love over fear.
Lady Georgiana Hayden learned very young to keep her heart safe. She learned to keep loneliness at bay through work. If it takes a scandalous affair to teach her what she needs to complete her work, she will risk it. If the man in question chooses not to teach her, she will use any means at her disposal to change his mind. She is determined to give voice to the ancient women whose poetry has long been neglected.
Some scars cut deeper than others. Major Andrew Mallet returns to Cambridge a battle scarred hero. He dared to love Georgiana once and suffered swift retribution from her powerful family. The encounter cost him eleven years of his life. Determined to avoid her, he seeks work to heal his soul and make his scholar father proud. The work she offers risks his career, his peace of mind, and (worst of all) his heart. Can he protect himself from a woman who almost destroyed him? Does he want to?
About the Author
Caroline Warfield writes family-centered novels set in the Regency, Late Georgian, and Victorian eras. She lives in quarantine with the love of her life, while writing new stories. A lover of owls, history, and travel, she is also a Bluestocking Belle.