To Claim the Long-Lost Lover
The beauty known as the Winderfield Diamond hides a ruinous secret. Society's newest viscount holds the key.
Sarah Winderfield has refused every suitor since Nathaniel Beauclair convinced her to run away with him seven years ago, and then disappeared without a word or a trace. But now she needs a husband. She has a child to love and to protect, and the child needs a father.
Dragged back to England to feed his father's pride in family, Nate refuses to give into the man's demands that he take a wife. Those who beat and abducted him seven years ago said the only woman he will ever love would be married within the month to a husband chosen by her father.
Through a labyrinth of old rumours and new enemies, two long-lost lovers must decide whether or not to claim one another, and win the bright future they both desire.
Buy from Jude: https://judeknight.selz.com/item/to-claim-the-long-lost-lover
Universal link to retailers: https://books2read.com/CMK-Claim
Melting Matilda
Fire smolders under the frost between them.
Can the Ice Maiden Soften the Granite Earl?
Her scandalous birth prevents Matilda Grenford from being fully acceptable to Society, even though she has been a ward of the Duchess of Haverford since she was a few weeks old. Matilda does not expect to be wooed by a worthy gentleman. The only man who has ever interested her gave her an outrageous kiss a year ago and has avoided her ever since.
Can the Granite Earl Melt the Ice Maiden?
Charles, the Earl of Hamner is honour bound to ignore his attraction to Matilda Grenford. She is an innocent and a lady, and in every way worthy of his respect—but she is base-born. His ancestors would rise screaming from their graves if he made her his countess. But he cannot forget the kiss they once shared.
Buy from Jude: https://judeknight.selz.com/item/melting-matilda-the-granite-earl-and-the-ice-princess
Universal link to retailers: https://books2read.com/MeltingMatilda

To Mend the Broken-Hearted
Ruth is a healer, not a social gadfly. She's glad to leave the foreign world of the ton to run an errand for her sister-in-law. She doesn't expect to be caught up in a smallpox epidemic, nor to meet the man of her dreams.
War and betrayal have wounded Val beyond bearing. The woman who arrives at his retreat with patients who need shelter says she's a healer. But he is beyond healing. Isn't he?
Buy from me: https://judeknight.selz.com/item/to-mend-the-broken-hearted
Universal link to retailers: https://books2read.com/Broken-Hearted
Chasing the Tale
Escape into another place and time just long enough for a lunch or coffee break in eleven short stories… from the imagination of award-winning author Jude Knight. Nine Regency plus one colonial New Zealand and one medieval Scotland. Multiple tropes, catastrophes and barriers on the way to a happy ending.
Buy from me: https://judeknight.selz.com/item/chasing-the-tale
Universal link to retailers: https://books2read.com/chasingthetale
To Wed a Proper Lady
Everyone knows James needs a bride with impeccable blood lines. He needs Sophia's love more.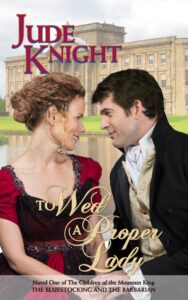 James must marry to please his grandfather, the duke, and to win social acceptance for himself and his father's other foreign-born children. But only Lady Sophia Belvoir makes his heart sing, and to win her, he must invite himself to spend Christmas at the home of his father's greatest enemy.
Sophia keeps secret her tendre for James, Lord Elfingham. After all, the whole of Society knows he is pursuing the younger Belvoir sister, not the older one left on the shelf after two failed betrothals.
Buy from me: https://selz.co/EyzqVi$v-
Universal link to retailers: https://books2read.com/CMK-ProperLady
Paradise Regained
In discovering the mysteries of the East, James has built a new life. Will unveiling the secrets in his wife's heart destroy it?
James Winderfield yearns to end a long journey in the arms of his loving family. But his father's agents offer the exiled prodigal forgiveness and a place in Society — if he abandons his foreign-born wife and children to return to England.
With her husband away, Mahzad faces revolt, invasion and betrayal in the mountain kingdom they built together. A queen without her king, she will not allow their dream and their family to be destroyed.
But the greatest threats to their marriage and their lives together is the widening distance between them. To win Paradise, they must face the truths in their hearts.
This novella is prequel to The Children of the Mountain King series. It was first published in the Bluestocking Belle's 2017 Christmas collection, Follow Your Star Home.
Buy from me: https://judeknight.selz.com/item/paradise-regained
Universal link to retailers: https://books2read.com/paradiseregained
Unkept Promises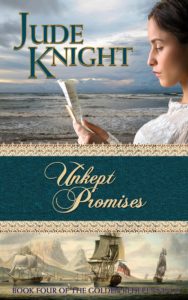 She wants to negotiate a comfortable marriage; he wants her in his bed
"… oaths and anchors equally will drag: naught else abides on fickle earth but unkept promises of joy." Herman Melville
Naval captain Jules Redepenning has spent his adult life away from England, and at war. He rarely thinks of the bride he married for her own protection, and if he does, he remembers the child he left after their wedding seven years ago. He doesn't expect to find her in his Cape Town home, a woman grown and a lovely one, too.
Mia Redepenning sails to Cape Town to nurse her husband's dying mistress and adopt his children. She hopes to negotiate a comfortable married life with the man while she's there. Falling in love is not on her to-do list.
Before they can do more than glimpse a possible future together, their duties force them apart. At home in England, Mia must fight for the safety of Jules's children. Imprisoned in France, Jules must battle for his self-respect and his life.
Only by vanquishing their foes can they start to make their dreams come true.
Books2Read: books2read.com/Unkept-Promises
Jude's Bookshop: https://judeknight.selz.com/item/unkept-promises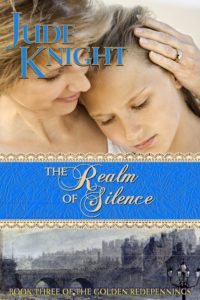 The Realm of Silence
Susan Cunningham's pleasant life as a fashionable, dashing, and respectable widow is disrupted when her daughter disappears from school, chasing a French spy up the Great North Road. When Susan sets out after her, her childhood friend and adult nemesis, Gil Rutledge, insists on coming too.
Gil Rutledge has loved Susan since she was ten and he a boy of twelve, despite her clear wish to have nothing to do with him. If he can serve her by rescuing her daughter, he will. And if their old friendship can be revived, even better. He has no right to ask for more.
Gil and Susan must overcome danger, mystery, ghosts from the past, and their own pride before their journey is complete.
Buy links on my website: http://judeknightauthor.com/books/the-realm-of-silence/
A Raging Madness
Ella survived an abusive and philandering husband, in-laws who hate her, and public scorn. But she's not sure she will survive love. It is too late to guard her heart from the man forced to pretend he has married such a disreputable widow, but at least she will not burden him with feelings he can never return.
Alex understands his supposed wife never wishes to remarry. And if she had chosen to wed, it would not have been to him. He should have wooed her when he was whole, when he could have had her love, not her pity. But it is too late now. She looks at him and sees a broken man. Perhaps she will learn to bear him.
In their masquerade of a marriage, Ella and Alex soon discover they are more well-matched than they expected. But then the couple's blossoming trust is ripped apart by a malicious enemy. Two lost souls must together face the demons of their past to save their lives and give their love a future.
Smashwords • iBooks • Barnes and Noble • Follow me on Amazon
Revealed in Mist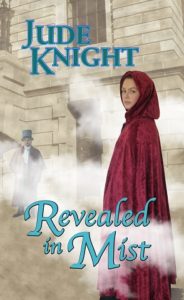 Prue's job is to uncover secrets, but she hides a few of her own. When she is framed for murder and cast into Newgate, her one-time lover comes to her rescue. Will revealing what she knows help in their hunt for blackmailers, traitors, and murderers? Or threaten all she holds dear?
Enquiry agent David solves problems for the ton, but will never be one of them. When his latest case includes his legitimate half-brothers as well as the lover who left him months ago, he finds the past and the circumstances of his birth difficult to ignore. Danger to Prue makes it impossible.
Amazon Kindle • Amazon Print • Smashwords • iBooks • Barnes and Noble • Follow me on Amazon
Gingerbread Bride
Traveling with her father's fleet has not prepared Mary Pritchard for London. When she strikes out on her own, she finds adventure, trouble, and her girlhood hero, riding once more to her rescue. (Novella, first published in Mistletoe, Marriage, and Mayhem)
Gingerbread Bride is a prequel to The Golden Redepennings series.
Apple iBooks * Amazon print * Amazon Kindle *
Smashwords
Hand-turned Tales
Hand-Turned Tales is designed so that readers can try my story-telling before they buy my other books. Or, if you already like my books, enter my fictional world again in four different situations.
In The Raven's Lady, Felix returns home in disguise after 13 years. He plans to catch a smuggler then take up his viscountcy. He does not expect the smuggler to be Joselyn, his childhood sweetheart. (Short story: 5,500 words)
In Kidnapped to Freedom, Phoebe is stolen away from her plantation by a handsome masked pirate. (Short story: 5,100 words)
All that Glisters is set in New Zealand in the 1860s, a time when gold miners poured into the fledgling settlement of Dunedin. Rose is unhappy in the household of her fanatical uncle. Thomas, a young merchant from Canada, offers a glimpse of another possible life. If she is brave enough to reach for it. (Short story: 13,000 words)
The Prisoners of Wyvern Castle is a gothic historical romance set in the world of my novels and novella. Rupert has been imprisoned by his wicked sister, and forced to wed. His new wife, Madeline, has likewise been threatened into saying her vows. Forced into marriage, they find love, but can they find freedom before it is too late? The Prisoners of Wyvern Castle is a prequel to Embracing Prudence, due for publication in 2016.  (Novella: 23,500 words)
Barnes & Noble * Amazon Kindle * Apple iBooks * Smashwords
A Baron for Becky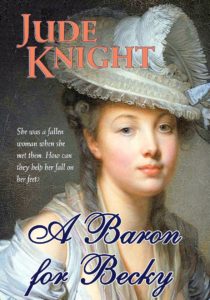 Becky is the envy of the courtesans of the demi-monde – the indulged mistress of the wealthy and charismatic Marquis of Aldridge. But she dreams of a normal life; one in which her daughter can have a future that does not depend on beauty, sex, and the whims of a man.
Finding herself with child, she hesitates to tell Aldridge. Will he cast her off, send her away, or keep her and condemn another child to this uncertain shadow world?
The devil-may-care face Hugh shows to the world hides a desperate sorrow; a sorrow he tries to drown with drink and riotous living. His years at war haunt him, but even more, he doesn't want to think about the illness that robbed him of the ability to father a son. When he dies, his barony will die with him. His title will fall into abeyance, and his estate will be scooped up by the Crown.
When Aldridge surprises them both with a daring proposition, they do not expect love to be part of the bargain.
Barnes & Noble * Smashwords * Apple iBooks * Amazon Kindle • Amazon Print
Candle's Christmas Chair
Candle's Christmas Chair is a sweet traditional novella set in late Georgian England.
A young Viscount, new to his title, comes to buy an invalid chair for his mother, and finds the woman who has been haunting his dreams for three years. He quickly realises that, whatever causes her to flee his courtship three years ago, it wasn't what he'd been told at the time. Now he has until she finishes the chair for his mother to convince her to marry him.
A carriage-maker's daughter, educated beyond her station, once dreamed of stepping into the fairy tale world of the ton, only to have her dreams crushed. Now the man she cannot forget is back, and he seems determined to raise those false hopes all over again. But she only has to hold out until she finishes the chair for his mother, and she can walk away again.
Apple iBooks * Barnes & Noble * Amazon Kindle * Amazon Print * Smashwords
Farewell to Kindness
Rede believes he has turned his back on compassion and mercy. But he is distracted from the hunt for those who killed his family by his growing attraction for Anne. His feelings for her are a weakness. Or could they instead be a source of strength?
Anne protected her family from scandal and worse by changing their identity. Can she keep Rede from discovering who they are? Can she give him her heart without trusting him? Can she trust him when he has closed himself off to love?
When their enemies link forces, Rede and Anne must face the past in order to claim the future.
Apple iBooks * Barnes & Noble * Smashwords * Amazon Kindle * Amazon Print
If Mistletoe Could Tell Tales
(Lunch-time reads collection of already published novellas and novelettes)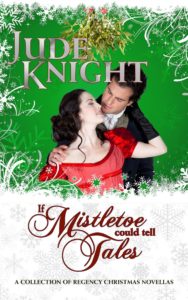 In this 2017 box set, you'll find Jude's four published Christmas novellas plus two Christmas-themed stories from her lunch-length reads collections. All together in one 97,500 word volume for your holiday pleasure.
Candle's Christmas Chair (A novella in The Golden Redepennings series)
They are separated by social standing and malicious lies. How can he convince her to give their love another chance?
Gingerbread Bride (A novella in The Golden Redepenning series)
Mary runs from an unwanted marriage and finds adventure, danger and her girlhood hero, coming once more to her rescue.
Magnus and the Christmas Angel (from Lost in the Tale)
Scarred by years in captivity, Magnus has fought English Society to be accepted as the true Earl of Fenchurch. Now he faces the hardest battle of all: to win the love of his wife.
Lord Calne's Christmas Ruby
Lalamani prefers her aunt's quiet village to fashionable London, its vicious harpies, and its importunate fortune hunters. Philip wishes she wasn't so rich, or he wasn't so poor.

A Suitable Husband
A chef from the slums, however talented, is no fit mate for the cousin of a duke, however distant. But Cedrica can dream. (first published in Holly and Hopeful Hearts, a Bluestocking Belles collection.)

All that Glisters (from Hand-Turned Tales)
Rose is unhappy in the household of her fanatical uncle. Thomas, a young merchant from Canada, offers a glimpse of another possible life. If she is brave enough to reach for it.
Amazon ♣ iBooks ♣ Smashwords ♣ Barnes & Noble
Lord Calne's Christmas Ruby
(Novella)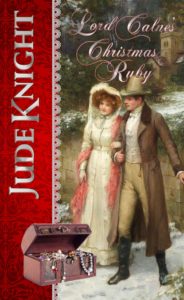 Fashionable London holds nothing for wealthy merchant's niece, Lalamani Finchurch. Except perhaps for an earl with a twisted hand and a charming smile. Why is it that, for all the fortune hunters she has fended off since returning from India, the one man who seems to like her is so against marrying for money?
Philip has inherited an impoverished earldom, but he still has his work as an engineer to fall back on. He doesn't have to sell himself to the highest bidder, and isn't even tempted by the women he meets in Society, until a tiny woman with beautiful eyes and a fine mind dances with him on his last night in London.
When they meet again in a small country village, they join forces to uncover larceny and deceit, to rescue Lalamani's aunt from poverty, and to discover that pride is a poor reason to refuse a love for a lifetime.
Kobo ♣ iBooks ♣ Bares & Noble ♣ Smashwords ♣ Amazon Kindle
Lost in the Tale
(Lunch-time reads collection)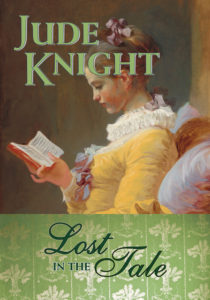 A collection of lunch-length reads: four short stories and a novella. I offer them as a sample of my writing style, the stories I love to tell, and the types of hero and heroine I love creating. I hope you enjoy getting lost in my tales.
The Lost Wife: Teri's refuge had been invaded: by the French, who were trying to conquer their land, and by wounded soldiers from the English forces sent to fight Napoleon's armies. The latest injured man carried to her for nursing would be a bigger challenge than all the rest: he had once broken her heart. (short story)
The Heart of a Wolf: Ten years ago, Isadora lied to save her best friend, and lost her home and the man she loved when he would not listen to her. Ten years ago, Bastian caught his betrothed in the arms of another man, and her guilt was confirmed when she fled. A decade on, anger still burns over the embers of their love, but the lives of innocent children and the future of their werewolf kind demand that they work together. (short story)
My Lost Highland Love: Interfering relatives, misunderstandings, and mistranslations across a language barrier keep two lovers from finding one another again. The Earl of Chestlewick's daughter comes to London from her beloved Highlands to please her father, planning to avoid the Englishman who married her and abandoned her. The Earl of Medford comes face-to-face with a ghost; a Society lady who bears the face of the Highland lass who saved his life and holds his heart. (short story)
Magnus and the Christmas Angel: Scarred by years in captivity, Magnus has fought English Society to be accepted as the true Earl of Halwick. Now he faces the hardest battle of all: to win the love of his wife. A night trapped in the snow with an orphaned kitten, gives Callie a Christmas gift: the chance to rediscover first love with the tattooed stranger she married. (short story)
The Lost Treasure of Lorne: For nearly 300 years, the Normingtons and the Lorimers have feuded, since a love affair ended in a curse that doomed dead Lorimers to haunt their home, the Castle of Lorne.
Now the last Marquis of Lorne, the last of the Lorimers, is one of those ghosts, and the Duke of Kendal, head of the House of Normington, holds the castle.
Kendal doesn't care about the feud or the ghosts. He wants only to find the evidence that will legitimate the son his Lorimer bride bore him before her death, and to convince his stubborn housekeeper to marry him.
But the time allotted to the curse is running out, and his happiness depends on finding the Lost Treasure of Lorne before the 300 years draws to a close. (novella)
Kobo ♣ Amazon ♣ iBooks ♣ Smashwords ♣ Barnes & Noble