A Bluestocking Belles with Friends Collection
When a storm blows off the North Sea and slams into the village of Fenwick on Sea, the villagers prepare for the inevitable: shipwreck, flood, land slips, and stranded travelers. The Queen's Barque Inn quickly fills with the injured, the devious, and the lonely—lords, ladies, and simple folk; spies, pirates, and smugglers all trapped together. Intrigue crackles through the village, and passion lights up the hotel.
One storm, eight authors, eight heartwarming novellas.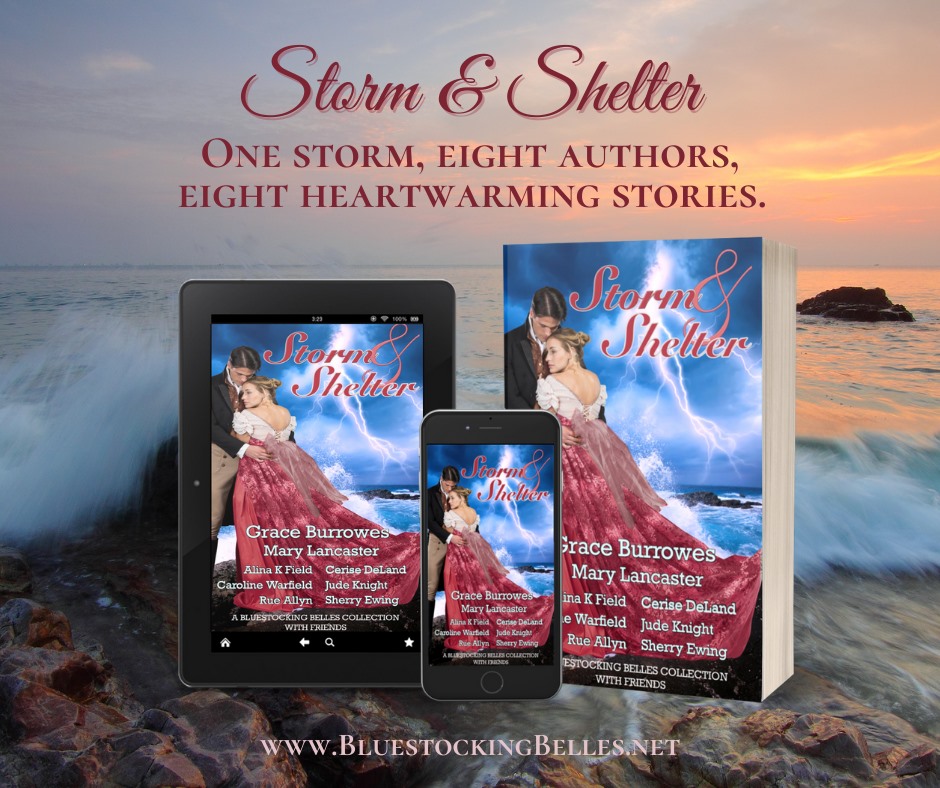 Buy Links:
Amazon US: https://amzn.to/3kgRmLG
Apple Books: https://apple.co/3lZYHja
Barnes & Noble: https://www.barnesandnoble.com/w/storm-shelter-bluestocking-belles/1137958115
Kobo: https://bit.ly/3o0z977
Google books: https://play.google.com/store/books/details/Grace_Burrowes_Storm_and_Shelter?id=TNMhEAAAQBAJ
Books2Read: https://books2read.com/u/38Rr8w
International:
Amazon AU: https://amzn.to/2T3PbPh
Angus & Robertson: https://bit.ly/3kabdvH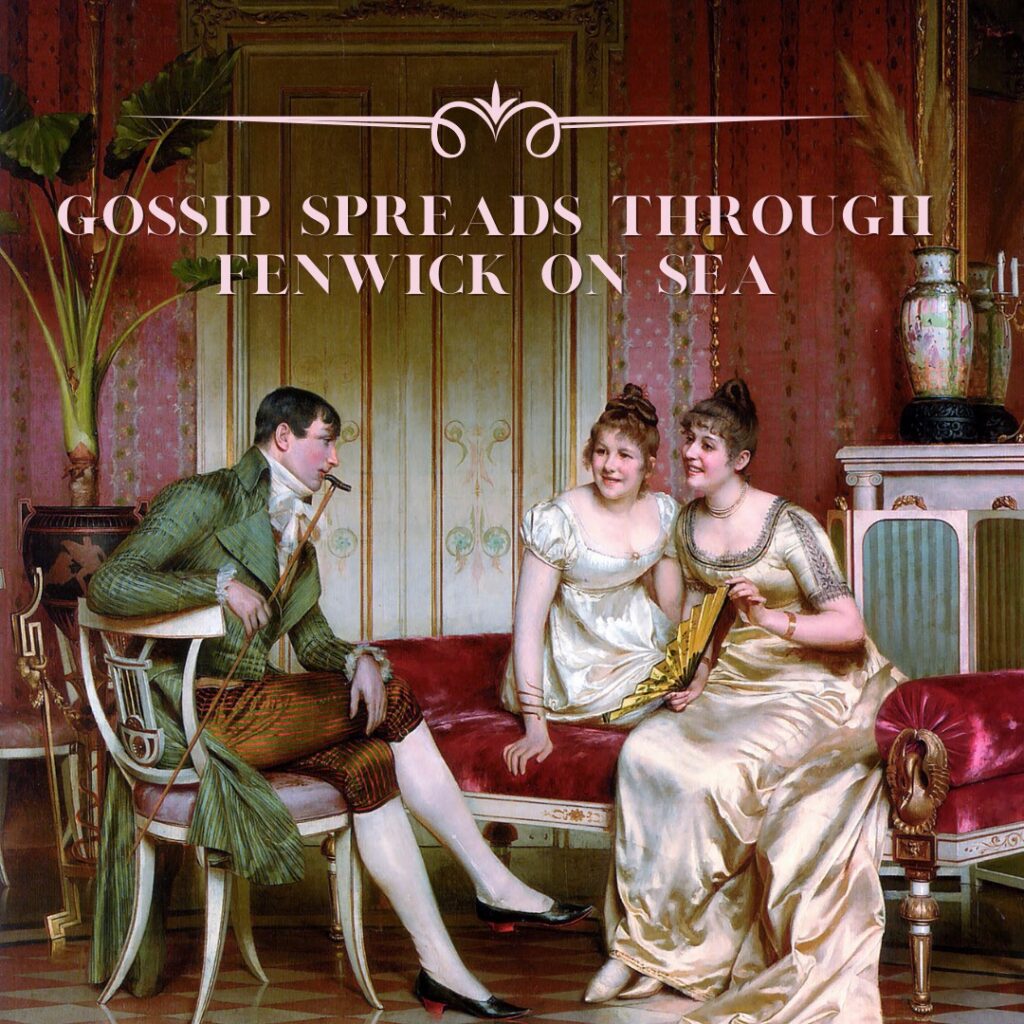 Read on for story blurbs.
An Improbable Hero: Mary Lancaster
A runaway heiress, a mysterious stranger.
When Letty's ship founders in a violent storm, she forges a rare bond with her rescuer.
Simon is a troubled man on a final, deadly mission—until the spirited yet soothing Letty makes him question everything. Hiding in plain sight among the refugees at The Queen's Barque, Simon is more than capable of protecting them both. But when the floods recede, can either of them say goodbye?
Lord Stanton's Shocking Seaside Honeymoon: Cerise DeLand
She is so wrong for him.
Miss Josephine Meadows is so young. In love with life. His accountant in his work for Whitehall. Her father's heir to his trading company—and his espionage network.
Lord Stanton cannot resist marrying her. But to ensure Wellington defeats Napoleon, they must save one of Josephine's agents.
Far from home, amid a horrific storm, Stanton discovers that his new bride loves him dearly.
Can he truly be so right for her?
And she for him?
The Tender Flood: Caroline Warfield
Zach Newell knows Patience Abney is far above his touch. But he has been enchanted by her since she raced out of the storm and into the Queen's Barque with a wagon full of small boys, puppies, and a bag of books. When the two of them make their way across the flooded marsh to her badly damaged school in search of a missing boy, attraction deepens. She risks scandal; he risks his heart.
Before I Found You: A de Courtenay Novella By Sherry Ewing
A quest for a title. An encounter with a stranger. Will she choose love?
Miss Miranda de Courtenay has only one goal in life: to find a rich husband who can change her status from Miss to My Lady.
Captain Jasper Rousseau has no plans to become infatuated during a chance encounter at a ball.
Their connection is hard to dismiss, despite Miranda's quest for a title at all cost. What if the cost includes love?
The Comtesse of Midnight: Alina K. Field
A Scottish Earl on a quest for the elusive Comtesse de Fontenay rescues a French lady smuggler from the surf during a devastating storm, and takes shelter with her. As the stormy night drags on, he suspects his companion knows the woman he's seeking, the one who holds the secret to his identity. When she admits she is, in fact, the Comtesse Fontenay, just not the one he's seeking, she dashes all his hopes—and promises him new ones.
Wait for Me: Rue Allyn
Enemies by nature—Esmeralda Crobbin, aka the pirate Irish Red, and Captain, Lord Brandon Gilroy have met before.
Fate trumps nature—When a fierce storm creates a chance encounter and forced proximity, Brandon learns the pirate is a woman of serious honor and responsibility. Esmeralda discovers the captain is more than a uniform stuffed with rules and regulations. Both love the sea with boundless passion, but can they love each other?
A Dream Come True: By Jude Knight
The tempest that batters Barnaby Somerville's village is the latest but not the least of his challenges.
Vicar to a remote parish, he stretches his tiny stipend to adopt his orphaned niece and nephew and his time to offer medical care as well as spiritual. A wife is a dream he cannot afford.
But the storm sweeps into his life a surprising temptation—a charming young woman who lavishes her gentle care upon his wards—and him.
God knows, he will forever be richer for having known her, even if he must let her go.
A Kiss by the Sea: Grace Burrowes
He's not really a blacksmith, and she's not really an heiress… Can they forge a happily-ever-after anyway?
Thaddeus Pennrith finds a way to recover from multiple griefs when he accepts the blacksmith's post at Fenwick on Sea. Village life gives him a sense of belonging that Polite Society never could, though he must resume his aristocratic responsibilities soon. Along comes Lady Sarah Weatherby, refugee from an engagement gone badly awry, and Thaddeus is faced with both a compelling reason to reveal his titled antecedents, and a longing to keep them forever hidden….