Non-Fiction
Ackermann's Repository Fashion Prints
Featuring almost 500 illustrations, this compilation of historical fashion plates from Ackermann's Repository of Arts offers readers a visual timeline of English women's dresses from 1809 through 1828. Ideal reference book for Regency romance authors, artists, and fashion and costume designers. SEVEN digital and print versions available. Click here for detailed information.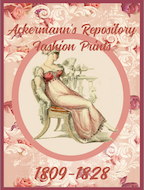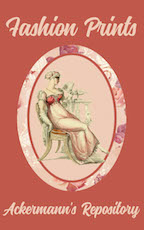 Regency Romance
The Marriage Obligation
Book 4 of the The Marriage Maker Goes Undercover
At eighteen years old, Cornelia Hardcastle discovered an ugly family secret that caused her to decide against ever marrying. Now that she's reached the age of twenty-four, her parents have decided it's time for her to marry. The sooner the better. The second son of a viscount, Preston Warrington has always been content to leave the estate business to his older brother so that he could follow his penchant for adventure. Now that he has returned home from his service to the Crown as a spy, however, his family has decreed that he must marry and settle down. The notorious Marriage Maker suggests that these two marriage-averse individuals should marry each other, and after the initial shock, it doesn't seem like such a bad idea. Little does anyone know that their whirlwind courtship and marriage is not what it seems.
Treasuring Theresa
Book 1 of the Hertfordshire Hoydens
Lady Theresa despises London society. What's worse is that she has to attend the betrothal ball of the young man she expected to marry. To deflect all the pitiful glances from the other guests, she makes a play for the most striking gentleman there—who happens to be her Cousin Damian, who is everything she despises.
Damian, Lord Clinton sees a desperate young lady with no social graces, and it solidifies his opinion that country folk are beneath him. But it so happens that he is the heir to that young lady's father's title and estate, and the time comes when he finds himself obliged to spend some time there.
Thrown together, both Damian and Theresa discover each other's hidden depths. But are their differences too much to overcome to make a successful match?
Kindle • iBooks • Kobo • Nook • Print
Valuing Vanessa
Book 2 of the Hertfordshire Hoydens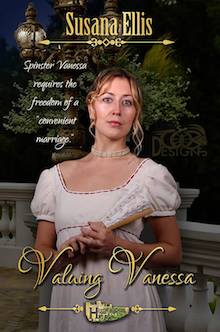 Facing a dim future as a spinster under her mother's thumb, Vanessa Sedgely makes a practical decision to attach an amiable gentleman who will not try to rule her life.
The last thing widower George Durand thinks he wants is another wife, but his difficult daughter is proving difficult to handle. In any case, the admirable Miss Sedgely is far too young for him. A love match is not even a remote consideration for these two. Or is it? This story originally appeared in Holly and Hopeful Hearts, the 2016 holiday anthology of the Bluestocking Belles.
Amazon • Barnes & Noble • Kobo • iBooks • Print
A Twelfth Night Tale
A Tale of Romance and Christmas Traditions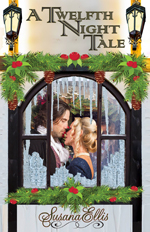 Without dowries or the opportunity to meet eligible gentlemen, the five Barlow sisters stand little chance of making advantageous marriages. But when the eldest attracts the attention of a wealthy viscount, it seems as though Fate is smiling upon them. Lucy knows she owes it to her sisters to encourage Lord Bexley's attentions, since marriage to a peer will secure their futures as well as hers. The man of her dreams was Andrew Livingston, her best friend's brother. But he's always treated her like a child, and now he's betrothed to another. Perhaps the time has come to accept reality… and Lord Bexley. Andrew returned from the Peninsular War with a lame arm and emotional scars. Surprisingly, it's his sister's friend, "little Lucy," who shows him the way out of his melancholy when he notices that Lucy has grown up into a lovely young woman. But with an eligible viscount courting her, Andrew will need a little Christmas magic to win her for himself.
Kindle • iBooks • Kobo • Nook • Print
Lost and Found Lady
A Tale of Love Lost and Found Through Armed Conflicts
A heroic father loses his wife and unborn child amidst the violence of the French Revolution.  A Spanish peasant girl and a wounded British soldier fall in love after the Battle of Salamanca, but are separated by circumstances. By the time they meet again in the chaotic Belgian capital prior to a prominent battle, both of their circumstances have changed dramatically. Is their love strong enough to weather the storms ahead?
Kindle • Print • Nook • Kobo • iBooks
The Third MacPherson Sister
A Wallflower Romance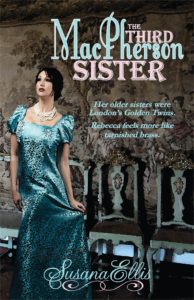 Rebecca's older sisters took the ton by storm while she herself has failed to attract a suitor in four Seasons. Miles is pondering his urgent need for a wife when Rebecca lands in his lap in the nave of Bath Abbey. A match between them seems ordained by the heavens… except for the little matter of his past history with her sisters. Originally published in 2015 in Sweet Summer Kisses.
Kindle • iBooks • Kobo • Nook • Print
Regency Time Travel
The Ultimate Escape
Book 1 of The Lady P Chronicles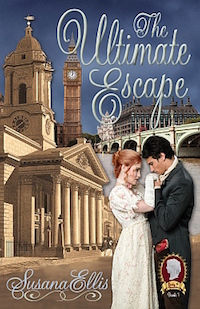 On the eve of her wedding, Julia realizes she cannot marry her fiancé after all, no matter that it's been her dream for eight long years. Too distraught to face him, she follows in her mother's footsteps and flees to the future for a brief reprieve. Oliver knows he has bungled things badly, but he is determined to win the woman he loves, even if he must travel through time to do it.
Kindle • iBooks • Kobo • Nook • Print
A Home for Helena
Book 2 of The Lady P Chronicles
Believing that she has been misplaced in time, Helena Lloyd travels back two hundred years in an attempt to find out where she belongs.
Widowed father James Walker has no intention of remarrying until he makes the acquaintance of his daughter's lovely new governess.
Lady Pendleton, a time-traveling Regency lady herself, suspects that these two belong together. First, however, she must help Helena discover her true origins—and hopefully, a home where she belongs.