Deceiving The Duke (Gems of London Book 1
)
Hate brought them together. Will love tear them apart?
Welcome to book 1 in the exciting new series from USA Today Bestselling Author Elizabeth Ellen Carter.
William Musgrave, Duke of Auchen, is dying. When he goes to his grave, he will take with him the opportunity to right a wrong that has left Lady Ruby McAllister impoverished.
Ruby has the contract that pledged her father a one-third share in a successful Scottish textile mill. But Auchen never made good on his promise before Ruby's father died. Now Ruby has lost her beloved Strathaird, home to the McAllisters for centuries. Her only hope is to confront the duke before he dies. And her chance comes when a vacancy arises for a new night nurse in his London household.
Standing in her way is Seth Musgrave, the duke's estranged son, who despises his father for deriding him as an imbecile. In truth, Seth is the driving force behind his father's successful enterprise. William Musgrave has heeded no one in his life except for his wife. She died twenty years ago, but Ruby hears him call for her in his nightly delirium.
What if Ruby answered his call, pretending to be the only woman who could ever persuade the duke to do the right thing?
How long can Ruby keep her secret when Seth is trying to distract her with his kisses? And what if Seth learns the woman he's falling in love with is deceiving the Duke?
Available from Amazon.
The Lyon Sleeps Tonight (A Lyon's Den Connected Story)
Love is just a whim away…
Free-spirited Opal Jones and straight-laced Peter Ravenshaw are childhood friends growing up in India, away from the structured mores of English society.
But all good things must come to an end. The friends are sent to England and go their separate ways. Years pass but not Opal's love for Peter. Opal is determined to get her man, but she will need the help of Lady Dove-Lyon, the most notorious matchmaker in London.
The Lyon's Den will host a most unusual game: He who can stay awake the longest, wins the hand of the fair Miss Opal Jones.
Peter is horrified that his beautiful, headstrong friend would give herself away on a game of chance, not realizing that Opal already holds all the cards.
Available from Amazon.
Spy Another Day (The King's Rogues Book 3)
He is a dangerous man. And his darkness runs deep…
Book 3 is now available in The King's Rogues series. Read for FREE with Kindle Unlimited!
Reduced to genteel poverty following the closure of the family's Cornish tin mine, Alexandra Gedding and her twin are saved from the wrath of angry, unpaid workers by the timely intervention of a secretive stranger.
David Manston, the disgraced Baron of Carreg, lives as a hermit in a clifftop cottage, his true identity unknown to everyone in the village – just as he prefers. His offer of mediation was to be a one-time act of kindness, but it does not stop Allie trying to pry into his past nor lessen his own attraction to the beautiful gentlewoman.
In the midst of strange happenings at the rundown mine, a figure emerges from Allie's childhood – her notorious godmother, Lady Abigail, who possesses the means to lay bare David Manston's darkest secret…
Will the truth bring Allie into his arms, or drive her away for good?
Available from Amazon.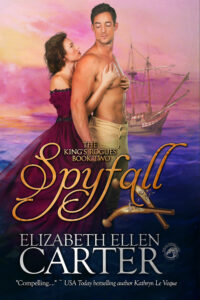 Spyfall (The King's Rogues Book 2)
A dangerous love – who will be first to fall?
Cornwall, 1805
Rescued from a French prison by a mysterious benefactor, smuggler Nathaniel "Nate" Payne returns home to Cornwall a nearly broken man. He hopes to recover at his old haunt, but The Queen's Head Inn has a new owner.
Susannah Linwood is a young widow with a dark secret fleeing a brutal past. She has made an honest success of the inn and intends to keep it that way, and not fall in with the likes of Nate. Even so, their mutual attraction is hard to deny. But Nate's former lover, the local magistrate's wife, schemes to uncover Susannah's secrets.
To ease his conscience at surviving when so many did not, Nate writes to the family of a fellow English prisoner, not realizing it is a coded message for The King's Rogues that brings Lieutenant Adam Hardacre to The Queen's Head. While Hardacre recruits Nate into The King's Rogues, Susannah learns a figure from her past is threatening blackmail, and worse, over the circumstances of her husband's death.
Persuaded to return to France to evacuate stranded English agents, Nate realizes there may be a more pressing rescue mission at home with Susannah's very life at stake.
Available from Amazon.
Live And Let Spy (The King's Rogues Book 1)
England, 1804
Refused his rightful promotion, Adam Hardacre quits the Royal Navy in disgust and is quickly approached with an intriguing proposition to serve his country undercover.
His first assignment takes him home to Cornwall to expose traitors plotting a French invasion of England. There, he meets newly unemployed governess, Olivia Collins, who has stumbled upon a hidden secret from Adam's past – his youthful summer love affair with the local squire's daughter. It is a tragic history that brings Adam and Olivia closer than is wise.
However, with the attraction deepening to something more, neither realize that Olivia unwittingly holds the key to his mission.
As Adam infiltrates the plot, Olivia finds out the shocking truth behind his lost love's death many years ago, and both their lives are in danger. But their growing relationship is clouded by suspicion. Who can and cannot be trusted – anyone or no one?
Or… even each other?
Available from Amazon.
Shadow of the Corsairs (Heart of the Corsairs Book 3)
The Past Casts a Shadow Over a Second Chance For Love….
Palermo, 1810
Morwena Gambino is struggling to keep her family's business going against mounting troubles. Her widowed father, once shrewd, is now increasingly forgetful, letting debts mount and disavowing his sons. Morwena runs the shop behind his back, forced to hide her enterprise not only from her father but also her bitter older brother.
In Tunisia, Tewodros "Jonathan" Afua is struggling to stay alive. Once an Ethiopian prince, he is a captive of the corsairs who slaughtered his wife and children. When a US naval bombardment provides an opening for escape, Jonathan falls in with a seemingly deranged English pirate. Aboard Kit Hardacre's rundown ship with its ragtag crew, Jonathan learns the real reason he was taken by slavers.
Reluctantly joining Hardacre's crew, he meets Morwena in Palermo. The fiery young Sicilian woman is the opposite of his quiet reserve, but he is attracted to her despite mourning for his late wife. As he and Morwena grow closer, it emerges that they have something in common – secret betrayal by those close to them – and they must count what they're willing to risk for a future together.
Available from Amazon.
Revenge of the Corsairs (Heart of the Corsairs Book 2)
Heav'n has no Rage like Love to Hatred turn'd,
Nor Hell a Fury like a Mother scorn'd.
Rescued after two years as a concubine in an Ottoman harem, former debutante Laura Cappleman faces a difficult journey back to normal life. As she travels to Palermo aboard Kit Hardacre's ship, the Calliope, she is deeply traumatized – and pregnant by her kidnapper.
Laura rejects the emotional support of her long-time admirer, Calliope First Officer Elias Nash, and her cousin, Sophia, Kit's wife. She withdraws into herself and her art. Finally, after giving birth, she decides to return to London, hoping to erase tormented memories.
Emir Selim Omar died on the day of Laura's rescue, but his wickedness lives on in his third wife, Rabia, in whose household Laura was held. The ruthless widow may yet hold on to the power she wielded as mother to the Emir's only male heir. However, as opportunists pick his empire apart, her child dies.
When Rabia learns Laura has given birth to a boy, the solution is obvious – the concubine is stolen property and so is the child sired by her late husband. She will take the boy and kill anyone in the way.
As Rabia's assassins close in, Elias – both embraced and rejected by the damaged woman he loves, uncertain she will ever return, and alone in Palermo with the child he has given his name – must take the battle to the enemy. Otherwise, there may be nothing for Laura to come home to.
Available from Amazon.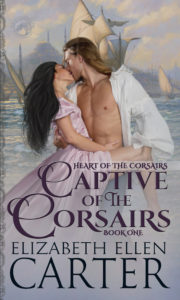 Captive of the Corsairs (Heart of the Corsairs Book 1)
Bluestocking Sophia Green's future is uncertain. Orphaned as a child and raised by the wealthy Cappleman family, she has become the companion to her attractive younger cousin, Laura, while harboring to her breast an unrequited love for Laura's diffident brother.
Sea captain Kit Hardacre's past is a mystery – even to him. Kidnapped by Barbary Coast pirates at the age of 10, he does not remember his parents or even his real name. All he recalls are things he would rather forget.
When Laura's reputation is threatened by a scandal, Sophia suggests weathering the storm in Sicily with their elderly uncle, a prominent archaeologist.
Their passage to Palermo is aboard Hardacre's ship, but the Calliope, like its captain, is not all it seems. Both have only one mission – to rid the world of the evil pirate slaver Kaddouri or die in the attempt.
Initially disdainful of the captain's devil-may-care attitude, Sophia can't deny a growing attraction. And Kit begins to see in her a woman who could help him forget the horrors of his past.
Sophia allows herself to be drawn into the shallows of Kit's world, but when the naive misjudgment of her cousins sees Laura abducted, Sophia is dragged into dangerous depths that could cost her life or her sanity in a living hell.
Available from Amazon.
Dark Heart
Can love survive a dark heart?
Rome, 235 A.D.
A series of ritual murders of young boys recalls memories of Rome's most wicked emperor. Magistrate Marcus Cornelius Drusus has discovered the cult extends to the very heart of Roman society.
Despite his personal wealth and authority, Marcus is a slave to his past – conflicted by his status as an adopted son, bitterly betrayed by his wife and forced to give up his child.
Kyna knows all about betrayal. Sold into slavery by her husband to pay a gambling debt, she found herself in Rome, far from her home in Britannia. Bought by a doctor, she is taught his trade and is about to gain her freedom when her mentor is murdered by the cult.
When the same group makes an attempt on her life, Kyna is forced to give up her freedom and accept Marcus' protection. With no one to trust but each other, mutual attraction ignites into passion.But how far will Marcus go for vengeance when he learns the cult's next victim is his son?
Can the woman who is free in her heart heal the man who is a slave in his?
Available from Amazon
The Thief of Hearts
December 1890
London, England

Some seriously clever sleight of hand is needed if aspiring lawyer Caro Addison is ever going to enjoy this Christmas.
To avoid an unwanted marriage proposal, she needs a distraction as neat as the tricks used by The Phantom, the audacious diamond thief who has left Scotland Yard clueless.
While her detective inspector uncle methodically hunts the villain, Caro decides to investigate a suspect of her own – the handsome Tobias Black, a magician extraordinaire, known as The Dark Duke.
He's the only one with the means, motive and opportunity but the art of illusion means not everything is as it seems, in both crime and affairs of the heart.
As Christmas Day draws near, Caro must decide whether it is worth risking reputations and friendships in order to follow her heart.
Available From
Nocturne
In her first posting as governess, Ella Montgomery discover beautiful Blackheath Manor hides family secrets and suppressed passions.
Mysterious music in the darkness of night draws Ella to the talented Thomas Worsley, the brother of her employer, the Earl of Renthorpe.
Grievously wounded in the Napoleonic Wars that killed his beloved twin brother, Thomas is held prisoner at Blackheath by more than his blindness and scars.
Fuelled by a bitter jealousy, the Earl has ensured Thomas is only a memory, his name etched on a marble memorial in the Bedfordshire village graveyard.
Drawn together by their love of music, Ella and Thomas begin a clandestine affair, but how far will the Earl go to keep his family's secret?
Available From
Warrior's Surrender

Northumbria, 1077. In the years following William the Conqueror's harrying of the North, Lady Alfreya of Tyrswick returns to her family home after seven years in exile. But instead of returning victorious as her dead father had promised, she returns defeated by Baron Sebastian de la Croix, the Norman who rules her lands.
To save her gravely ill brother's life, Alfreya offers herself hostage to her enemy. As Alfreya gets to know her new husband, she finds he's not the monster she feared, and their marriage of convenience soon becomes a bond of passion. But Sebastian is a man with a secret—one that could destroy him.
As a series of brutal murders haunt their nights, the man who betrayed Alfreya's father returns claiming to be her betrothed. He has learned Sebastian's secret and will use it to further his own ambition—using Sebastian's own family—which will destroy Sebastian and mark him a traitor, and plunge an unprepared England into war with the Scots…
Available From
Moonstone Conspiracy


For her unwitting participation in a plot to embezzle the Exchequer, Lady Abigail Houghall has spent the last two years exiled to the city of Bath.
A card sharp, sometime mistress, and target of scandalous gossip by the London Beau Monde, Lady Abigail plots to escape her gilded cage as well as the prudish society that condemns her. But the times are not easy.
France is in chaos. The king has been executed, and whispers of a similar revolution are stirring in England.
And because of her participation in the robbery plot, the Spymaster of England is blackmailing her into passing him information about the members of London's upper crust.
When the dashing English spy Daniel Ridgeway takes a seat at her card table and threatens to expose her for cheating, she has no choice but to do as he demands: seduce the leader of the revolutionaries and learn what she can about their plot.
As she's drawn deeper into Daniel's dangerous world, from the seedy backstreets of London to the claustrophobic catacombs of a war-torn Paris, she realizes an even more dangerous fact.
She's falling in love with her seductive partner. And the stakes of this game might just be too high, even for her.
The sequel to Moonstone Obsession weaves a story of rejection, romance and redemption where the stakes are life itself.
Available From
Moonstone Obsession is a historical romance set in England in 1790: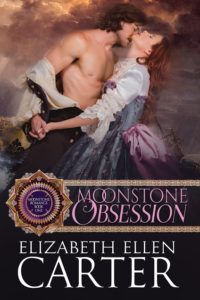 For Sir James Mitchell, Lord of Penventen, it was a toss of a coin between which was more dangerous – being a spy or being considered husband material by the Ladies of the Ton.
With high stakes political machinations threatening to draw England into the violent wake of the French Revolution, the last thing James expected was to fall in love with Selina Rosewall, daughter of an untitled seafaring family.
From the privileged world of London society and the wild, dangerous beauty of the Cornish coast to the seething heart of revolutionary Paris, James reluctantly draws Selina deeper in a world of secrets, lies and scandals that threaten England itself.
Available From