The Wildfire Love Series
One Moment's Pleasure ~ San Francisco, 1870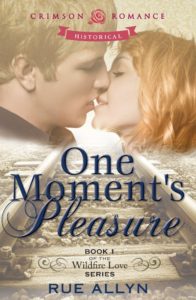 One Moment's Pleasure will become a lifetime's passion when spinster, Edith Alden, embarks on a search for her missing sister.  Pretending to be a rich bored woman looking for an interlude with an anonymous male Edith enters the San Francisco bordello where her sister was last seen. She escapes the bordello almost too easily, but she can't escape the passion ignited by a stranger's kiss. ~ ~ ~ Born and raised in the brothels of the California gold rush, Dutch Trahern worked for years to erase a childhood spent committing petty crimes and worse in order to survive. That past comes back to haunt him in the form of a woman he rescues from prostitution. Now his hard won respectability is threatened by an irresistible desire for a woman he shouldn't want.
Amazon   B&N   KOBO   Crimson Romance
ISBN: 9781440565441   ASIN: B00BFCUTSA
One Night's Desire ~ Wyoming 1870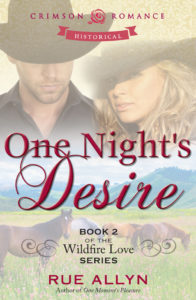 A WOMAN ON THE RUN ~ Rustlers, claim jumpers and fire, nothing will stop Kiera Alden from reuniting her family.  But an accusation of murder threatens her dreams and sets Marshall Evrett Quinn on her trail.  She may be able to escape prison bars and eventually prove her innocence, but she can't escape Quinn's love. A LAWMAN IN HOT PURSUIT ~ Marshall Evrett Quinn is relentless in pursuit of law-breakers, and pretty Kiera Alden is no exception.  Clever and courageous, she evades him until chance encounter turns the tables.  Finally he has this elusive desperado under arrest, but success is bittersweet when she captures his heart.
Amazon   B&N   KOBO   Crimson Romance
ISBN: 978-1-4405-6718-6   ASIN: B00DL3ALFC
One Day's Loving ~ Boston, 1870
Persephone Mae Alden is the invisible Alden sister, quiet, industrious, generous, kind-hearted, loyal and reliable.  The words used to describe Mae remind her of a well-trained dog.  She's not happy about it, but what can she do?  She likes her quiet life and would be seriously upset if she had to defy convention like Caitlyn or act on instinct like Alexis. But everything changes when necessity forces her to bravery and she must choose between love and family.
A horrifying bequest convinces attorney James W. Collins V that Mae Alden needs a husband, and she's just the type of wife he wants. The two of them will be a perfect match. Refusing his offer makes no sense, so why won't the woman accept?
Amazon   B&N   KOBO   Crimson Romance
ISBN: 978-1-4405-6719-3   ASIN: B00FWYXDX0
The Knight Chronicles
Knight Errant ~ Italy, France, England 1294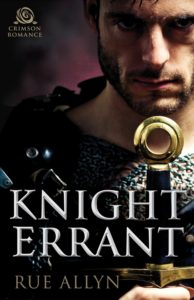 If Sir Robert Clarwyn can't find a way to compel Lady Juliana Verault to return to England, he'll lose any chance of regaining his family lands and redeeming his heritage. Yet Juliana must complete her mission or endanger her gender's future in the church. With danger and intrigue mounting, Robert and Juliana must rely on each other and risk everything … including their hearts.
Amazon    B&N   KOBO   Crimson Romance
ISBN: 978-1-4405-9261-4   ASIN: B013KYA1R4
Knight Protector ~ Scotland, 1295
Sir Colin Marr left his highland home believing he would never again see the woman he loved. Returning in search of traitors to Scotland, he discovers Sorcha MacKai is now his brother's widow. Colin convinces her to help him find the traitors, but can he convince her to trust him with her heart.
Amazon   B&N   KOBO   Crimson Romance 
ISBN: 978-1-4405-9693-3   ASIN: B01AOH6KJ8
Knight Defender ~ Scotland 1295
Baron Raeb MacKai is done allowing himself and everyone he loves to live in poverty and despair. His betrothal to a wealthy English heiress will solve a decade of problems. He will do everything necessary to defend his home and his country, but can he defend his heart?
Amazon   B&N   KOBO   Crimson Romance
ISBN: 978-1-4405-9716-9   ASIN: B01E0JR298
The Herald's Heart ~ Northumbria 1294
Royal herald, Sir Talon Quereste could never love an overly adventurous, impulsive, argumentative woman of dubious background who threatens everything he values. Lady Larkin Roshan can only despise a man who would deny her identity and steal her heritage. So why has fate thrown them together to solve the mysteries of the heart?
Amazon   B&N   KOBO   Crimson Romance
ISBN: 978-1-5072-0136-7   ASIN: B01LOIJSCC
The French Duchess ~ England & France 1814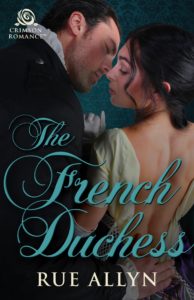 Like countless men who faced the French armies, men who loved Lady Marielle Petersham, Duchess of Stonegreave usually died. Hence the ton dubbed her The French Duchess. Because of one indiscretion Marielle retired from society. Now, she must risk more than the censure of the ton. She must risk her life and everything she holds dear or more of her loved ones will die.
Amazon   B&N   KOBO   Crimson Romance
ISBN: 9781507206485   ASIN: B0746P8MYV