An item from the Nottingham Vigilant sent to The Teatime Tattler
Ashmead Gleanings for Saturday June 20, 1818
The Village continues to enjoy a quiet June. Weather to date has been favorable for a good harvest, and the Saint Morwenna Ladies' Guild has kept the church awash in flowers.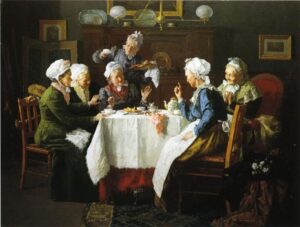 Fletcher Hadden, village bootmaker, welcomed a fine son last week. The father reports mother and son are fit as can be. Walter Simmons announced the betrothal of his daughter Penelope at the assembly Saturday night. Folks were pleased for the girl, but a few ladies couldn't help commenting that her older sister Bernice appeared none to pleased to be left on the shelf.
Ignatius Browning's prize sow delivered of twelve piglets, causing much local interest. Due to an accidental over shipment of summer muslin, George Denman wishes folks to know it can be had at bargain prices at Denman's drapery.
The most interest in Ashmead this week, however, centered on the whereabouts of Eli Benson, land steward to the Earl of Clarion. The end of May a woman turned up at Clarion Hall seeking help. Folks there report the woman had Caulfield hair and eyes, as do all of the old earl's by-blows. We speculate she hoped to get part of the will where he left them all bits, but everyone knows Benson already settled the will. Made good on every promise. Is she a fake?
Soon after, Benson hied off to Manchester with the woman. Supposedly to settle some legal problems for her. A few folk took particular notice that they went off alone together. We've not verified that, but in any case he hasn't returned. Work on road improvements around tenant cottages has all but stopped waiting for Benson's input, and the repairs to the stables haven't done much better.
This reporter asked the man's father, Robert Benson, the innkeeper at The Willow and the Rose, about it over a pint of ale. He repeated that Eli is simply managing some legal problems and will be home soon. If that is so, why did he send his other son to investigate?
We have it on good authority that Sir Robert Benson, the one that's a hero, galloped off to see to his brother. Trouble is brewing in Manchester. Count on it.
About the Book
Frances Hancock always knew she was a bastard. She didn't know her father was an earl until her mother died. The information came just in time. She and her mother's younger children were about to be homeless. She needs help. Fast. What she wants is a hero.
Eli Benson, the Earl of Clarion's steward, took great pride in cleaning up the mess left behind by the old earl's will. When a dainty but ferocious young woman with the earl's hair and eyes comes demanding help, his heart sinks. She isn't in the will. She was forgotten entirely. And the estate is just getting its finances back in order. But he knows a moral obligation when he sees one. He may not be her idea of a hero, but people count on him to fix things. He's good at it. Falling in love with her will only complicate things.
Eli will solve her problems or die trying. It may come to that.
https://www.amazon.com/gp/product/B09PGSYJ3Q/
About the Author
Award winning author and Bluestocking Belle Caroline Warfield has been many things: traveler, librarian, poet, raiser of children, bird watcher, Internet and Web services manager, conference speaker, indexer, tech writer, genealogist—even a nun. She reckons she is on at least her third act, happily working in an office surrounded by windows where she lets her characters lead her to adventures in England and the far-flung corners of the British Empire. She nudges them to explore the riskiest territory of all, the human heart.
Website:   http://www.carolinewarfield.com/
Facebook: https://www.facebook.com/caroline.warfield.1422/
Amazon: http://www.amazon.com/Caroline-Warfield/e/B00N9PZZZS/
Good Reads:  http://bit.ly/1C5blTm
Book Bub: https://www.bookbub.com/profile/caroline-warfield
Twitter:   https://twitter.com/CaroWarfield
Book Page: https://www.carolinewarfield.com/bookshelf/the-forgotten-daughter/
Amazon: http://www.amazon.com/Caroline-Warfield/e/B00N9PZZZS/