Camp Floyd, Utah, 1860
"Did you hear about the other night at the saloon?" Miss Mora whispered, then forced a smile that didn't quite reach her eyes at a tall, dark, and handsome passing them on the boardwalk.
"No, whatever happened?" Miss Alamander, dressed in blue, sidled closer to her friend, if you could call her that, and together they took refuge behind her fan. Miss Mora's lips made a moue at the back of the man who had just passed them without sparing the ladies, in their glittering (if slightly stained) dresses, another glance.
"I'd gone with Mr. Sorley for an evening of fun and cards at his cabin, entertaining him and his friends," Miss Mora gave the other woman a wicked smile, "and—"
"I'll bet you made a pretty penny for that night's work," Miss Alamander cut in, her lips tight.
She just smirked.
"Okay." The woman in blue crossed her arms and waited, but Miss Mora just stood with one brow raised. Her curiosity eventually got the better of her, even over her annoyance at Miss Mora's good fortune at the potential expense of hers. "What happened?" she finally asked.
"You wouldn't think it, would you, but that big blond brute of a man, Jackson—"
"Yes?" she breathed, egging Miss Mora on.
"If you'd let me finish," she harrumphed, "Jackson stumbled into the saloon late last night, drunk as a skunk, and…" She broke off and smiled over her fan at a man passing by, then resumed, "he stormed across the room toward this boy, and he so young he hadn't a hair on his face."
"And…?"
"Well, the young lad had his hat on, a big ten-galón hat, you know, like the caballeros from Mexico wear?"
"Get on with it," Miss Alamander said crossly. We don't have all day." She smiled at a filthy man riding his horse past them, his stench following him, and swallowed hard.
"That boy, he got the best of him!" Miss Mora whispered.
Miss Alamander looked up from the blue bodice that just barely covering her bosom and blinked. "But no one gets the best of Mr. Jackson! That's impossible, how did he do it?" She hissed as Miss Mora turned away from her to make eyes at a man walking down the street leading his mules not a yard away from them.
The gentleman's accoutrements bespoke his success in the goldfields—not only his exquisite, if dusty, clothing, but the fine wood and leather cases piled high over his pickaxes, shovels, and pans. His waistcoat alone must have cost more than her wages for a month. She gulped and took a breath deep enough to nearly bust herself out of her bodice, but he never looked her way as Miss Mora strode boldly toward him.
"And how might you be today, sir?" she asked him in a throaty tone, somehow wiggling her top half at the same time she floated off the boardwalk and through the mud.
"All the better for seeing you," he said, with a chuckle. "Will you ladies be here long?"
At least this time, he included Miss Alamander in his glance.
"That depends upon what you have in mind, sir," Miss Mora continued, as she slithered up to him and stood between him and Miss Alamander, as if on purpose. Her gliding was made all the more difficult by the half-foot of slop which the locals deigned to call a "street" here in Camp Floyd. The soldiers didn't seem to mind, but the ladies did.
"What do you say you come along with me for awhile," he said, then nodded at Miss Alamander, still standing on the boards, "and then you can rejoin your friend afterward?"
The woman in blue took a deep breath and unclenched her hands and smoothed the silk down over her abdomen and joined them demurely before her. She gritted her teeth and forced a smile at him, then turned to face the other men passing her by as the stores closed for the day.
No one was up for a tussle at this early hour, at least the locals, and the soldiers would be at their mess up at the fort, so Miss Alamander cooled her heels for what seemed a month and fought back a smile.
This was going to be fun.
She schooled her features to look impatient as Miss Mora finally returned, a bit less tidy than when she'd left. She was missing a few hairpins, but wore a big smile. She jingled as she hopped up onto the boardwalk.
"So stop looking like the cat that ate the cream," Miss Alamander said, pursing her lips, "and tell me! How did a mere boy best big old Jackson, especially when he was in his cups?"
"He cut him." Miss Mora gave her a sideways smile. "Jackson stormed toward him, and you know how big he is, but this boy, his waist no bigger around than that brute's leg, just stood up at his table, cool as a cucumber, knocked his glass on a table, even with his arms held behind his back by one of Jackson's henchmen, and cut him. Sliced his arms and then those of the despicable man behind him, and bolted out the door! No one's seen the boy since."
"No." Miss Alamander did her best to look shocked, but it would be nothing to what she was about to see on her friend's face. She couldn't wait.
"Yes," Miss Mora said, nodding her head emphatically.
"You don't say," Miss Alamander said. "Now I remember. I heard something about that… I heard it wasn't a boy at all… it was a girl!"
Miss Mora's chin dropped until it came to rest on her ample and exposed bosom. For once, she was speechless.
Wow, what a woman, if it was one! Who could she be? You'll have to read A Long Trail Rolling to find out!
About the Book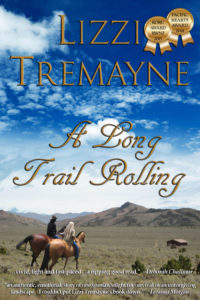 A Long Trail Rolling
She didn't expect to become a target…but she is one now.
Just orphaned, Aleksandra holds the family secret her father died for. She hides by joining the Pony Express as a boy, where an alluring Californio sees through her guise and offers help—and more.
Xavier's conviction that women cannot be trusted is deeply rooted in the reasons he left his birthright. But Alex is like no woman he has ever met.
With the killer getting closer and an Indian war brewing, Alex and Xavier must decide whom they can trust, and what they really want.
Lizzi is one of the newest Bluestocking Belles!
A Long Trail Rolling is the first book in
The Long Trails series, out now!
Find the book here:
#ReadforFreeonKindleUnlimited or buy it here in paperback or digital on Amazon
Lizzi loves to connect with her readers!
You can learn more about Lizzi and her books here or on these social media sites:
Subscribe to Lizzi's Newsletter (with a free gift!)
Sign Me Up!  
Sign up for Lizzi's newsletter here, with a free gift!