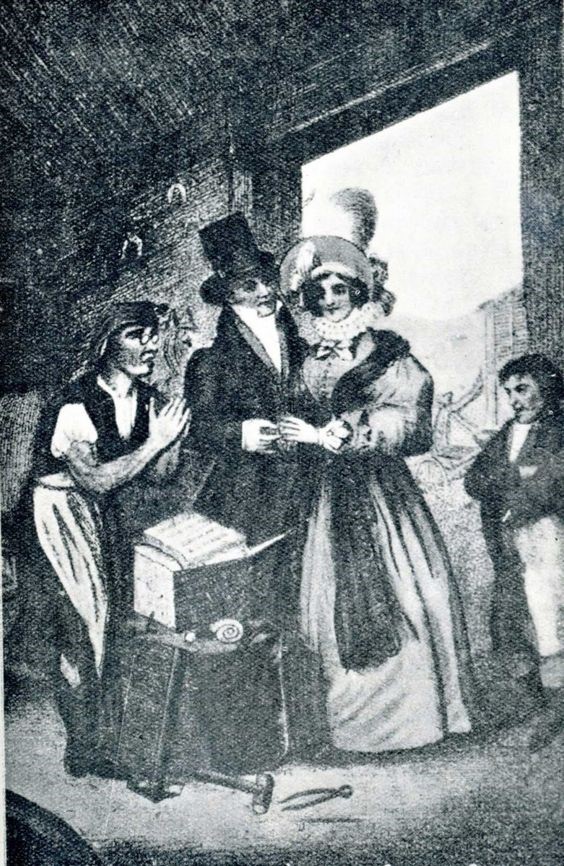 Dear Readers,
A most unusual story came to our attention a mere day ago.
As we reported last week, we were shocked and saddened to hear of the death of a renowned personage, the Earl of S, at his country estate a fortnight ago. We have it on good authority that Lord S had served Crown and country with great distinction, playing a quiet, yet significant role in defeating the murderous French and the Corsican.
But lo! Another report has just been received by this writer that Lord S was seen but days ago in London in the company of a flaming-haired man of younger years, rumored to be his son, and not the child of his wife, the late Lady S.
No, dear readers, this younger man is said to be the issue of Lord S's time serving the Crown in Ireland, and is himself employed as the Steward of a certain Lord and Lady H, of whom we have written in earlier editions. It is said that Lord S intended to fully acknowledge this offspring and welcome him and his Spanish wife (who he married most hastily at Gretna Green) into the bosom of the family. In fact, our correspondent reports that Lord S has bequeathed the young couple an estate worth five thousand a year.
But there is more! Lord S and his son have reunited just as another Lord—no less than a marquess!—has seemingly vanished, and rumor has it that the two events are related.
Have no fear, but we shall keep you informed of the latest developments in this most interesting matter!

The Bastard's Iberian Bride
Daughter of spies
For a chance at true freedom, Paulette Heardwyn needs the fortune left her by her inscrutable father. But she doesn't know what it is, where it is, or how to find it, and the only man with answers, the Earl of Shaldon, takes his secrets to the grave. Worse, the dead earl tries to force her marriage to his bastard son—and leaves her prey to a traitor seeking the same treasure she's after.
Soldier, Steward, Bastard
Bink Gibson is ready to throw off his quiet life as steward to his old commander and head for India and the chance of prosperity. But before he can leave he's summoned to the deathbed of the Earl of Shaldon, a meddling spymaster, a complete stranger…and his father.
And the Earl has set a trap Bink will never be able to resist.
Amazon: https://www.amazon.com/dp/B071D52388
Kobo: https://www.kobo.com/us/en/ebook/the-bastard-s-iberian-bride
iTunes: https://itun.es/i6759FF
Nook: http://www.barnesandnoble.com/w/the-bastards-iberian-bride-alina-k-field/1126282774?ean=2940157193805

Bakeley reached for the bottle again, and her lips turned down in a frown. "I should like to hear what you have to say, Bakeley, before you have many more glasses of that."
Bakeley set down his glass, walked to the cold fireplace, and rested a hand on the mantel.
It was such a fine piece of drama, even Miss Heardwyn noticed. She sent Bink an eye-roll.
"Well it must be bad," Bink muttered.
Bakeley turned. His mouth worked as if his lips were struggling with some great piece of gristle. His hands slipped behind his back, a soldier at parade rest.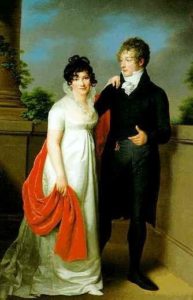 "Yes, well. You are each to receive a small sum as an inheritance. Not much. Not enough for any real independence. However, if you meet certain conditions, you are to receive a great deal of cash, and the title to the house and acreage acquired for you, worth four thousand a year, with the potential for more if you manage well."
Bakeley's gaze skittered from Bink to Miss Heardwyn, as he tugged at his neck cloth.
The lady gave Bink a pointed look. She tilted her head and he saw the pulse at her neck, a curl bouncing against it. Her lips parted and then pressed closed. She lifted her eyebrows.
She was begging him to ask.
Talking about money was vulgar. Let the bastard do it.
Well, why not? "I've no need for his lordship's money," Bink said. "Give my small sum to Miss Heardwyn, and you'd best end the suspense and tell her the conditions she must meet to receive that property and income."
Her eyes flared. "Shaldon wouldn't give me a property. I'm sure it's meant for you, Mr. Gibson."
"No," Bakeley said.
She went very still, yet Bink could feel the tension rolling from her. Could it be she was poorer than she looked? Her dress was finer than Lady Hackwell's had been when she was merely a wealthy spinster, yet he knew Lady Hackwell had been an odd one. More ladies overspent on dresses to keep up appearances than dressed down.
"Bakeley, tell her what she needs to do to receive her property."
Bakeley's jaw moved and he took a deep breath. "It's not meant to be her property. It's meant to be yours, as in both of yours, upon meeting his condition."
Bink's blood pounded through his ears on the way to his feet. The Earl's gleaming gaze when Miss Heardwyn appeared, Bakeley's nerves, the Earl's swoon—undoubtedly faked, like a cutpurse's accomplice distracting a mark. Something here was amiss.
Bakeley's aristocratic brow glistened with beads of sweat, and in spite of his tension, humor glimmered in his eyes. He cleared his throat and said, "His lordship wishes for the two of you to marry."

Author Bio and links:
Award winning author Alina K. Field earned a Bachelor of Arts Degree in English and German literature, but her true passion is the much happier world of romance fiction. Though her roots are in the Midwestern U.S., after six very, very, very cold years in Chicago, she moved to Southern California and hasn't looked back. She shares a midcentury home with her husband, her spunky, blonde, rescued terrier, and the blue-eyed cat who conned his way in for dinner one day and decided the food was too good to leave.
She is the author of several Regency romances, including the 2014 Book Buyer's Best winner, Rosalyn's Ring. She is hard at work on her next series of Regency romances, but loves to hear from readers!
Visit her at:
https://www.facebook.com/alinakfield
https://twitter.com/AlinaKField
https://www.goodreads.com/author/show/7173518.Alina_K_Field
https://www.pinterest.com/alinakf/
https://www.instagram.com/alinak.field/
https://www.bookbub.com/authors/alina-k-field
Newsletter signup:    http://eepurl.com/4nU5T