That most scandalous of establishments, The Soho Club, is more popular than ever in Regency Society – and this time, there are festivities afoot.
You may recall that this unique and exclusive club maintains both a male and female membership. All appetites are welcome at The Soho Club, a haven for those who wish a moment's indulgence away from prying eyes and scurrilous gossips. Only the premiere scandal sheet in the capital is even aware of this place where one's most daring appetites are expected, encouraged, and even shared.
The Soho Club has only one rule: Discretion above all things. It's the 'all things' that the members enjoy, because sharing secrets at Christmas time so often leads to love.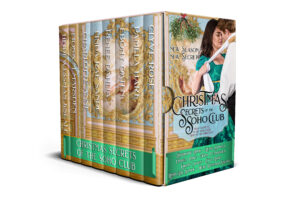 Eight steamy Regency romance novellas to ring in the season!
Heidi Wessman Kneale, The Freedom of a Widow
Master Bisou gives kissing lessons at The Soho Club, but what to do with a young widow, who wants to learn so much more?
Renée Dahlia, The Widow's Modiste
Lady Merryam, widowed and bored, only attends the Soho Club's latest ball to help raise funds for her son's orphanage. The last thing she expects is a one night stand with the mysterious woman wearing 'that' dress. Could spending more time with her be the answer to her ennui?
Charlotte Anne, Violet Evergreen Seduces a Rogue
Wallflower Violet knows there's more to the world than parties and fine gowns, and she's determined to experience it all. With a little light bribery she convinces the great nonpareil of London's gambling dens, Morgan Turner, to gift her some 'experience' at The Soho Club for Christmas.
Clyve Rose, The Case of the Black Diamond (Part II)
Much has changed since the events of Part I. Ada Ryan is caught up in her sister's intrigues and her sister's colleague Mr Felix is too attractive for a mere valet, but is that all there is to this man? Mr Felix is working to solve a maid's murder and uncover a conspiracy. The last thing he needs is a distraction from one of the loveliest and most talented women in London – but he's under orders to see to Ada Ryan's safety. He'd best keep her close.
This novella includes links to a free bonus download featuring more espionage, adventure and passion. The bonus book is a bonus gift to all who purchase this collection – Merry Christmas!
Linda Rae Sande, The Holiday of a Marquess
A widowed countess who knows her numbers and a marquess in need of an accountant. When a will reveals her late husband's secret, Elaine succumbs to Edward's advances and discovers a second chance a love is possible at The Soho Club.
Ebony Oaten, Scandalous Charlotte
Charlotte, Lady Durham, has a terrible secret that weighs more heavily upon her by the day. If Charlotte thought she could have a quiet Christmastide as a widow, she did not count on Brabham, the ever-so-helpful footman whose well-meaning goodwill threatens to expose everything she holds dear.
Fiona M Marsden, Thursday's Child
Newlyweds Will and Bella are struggling after their disastrous honeymoon and a family Christmas looming before them. They agree to rebuild their marriage kiss by kiss, touch by touch, in the scandalous private reading room of The Soho Club. 
This collection includes 2 BONUS NOVELLAS:
Pamela Hart, A Generous Heart
Accessing her substantial inheritance from conservative trustees is proving impossible for Adeline Edmonds. Her heart is set on creating a charitable school for the poor of London. Viscount Marryam has his heart set on Adeline Edmonds, but the company she keeps could derail his ambitions.
Ebony Oaten, There's Something About Miss Mary
Miss Mary Callingsbrooke knows there's something terribly wrong with her. Her body reacts in such an unnatural way when she's close to a handsome gentleman. Mary meets the mysterious Mr Smith at the Soho Club, who shows Mary that her 'faults' are in fact incredibly attractive features. He's more than happy to marry Mary, but why the haste?
About the Book: Christmas Secrets of the Soho Club
Eight Regency novellas for less than $1 (plus your BONUS CHRISTMAS GIFTS).
NOW AVAILABLE FOR PREORDER:
https://www.amazon.com/Christmas-Secrets-Soho-Club-Season-ebook/dp/B09THYGPX4/
Release Date: 15 September 2022
Multiple Authors:
Heidi Wessman Kneale
Renée Dahlia
Pamela Hart
Charlotte Anne
Clyve Rose
Linda Rae Sande
Fiona M Marsden
Ebony Oaten
Excerpt from The Case of the Black Diamond (Part II), by Clyve Rose:
Felix moved towards her. "May I assist you?"
"You've done nothing but assist me since I made your acquaintance." Ada's bluntness surprised them both, if Felix's raised brows were any indication. Is this what working without a script feels like? The parlour door swung slightly ajar, a crack of light between the wood and the jamb. Did propriety matter when a woman had already kissed the gentleman in question? In such cases as these, it matters more. Ada's inner pragmatist made little sense today. She stared accusingly at the nearly-closed door.
Felix's gaze followed hers before returning to fix on her face – and there it was, the blush she'd managed to keep at bay since she'd met this man. Kissed him. Been kissed by him… Something real, warm, and wonderfully powerful rushed through her, like winter sunlight after frost. She shivered, opening her mouth to speak and banish this strangeness but no words came out. For the first time since she'd stood before an audience, Ada Ryan closed her lips without uttering a sound. Her gaze found Felix's. He studied her face as though enchanted. His strong jaw relaxed, lips parted in the beginnings of a smile, his dimple half-visible, half-lost.
"Are you thinking of our kiss?" She asked, her cheeks heating further.
"Five weeks ago," he replied, still smiling. Heavens, that dimple.
Five weeks, three days, and twenty-two hours. Ada nearly pouted at her memory's stubborn persistence. She reached towards him as though she'd lost control of her limbs. Felix was across the room in an instant. His palm cupped her cheek, his eyes staring searchingly into her face.
"Ada, are you certain?"
Ada placed one palm over his, the other reaching up to stroke his hair. Tugging gently, she settled his mouth over hers, tasting citrus and scotch, intoxicating, enthralling, and gently questing. Ada sighed, nestling closer as his mouth teased hers, nipping at her lips while his palms cradled her face in the gentlest caress. His fingers moved delicately against her cheeks, as though she were precious, important, and valuable simply as Ada. So she kissed him as Ada; gently, wonderingly, with a hesitancy she'd not felt before…a kiss that was not 'business', or theatrics, or demanded. A kiss that was quiet and deliciously sweet, balancing desire with depth.
She drew back, swallowing the taste of him deeply, holding this honeyed moment still. When she nerved herself to meet his gaze, Ada saw warmth and gentle acceptance. She saw hunger too – fierce and potent. A trilling laugh bubbled up from her throat. She bit it back, forcing it away from this sensation that didn't belong to staged scenes. It belonged to Ada and Felix. Laying her eyeglasses on the desk she stared at this man, awake to the shock of being real.
I liked kissing you she wanted to say, but confidence was one thing; brazenness was quite another. There were rumours all over London about the 'new duchess' at Drury Lane. Perhaps Mr Felix believed them. She swallowed. "I like kissing you." She whispered, trembling in every nerve.
"Then I am the luckiest man in London."
Author Bio:
Clyve Rose is an award-winning, Amazon-bestselling author of historical fiction in Australia and the US. She has been writing historical romance for the best part of two decades. Clyve believes that love is the highest and strongest force known in the world, and that it only manifests when we are our best and truest selves. 
Her debut novel Always a Princess was a finalist in 2020's ARRA Awards. The Soho Club collections were also finalists in these awards, as was the sweet romance novella Love's Sweet Arrow. She is also the recipient of a Passionate Ink award for The One Below.
Website & blog: www.clyverose.com
Follow Clyve on social media:
Twitter: @clyverose
IG: #clyverose
Facebook: Clyve Rose (@clyveroseauthor)