Information comes to the Tattler from many sources, whispers among servants being one of the most fruitful…
Mary Fisher went about her business as her mistress directed, even with the house in an uproar and the mistress preoccupied with worry.  The whole staff had more work than usual, what with a wedding the day before. She carried her bucket and rags carefully up the servant stairs to the third level with great care so as not to spill a drop, an effort that proved futile when a hand snaked out, grabbed her free arm, and pulled her into the linen closet. The door slammed shut.
"Ow! You made me slosh water on the floor. Are you trying to cost me my position?"
In the gloom, she could just make out the gleam in Lizzy Smith's smug expression.  "Pish posh. That countess is too soft-hearted to fire either of us over some spilled water."
Mary leaned down to wipe up the spill. "Y'ought to be working, not lurking in closets," she muttered. "You planning to pounce on that green-eyed footman again? That will get you dismissed if you keep it up."
Lizzy pulled her up. "Don't be daft. I just want to talk. Did you hear what went on in the Countess's sitting room? The Family is in a state and that's the truth."
"Everyone knows Mister Rand disappeared last night. Rob Portman heard it all serving the breakfast. His bed wasn't slept in and—"
"But I know what happened in the countess's sitting room." There was no mistaking Lizzy's self-satisfied smirk now. She knew something. No doubt about it.
Duty warred with curiosity in Mary's heart. Servants oughtn't to gossip, her mam taught her that early. The family had been good to Mary, though and she hated all the running about and the countess's worried expression. Curiosity won out. "What'd you hear?"
"Well, you know as how Mr. Rand's stayed at Cambridge after the duke, his cousin came to down two months ago?"
"'e just come in three days ago, though he was supposed to stand up with the duke. Rob said they never spoke, even yesterday at the wedding. Like somethin' happened tween the two o' them as used to be stuck like burrs one to the other." It distressed Mary to see two young men that always seemed like good folk be against each other that way. "Never saw one without the other ever—"
Lizzy waved a dismissive hand. "So we know there's bad blood now, but over what I ask you ?"
Mary shrugged. "Young men fight. They'll come around."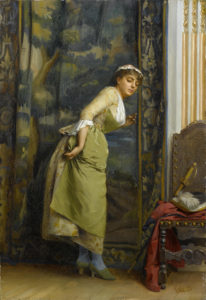 "Lurking at keyholes, more like," Mary muttered.
Lizzy ignored the jab. "I heard the countess crying her eyes out, and the earl, he's trying to comfort her. He says, 'Cath…' (did you know he calls her that?) 'Cath,' he says, 'the whole world knows that woman is carrying a baby, except for maybe Charles, the young fool.'"
"He called the duke a fool? He's ever so smart."
"A man can be smart about business and a still let a woman pull wool over his eyes."
Lizzy would know, Mary thought glumly. The import of Lizzy's other words hit her. "Wait, are you saying the new duchess is pregnant?" Her jaw hung slack.
Lizzy pursed her lips. "Don't be a slow top. Of course she is. That isn't the good part."
Good may not be the word, Mary thought, but she suspected she was about to hear whatever it was.
"The earl said as how it was too bad Mr. Fred didn't come to the wedding because he could talk some sense into them both, but the countess says something like, 'Rand had no idea.' It were kind of muffled like. The earl, he says Mr. Rand couldn't know nothing since he stayed away and the countess says—listen up Mary!"
"What did she say?" Mary dreaded hearing it, but couldn't help listening.
Lizzy dropped her voice, "Clear as a bell, she tells the earl Mr. Rand said the duchess is so far along it had to have happened while he was still walking out with her."
Mary blinked rapidly, trying to understand.
"Don't be a booby, Mary. The duke got Mr. Rand's lady with child while she was still supposed to be with Mr. Rand. No wonder those two are at each other's throats. No man wants his cousin—much less best friend or any other man—poaching on his preserve. Ran off he did. Said he isn't never coming back."
Mary shook her head and picked up her bucket without talking.
"Earl said, 'That woman will make Charles miserable, mark my words,' and the countess she said, 'She already heaped misery on all of us,' and went on back to crying."
Mary stopped listening. She went back to work, her heart heavy. Family oughtn't to treat one another badly. They ought to come together in time of troubles, that's for certain, she thought.
_________________
About the Book, The Renegade Wife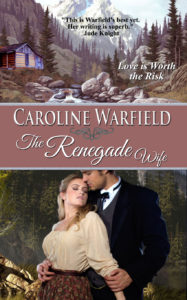 Reclusive businessman Rand Wheatly finds his solitude disrupted by a desperate woman running with her children from an ugly past. But even his remote cabin in Upper Canada isn't safe enough. Meggy Blair may have lied to him, but she and her children have breached the walls of his betrayed heart. Now she's on the run again. To save them he must return to face his demons and seek help from the family he vowed to never see again.
It is available in Kindle format free with Kindle Unlimited or for purchase as ebook or in print:
Amazon US
Barnes and Noble
BooksAMillion
Amazon UK
Amazon CA
Amazon DE
Amazon IT
Amazon FR
Amazon ES
Amazon IN
Amazon AU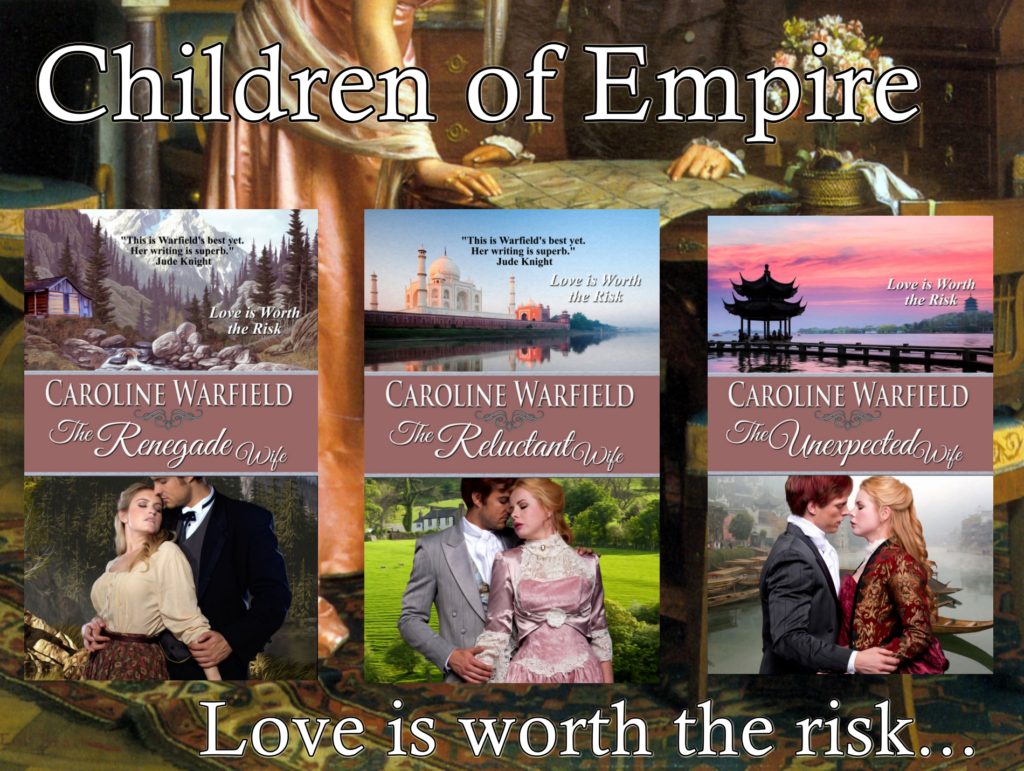 The Renegade Wifeis Book 1 in Caroline Warfield's Children of Empire Series.
Three cousins, who grew up together in the English countryside, have been driven apart by deceit and lies. (You may guess a woman was involved!) Though they all escape to the outposts of The British Empire, they all make their way home to England, facing their past and finding love and the support of women of character and backbone. They are:
Randolph Baldwin Wheatly who has become a recluse, and lives in isolation in frontier Canada intent on becoming a timber baron, until a desperate woman invades his peace. (The Renegade Wife)
Captain Frederick Arthur Wheatly, an officer in the Bengal army, who enjoys his comfortable life on the fringes until his mistress dies, and he's forced to choose between honor and the army. (The Reluctant Wife)
Charles, Duke of Murnane, tied to a miserable marriage, throws himself into government work to escape bad memories. He accepts a commission from the Queen that takes him to Canton and Macau, only to face his past there. (The Unexpected Wife)
Who are their ladies?
Meggy Campeau, the daughter of a French trapper and Ojibwe mother who has made mistakes, but is fierce in protecting her children. (The Renegade Wife)
Clare Armbruster, fiercely independent woman of means, who is determined to make her own way in life, but can't resist helping a foolish captain sort out his responsibilities. (The Reluctant Wife)
Zambak Hayden, eldest child of the Duke of Sudbury, knows she'd make a better heir than her feckless younger brother, but can't help protecting the boy to the point of following him to China. She may just try to sort out the Empire's entangled tea trade–and its ugly underpinning, opium, while she's there. (The Unexpected Wife)
Book 3, The Unexpected Wife, will be released on July 25.
Here's a short video about it:
https://www.facebook.com/carolinewarfield7/videos/924791187669849/
For more about the series and all of Caroline's books, look here:
https://www.carolinewarfield.com/bookshelf/
About the Author
Caroline Warfield grew up in a peripatetic army family and had a varied career (largely around libraries and technology) before retiring to the urban wilds of Eastern Pennsylvania, where divides her time between writing Regency and Victorian Romance, and seeking adventures with her grandson and the prince among men she married.