Mr. Clemens,
You probably know we're used to toffs and nobs at The Willow and the Rose, the best inn on the Nottingham Road. Mr. Benson, the one that runs the place, always teaches his folk to treat every customer like he were a duke. That way I figure we won't accidently insult one who comes all disguised or what not. Last week we had a real one. He came in plain sort of clothes, but he were a duke all right. I know because I remember him from before, but I won't say his name. I call him His Nibs, but trust me, he's the real thing.
His Nibs came looking for his stepmother, foolish man. She were in Lunnon as always. He must have forgot. The earl were gone too, what with Pariament going on. Things were quiet in Ashmead. So His Nibs sits for two days in the snug in the corner by hisself drinking Mr. Benson's ale.
Mr. B, he watches him close. Asked if it would help to talk. His Nibs sez no, there's nothing to can be done about his problems. Sez his brother is alive and that's that. I don't know what that made him look like his favorite dog died, but it did.
After a couple of days Annie Morris, our cook, sez we should try something different "Before the poor lad drowns himself in all that ale." She sends me out with strong coffee and some of her special buns. He looks at me and frowns, but he takes them anyway.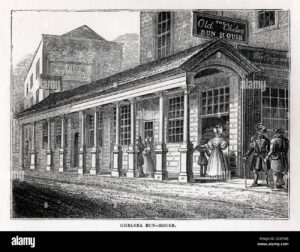 Here's the thing. Ten minutes later the lord is on his feet and bursting right into the kitchen. "Who made these?" he wants to know. He sez they're the best buns he's had since Lunnon. "Where did you learn to make these?" he asks while wolfing down another one.
Well, I'm thinking that brought him back to life. Annie's buns are good but I dint think they were that good. But then he asks her again about where she got her recipe, and our Annie turns bright red. She looks down at her dough and sez her aunt taught her. When she tries to shoo him away, he asks for a plate, and she gives him one piled high.
Now the Willow and the Rose is famous for two things: its ale and Annie's buns. She looks determined not to tell His Nibs her secrets, lest he try to steal them. "Who is this aunt of yours?" I ask. "I thought you grew up in Ashmead."
"Spent time with my aunt, didn't I?" she snaps at me.
"In Lunnon?" I ask.
She orders me off and mutters something under her breath. I am sure I heard "Chelsea." I don't know for sure, Mr. Clemens, but I think our Annie stole her recipe from the Chelsea Bun House. Wouldn't your readers want to know?
Sincerely,
Miss Gertie Potts, server at The Willow and the Rose
The Recipe
A favorite of characters in Caroline Warfield's Ashmead Heirs Series, the buns were indeed a famous treat from the Chelsea Bun House. Chelsea, once a town, was being absorbed into London at about that time. The Bun House made a current bun very similar to modern Cinnamon buns, but smaller, tighter, and seasoned with nutmeg. You can find Caroline's modern attempt at regency style current buns in Dragonblade's Historical Recipe Cookbook, full of recipes from some of your favorite Historical Romance Authors.
The pre-order price is 99 cents. https://www.amazon.com/Dragonblades-Historical-Recipe-Cookbook-favorite-ebook/dp/B0C7DT5HHM
The Duke
When the Duke of Glenmoor finds his long-lost older brother alive he is over joyed. When he discovers that brother may be legitimate and not a bastard after all, he is confused. Does that leave him a Duke in Name Only?
Knowing his title was bestowed on him fraudulently, he embarks on a journey to the wilds of North America in an effort to succeed on his own. It doesn't go well. He has no idea what a fish out of water he will be, but he is determined to make something of himself. He's a man of worth—but he needs to learn that for himself, and misfortune is the best teacher. Misfortune, and Nan Archer who grew up in that world and knows better than most how to stand on her own two feet.
Available for Free with Kindle Unlimited or to purchase: