Lord Adrian de Courtenay watched his sisters from across his seat in their carriage while they returned home from Hollystone Hall. Grace, the older of the two, had a sweet smile set upon her face, most likely because she at last came to a common accord with none other than Lord Nicholas Lacey. Miranda, the youngest in the family, sat staring out the window with a blank expression and red rimmed eyes. He hated to see her cry but in this case, it was only what she deserved. She looked up as though she sensed his displeasure.
"Not. One. Word." She murmured between clenched teeth and pointing a slim finger in his direction.
Adrian shrugged before pulling a slim cheroot from his coat and lighting it. "I said nothing, Miranda," he answered watching the trail of smoke.
"How shall I ever show myself in Society again?" Miranda moaned before hiding her face in her hands.
Grace reached over to give their sister's arm an affectionate squeeze. "People forget, dear heart."
Adrian groaned. "I am not certain I shall ever forget, at least any time soon. To see our sister so scantily clad in that costume has been engrained into my soul."
A screech emitted from across the seat. "You should have been more concerned with what Lord Aldridge and Gren proposed to me," Miranda fumed, her face turning red in either anger or embarrassment. Adrian was not sure which. "Why, oh why, did you not call them out to save my honor?"
Adrian leaned forward in his seat with a frown. "I would not dare call the gentlemen out given your performance at the charity ball. They did nothing but teach you a lesson that I pray you shall remember and not repeat, little one. I have barely recovered from the ordeal of trying to save your reputation as it is."
The carriage came to a halt and Adrian noticed they had arrived home. Before the footman could put the step down and open the door, Miranda flung herself out of their conveyance. She leaned her arm upon the frame to peer back inside.
"I hate you, Adrian!" she yelled. "I will hate you until I die." With a sob, she fled into the house.
Adrian gave a heavy sigh, descended from the carriage and turned to assist Grace. He was just heading up the walk when he espied none other than the Danver sister's scratching away on a piece of parchment while standing in the middle of the sidewalk. He ignored them and went into his townhouse wondering what page the little scene they had witnessed would turn up on in tomorrow's edition of the Teatime Tattler.
---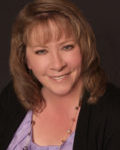 Sherry Ewing is proud to be one of the Bluestocking Belles. Lord Adrian de Courtenay and his sisters made their first appearance in A Kiss For Charityinside the Belles' 2016 box set Holly and Hopeful Hearts. A Kiss For Charity is available for individual sale.
---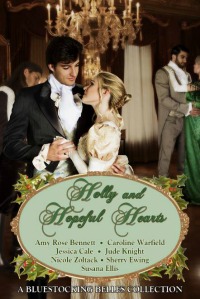 Holly and Hopeful Hearts
When the Duchess of Haverford sends out invitations to a Yuletide house party and a New Year's Eve ball at her country estate, Hollystone Hall, those who respond know that Her Grace intends to raise money for her favorite cause and promote whatever marriages she can. Eight assorted heroes and heroines set out with their pocketbooks firmly clutched and hearts in protective custody. Or are they?
Holly and Hopeful Hearts is a Bluestocking Belles Collection with 25% of the sales benefit the Belles' mutual charity the Malala Fund!
Buy the box set here:
Amazon US: http://amzn.to/2ibWX8R
Barnes & Noble: http://ow.ly/LqCI304jGuS
iBooks: http://ow.ly/JcSI304jGWE
Kobo: http://ow.ly/Vx1n304jGzj
Smashwords: https://www.smashwords.com/books/view/664559
AU: http://ow.ly/TczG3049EQ2
CA: http://ow.ly/IERm3049EYM
DE: http://amzn.to/2cNDbik
ES: http://amzn.to/2dnmUQc
FR: http://amzn.to/2drbeul
IN: http://amzn.to/2d9sR09
IT: http://amzn.to/2cOdadM
JP: http://amzn.to/2dN5UB9
MX: http://amzn.to/2dVrl5P
NL: http://amzn.to/2dqlRxN
UK: http://ow.ly/ZMuH3049ELM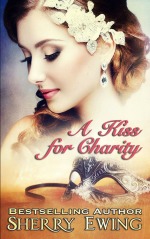 A Kiss for Charity Blurb:
Love heals all wounds but will their pride keep them apart?
Young widow, Grace, Lady de Courtenay, is more concerned with improving her mind than finding another husband. But how was she to know that a close encounter with a rake at a masquerade ball would spark her interest and make her yearn for love again?
Lord Nicholas Lacey has been on his own for far too long after losing his wife in a tragic accident. After a rare trip to a masquerade, his attention is captivated by a lovely young woman. Considering the dubious company she keeps, perhaps she might be interested in becoming his mistress.
From the darkened paths of Vauxhall Gardens to a countryside estate called Hollystone Hall, Nicholas and Grace must set aside their differences in order to let love into their hearts. It will take more than a dose of holiday cheer to see these two on the road to finding their happily-ever-after and a kiss for charity may just be what they both need.
Excerpt:
Arms of steel wrapped around her waist to prevent her downward pitch. Her rescuer's cape whirled around their bodies as though the cloak itself would conceal them from the night and those around them. Fathomless dark eyes were all but hidden in the black mask that concealed his features, yet, a flicker from the walkway lanterns hinted at their color. His eyes were brown, much like his hair, she surmised, if the curls that formed around the edges of his hat and mask were any indication.
Grace gasped as he quickly maneuvered her off the pathway to save them from being run over by the eagerness of the crowd. Sheshivered, but not from the cold for she was far from chilled. No. Shequivered from the warmth that raced up and down her spine at being this closeto a man, let alone held intimately for the first time in many years.
"Are you hurt, my lady?"
His deep voice went straight to her heart. His low tone plummeted down to reach into the very depths of her soul to awaken a part of her that had been left dormant as though she had been waiting for him her entire life. Waiting… yes she had been waiting for someone to come along who would give her this sudden feeling of completeness, even though he was a total stranger.
The realization of what she was doing hit her as if a bucket of icy water had been thrown over the top of her head. He was asking her something, but her brain could not wrap itself around what he had inquired.
"Pardon me?" she asked in a breathy whisper of astonishment, especially when she realized she had been caressing the lapel of his jacket beneath his cloak.
His arm tightened around her. She watched in mild fascination as one side of his mouth turned up in a cocky grin. He knew exactly how her body was reacting to their close proximity.
"I asked if you were hurt, although I might also beg for an introduction."
"I h-hardly think this en-encounter is a-appropriate," Grace stammered. Was that actually her voice sounding so unsure of herself?
He leaned down, and, for an instant, she thought he was about to kiss her.
"How utterly charming that I have you all tongued-tied." His words whispered gently in her ear were almost her undoing.
Before she could comment, Moriah's voice was heard above the noise of the crowd, and she quickly untangled herself from the man who did nothing to hide his disappointment.
"There you are," Moriah declared as she stared up at the stranger. Grace could only imagine what was going on inside her friend's mind, given their recent conversation. "I am sorry I lost you. Are you all right?"
Grace nodded. "Yes… of course. Thank you, sir, for your assistance this evening," she murmured shyly to the gentleman whose lips turned up into a charming grin.
He raised his fingers to tip his hat towards her. "It was my pleasure to rescue a fair damsel in distress."
Her eyes followed him through the crowd until he disappeared. Her heart hammered in her chest. What in the world had just happened?
Buy Links:
Amazon US: http://amzn.to/2qtSC6g
Barnes & Noble: http://bit.ly/2LeW4vb
iBooks: http://apple.co/2r67NBe
Kobo: http://bit.ly/2rzq7nN
24 Symbols: http://bit.ly/2ux4IdJ
Playster: http://bit.ly/2L7CbGa
AU: http://amzn.to/2qATBwy
BR: http://amzn.to/2qtSPWZ
CA: http://amzn.to/2qAK0FT
DE: http://amzn.to/2r69WwN
ES: http://amzn.to/2sg7Jwe
FR: http://amzn.to/2qAUNjr
IN: http://amzn.to/2rPhF3y
IT: http://amzn.to/2qu7r8H
JP: http://amzn.to/2rPtWVF
MX: http://amzn.to/2reaorm
NL: http://amzn.to/2refzHr
UK: http://amzn.to/2rPHikE
Read more about Sherry and her work on the tab above. You can also find her at these social media outlets:
Website & Books: www.SherryEwing.com
Hearts Through Time: http://heartsthroughtime.com
Amazon:http://amzn.to/1TrWtoy
Bookbub: https://www.bookbub.com/authors/sherry-ewing
Facebook: https://www.Facebook.com/SherryEwingAuthor
Goodreads:http://www.Goodreads.com/author/show/8382315.Sherry_Ewing
Instagram: https://instagram.com/sherry.ewing
Pinterest: http://www.Pinterest.com/SherryLEwing
Tumblr: https://sherryewing.tumblr.com/
Twitter: https://www.Twitter.com/Sherry_Ewing
Sign Me Up!
Newsletter: http://eepurl.com/-jGfj
Street Team: https://www.facebook.com/groups/799623313455472/