Captain Pershore directed his first mate to keep them out at sea. They provisions aplenty that they would not need to go to land for some time.
That matter settled, he made his way to his cabin. There, the Lady Annamarie jerked to her feet. Her dark strands half covered her face, but he could see that her cheeks were stained pink.
Her wrists were rubbed raw from the ropes, and he stalked toward her. "Allow me," he murmured, reaching out for her and untying her bindings.
***
The wretched pirate was freeing her! But then he was rubbing her wrists, massaging them, and she wiggled free enough to slap him hard in the face. Her palm ached from the slap, but the infuriating man merely chuckled.
"I see you aren't ready to accept me yet. You will. Soon," he said, his voice low and threatening.
"I would rather—"
"If you wish to insult me," he said, his eyes narrowing, "I suggest you think again because I am not known for my patience."
"I do not even know your name." Her voice did not tremble, for which she was pleased, but he was already grabbing her wrists and retying her binding. Despite her struggles and her attempt to kick him—curse her long skirt!—he overpowered her with ease.
"You have forgotten." His eyes narrowed even more, hardly open at all. His lips pursed, and he raised his hand. She flinched, awaiting his blow, but he merely marched out of the room, slamming it shut and locking with with a click.
Who was this pirate? Why had he taken her?
"Oh, Mother, Father." Annamarie refused to cry, but her chest ached all the same.
***
Clutching the old coin as if it possess all the answers to his problems, Barnet rushed to the tavern where he had seen the pirate Pershore on a few occasions. The two had never exchanged words, but if it came down to blows or even a full brawl to ensure the safety of Lady Annamarie, he would not hesitate to do what he must.
From there, it took some other coins as well as ale for Barnet to learn that Pershore had left port early that morning, many hours before dawn.
"Do you know where he went?" he asked, desperation leaking into his words.
"No," the first man said, and the second shook his head, gulping down the sale Barnet purchased for him.
Barnet grimaced. It was early in the day, so few others were in the tavern yet.
A man from the corner stood and beckoned Barnet over. "I couldn't help overhearin' ya," he said, grinning, revealing a few missing teeth.
Barnet grimaced, despair hovering about him like a cloak. "Do you know where I can locate Pershore?"
"You be needin' a ship. I have one. And what's better, I have a grudge against Pershore meself. We can leave at once."
"Thank you."
"Don't thank me until you have your lady back and me have Pershore's head."
To be continued…
Read Part One here.
Taken from the notes of one Lady Anna Wycliff
Lady Anna is the heroine in Christmas Kisses, part of the Bluestocking Belles' boxed set Holly and Hopeful Hearts available now from various retailers. 25% of proceeds will go to the Malala Fund.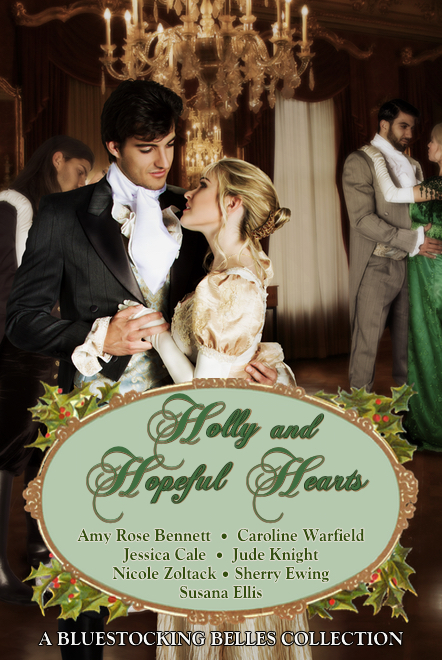 About the Book
When the Duchess of Haverford sends out invitations to a Yuletide house party and a New Year's Eve ball at her country estate, Hollystone Hall, those who respond know that Her Grace intends to raise money for her favorite cause and promote whatever marriages she can. Eight assorted heroes and heroines set out with their pocketbooks firmly clutched and hearts in protective custody. Or are they?
About the Stories
A Suitable Husband, by Jude Knight
As the Duchess of Haverford's companion, Cedrica Grenford is not treated as a poor relation and is encouraged to mingle with Her Grace's guests. Surely she can find a suitable husband amongst the gentlemen gathered for the duchess's house party. Above stairs or possibly below. 
Valuing Vanessa, by Susana Ellis
Facing a dim future as a spinster under her mother's thumb, Vanessa Sedgely makes a practical decision to attach an amiable gentleman who will not try to rule her life. 
A Kiss for Charity, by Sherry Ewing
Young widow Grace, Lady de Courtenay, has no idea how a close encounter with a rake at a masquerade ball would make her yearn for love again. Can she learn to forgive Lord Nicholas Lacey and set aside their differences to let love into her heart?
Artemis, by Jessica Cale
Actress Charlotte Halfpenny is in trouble. Pregnant, abandoned by her lover, and out of a job, Charlotte faces eviction two weeks before Christmas. When the reclusive Earl of Somerton makes her an outrageous offer, she has no choice but to accept. Could he be the man of her dreams, or is the nightmare just beginning?
The Bluestocking and the Barbarian, by Jude Knight
James must marry to please his grandfather, the duke, and to win social acceptance for himself and his father's other foreign-born children. But only Lady Sophia Belvoir makes his heart sing, and to win her he must invite himself to spend Christmas at the home of his father's greatest enemy. 
Christmas Kisses, by Nicole Zoltack
Louisa Wycliff, Dowager Countess of Exeter wants only for her darling daughter, Anna, to find a man she can love and marry. Appallingly, Anna has her sights on a scoundrel of a duke who chases after every skirt he sees. Anna truly thinks the dashing duke cares for her, but her mother has her doubts. 
An Open Heart, by Caroline Warfield
Esther Baumann longs for a loving husband who will help her create a home where they will teach their children to value the traditions of their people, but she wants a man who is also open to new ideas and happy to make friends outside their narrow circle. Is it so unreasonable to ask for toe curling passion as well?
Dashing Through the Snow, by Amy Rose Bennett
Headstrong bluestocking, Miss Kate Woodville, never thought her Christmas would be spent racing across England with a viscount hell-bent on vengeance. She certainly never expected to find love…
BUY LINKS for HOLLY AND HOPEFUL HEARTS
Amazon US
Amazon UK
Amazon Australia
Amazon Canada
Smashwords
Kobo
Barnes & Noble
iBooks