Captain Pershore served the lovely Lady Annamarie himself. A bit of each of the three fish and a loaf of bread. A pile of vegetables. He laid the plate in front of her and hesitated.
"Would you prefer ale or water?" he asked.
"Oh, no." She swept to her feet. "Allow me to pour."
Pleased beyond measure, he watched as she poured his glass first. Ale for him and water for her, he noted.
He quickly threw a few items on his plate and sat.
"Please, enjoy," he said.
But the lovely vision did not eat her food.
"What is the mater?" he asked.
Despite himself, he was growing angry. He did not wish to be angry. He wanted to feel only love for the lady sitting before him. For years, he had loved her from afar. He wished to have her love in return.
Why would she not eat? Was she rejecting the food or himself?
***
Annamarie could tell that Pershore was growing upset, and so she quickly took a bite of food. She chewed and swallowed hastily.
A bit too hastily. The fish caught in her throat, and she coughed and coughed.
At once, Perhsore leaped to his feet and rounded the table. He patted her back firmly but not too harshly, and the piece dislodged. Her breathing returned to normal.
"Thank you," she said, feeling flustered and embarrassed.
To her surprise, Pershore reassumed his seat without touching her more than necessary.
Perhaps he read her shock because he said, "When you wish to be held, I will hold you. When you wish to dance, we will dance. If you wish to sing, I will raise my voice too. Although I must confess I am a terrible singer."
"I am not much of a dancer," she whispered. "Or a singer."
A dark cloud crossed over his features, and her fright returned.
"This fish is delicious," she rushed to say.
When she was not choking on it.
"Did you catch it yourself?" she continued.
Most of that darkness banished away, but not all of it. Annamarie swallowed hard. She must not forget that Pershore was not a good man. He had kidnapped her. He might be trying to act the part of a gentleman, but he clearly was not one.
Would she be doomed to remain on his ship for forever? Or worse, would he force her to marry him whenever they would reach shore?
***
Barnet was beside himself. Far too much time was passing them by. Annamarie needed him, and here he was, lost at sea with a Landlubber claiming to know the way when he clearly didn't.
"Haven't your friends been answering your lantern signals?" Barnet would ask each morning.
"Soon," Landlubber would answer each morning. "You'll be gettin' to your lass soon."
"Yes, yes, and you'll kill Pershore. I know."
"Do not fret. Frettin' affects the seas."
"So does sneezing," Barnet grumbled.
Landlubber laughed. "I know how you be feelin'. Trust me. I know what I be doin'."
What choice did Barnet have but to trust him?
Hold on, Annamarie. We'll save you. I promise we won't be too late.
Barnet just hoped that promise would not prove to be a lie.
To be continued…
Read Part One here, Part Two here, Part Three here, and Part Four here.
Taken from the notes of one Lady Anna Wycliff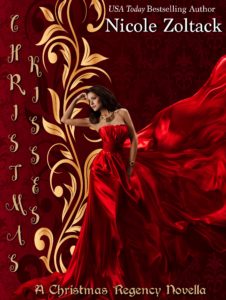 Lady Anna is the heroine in Christmas Kisses, which had been a part of the Bluestocking Belles' boxed set Holly and Hopeful Hearts and now contains a bonus end scene.
Louisa Wycliff, Dowager Countess of Exeter, wants only for her darling daughter, Anna, to find a man she can love and marry. She suffered through trials to find love herself.
Appallingly, Anna has her sights on a scoundrel of a duke. Her mother insists on Anna befriending a marquess's son, a man Anna finds far too rude. Can either man be the right one for Anna?
Buy CHRISTMAS KISSES here!