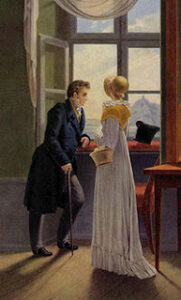 Scandal Brewing in Gloucester?
Miss W–, the only daughter of Baron D–, used to be such a sweet young girl. You never saw her acting the hoyden or causing her father the least amount of embarrassment. Why, after she returned from finishing school, she all but vanished from the Burwick social scene, apparently preferring demure domestic activities and the quiet milieu of the family's country manor. In fact, you rarely saw Miss W—except on her charitable rounds among the estate tenants who, one and all, have nothing but good to say about the girl.
So it is with great dismay we report that Miss W—has been observed entertaining a male visitor in secret!
This clandestine rendezvous occurred at night under her father's very nose. The Vulgar Visitor actually climbed the wall of the tower at W—Manor.!  There is some speculation he must have used a rope, like a common criminal or seaman.
One has to ask, Where was Miss W—'s companion when all this transpired?
We are immensely disappointed in our beloved country miss. It is to be hoped that her father uses a firm hand in dealing with this situation. Especially as we have heard rumors of an advantageous marriage under discussion by the baron and Someone with a good deal of influence at the Prince Regent's court. It would be a shame if Miss W—were to ruin her chances with this personage.
THE CAPTAIN'S LAST QUEST
A Novella by Donna Maloy
In the Dragonblade Publishing anthology, TALES OF TIMELESS ROMANCE
He can scale his captive lady's tower to rescue her—
but can he convince her to love him?
Miss Letitia Waire is determined to escape her greedy, domineering father and the lecherous old earl he's betrothed her to. But her father has confined Letty to a tower bedroom and hired seven hulking bodyguards to thwart any attempt to evade the marriage. Letty knows better than to hope for love—a fairytale myth—but she'd settle for almost anyone other than the brutal Viscount Rosingham. No man who would beat his horse would ever touch her. That said, she did need a man. Preferably one with enough money or high title to win her father's consent.
Captain Nicholas Monton is a returning naval war hero and the "almost" heir to the Duke of Landsdowne. His dying brother urges him to marry and prepare for life as the new marquess. But the simpering, capricious debutantes of London do not fire Nick's soul. He will not settle for less than a gentle, loyal and amiable wife—and love. When a friend tells him of Letty's plight, he is moved and agrees to a contrived meeting. Enraged by the bruises he sees and the rough way she is treated by her bodyguards, Nick is ready to avenge Letty when the lady surprises him by exacting her own revenge.
Nick crosses "gentle" off his list. Fascinated, he begins his campaign to win the trust of a strong woman who has never known kindness. But Letty, cautiously beginning to care for the handsome captain, feels abandoned when he leaves for his brother's funeral. And with Nick gone, the angry viscount seizes his chance to abduct her.
Though Nick is now titled and the Duke's heir, that's all meaningless unless he can rescue Letty before their chance at happiness is destroyed.
***
The story of The Captain's Last Quest was inspired by the true-life courtship of Princess Charlotte (England's original "People's Princess) and Prince Leopold of Saxe-Coburg-Saalfeld, a royal fairy-tale romance that really happened in the Regency era.
***
TALES OF TIMELESS ROMANCE
From the publisher: Enjoy the very best of Historical Romance with this limited edition, NEW MATERIAL collection. These are never before published romantic tales based on mythical and legendary love stories, all of them with a happily ever after sure to satisfy. But what makes this collection so special? Each author was a finalist in Dragonblade Publishing's annual The Write Stuff contest. This collection is a curated bundle of their very finest, so if you're looking for new stories to fall in love with – and new authors to adore – then pick up this collection or read for FREE in KINDLE UNLIMITED.  
BUY LINK: https://amzn.to/3y6VYff
So Arthur Was Born by Fil Reid
To Kiss an Outlaw by Cara Hogarth
The Heart of Sherwood by Gemma Sydney
The Captain's Last Quest by Donna Maloy
The Art of Love by Stephanie Patterson
A Poetic Season by Peri Maxwell
***
EXCERPT: The Captain's Last Quest
"Come here," he whispered. "There is something wrong with your face."
She forced herself to walk closer. 
"What's wrong with me?" 
He reached through the slit and softly touched her cheek. She flinched and looked away.
"Two things. You haven't been cherished as you should be. No man has ever been allowed to look inside and see your strength, your intelligence, your astonishing beauty. We can fix that."
He said astonishing beauty. Mine.
Heart skipping madly, she lifted her eyes to his.
"And the second thing?"
"You haven't been kissed until you can hardly stand up. But we can fix that, too."
She must have leaned closer. She must have closed her eyes. But all she knew was the pressure of soft lips, caressing hers. Oh. My. Heaven.
He gently licked her lips. When she opened her mouth in surprise, his tongue entered and tangled with hers. 
Birds might have been singing arias nearby. The ground might have disappeared beneath her feet. None of it mattered. There was only this kiss. Her first.
The Captain put his hand behind Letty's head and drew her closer. His mouth moved over her jaw and down her neck with soft, nibbling kisses that made the rest of her ache. Her breasts felt oddly warm and heavy as though he were touching her there. If they married, she could ask him to kiss her there, too.
She pressed closer, daring herself to touch him. Her hand reached out to cup his cheek.
"Oh, hell. I didn't hear the damned bird call," the captain muttered against her ear.
Letty suddenly found herself standing alone in front of an empty window. Two men were shouting below and Captain Monton was gone.
***
THE AUTHOR
Award-winning author Donna Maloy has always daydreamed about living in some other time, some other place. A long time ago, library cards were her ticket to all those strange, inviting other worlds— as long as she had transportation to the library. Now e-readers let her instantaneously fill her hunger for exciting adventures and emotional love stories.
Donna writes adventurous books with unique characters learning about life, love, treachery and loyalty.
Newsletter Sign-Up: https://bit.ly/3LbxA1i
Website:  https://donnamaloy.com
Facebook: https://facebook.com/DonnaMaloyAuthor
Instagram: https://instagram.com/AuthorMaloy
Author Amazon page: https://amzn.to/3K0TOSz
Goodreads Author page: https://bit.ly/3L38At4
Twitter: https://twitter.com/donnamaloy