I can only say that it is a good thing Mr. Clemens located a prime investigator inside the Duchess of Haverford's Hopeful Hearts house party because I, intrepid reporter, find myself a marooned at a third rate inn along a road that has become impassible with mud and rutted beyond use. My post chaise broke an axel in the stuff. Here I sit. Tomorrow being Christmas I will go no further for now.
The ale here is poor but abundant, and, with naught else to do, I have stationed myself in the taproom to pick up what miserable crumbs I might. I have not come up empty handed.
I no more ordered my third pint when a horseman swept in, grimaced over a mug of rancid cider, and left. Folks on horseback may travel as they will, but carriage traffic has all but disappeared. I tried to hire a horse with the pittance Clemens gives me for expenses and could not. (More about that later) This man's horse, a peculiar specimen, stood in the courtyard looking so cool I would have thought it a fresh mount, not one that had been given water and sent on its way again.
The innkeeper acted in awe of the man who stood well over the common height and possessed both dark skin as well as hair. Unlike the innkeeper, I knew the man: he who pretends to be Elfingham, heir in waiting to the Duke of Winshire. He chases the Belvoir chit no doubt, or her brother's consequence rather, his own being not worth a pittance. Everyone knows he is after her in hopes to shore up the family's pretense of legitimacy. He swept from the place like the furies pursued him, dark robe flapping in the wind.
Not three hours passed when a groom came in to say a carriage lumbered up the road putting a lie to everyone's belief that none might make it through. The greedy publican hastened to the door and the rest of the room to the windows to see who had made it so far. I watched it go by with my own eyes, a top of the trees equipage if ever I saw one. I saw the ducal crest as well: The Duke of Haverford. I doubt the old duke bothered to attend his wife's do. Aldridge, on the other hand, can never resist a party full of beautiful women. It was he, I am certain, and there will be delicious stories to uncover, if only I can get to the Hall and insinuate myself through the kitchen.
Just when the taproom began to settle for the night, yet another carriage arrived, this one less well fated, and obviously unable to go further. A frantic young man, a cit as I live and breathe and a Hebrew—one with a French accent at that— began to berate the innkeeper, obviously desperate to get to Hollystone Hall. Why, I don't know. No young woman of gentle enough birth to attend a duchess's house party would entertain such a one as a suitor. I did hear him mention Baumann, the banker. Perhaps he has business with the duchess or with Aldridge. That must be it. Our readers might like to know what.
Here is the odd part. He demanded a horse, and I knew well there were none. Had the innkeeper not refused to hire one out to me? Money talks. Horses were found. Before too long he left with two nags, one a miserable hack and the other, obviously a carriage horse, with his bags loaded on it. Off he went, while I, good Christian citizen of His Majesty's fair land that I am, remained here with naught but a bench to sleep upon.
_______________________________________________________
What happened to these holiday travelers? Find out in Holly and Hopeful Hearts, available now from various retailers. 25% of proceeds will go to the Malala Fund.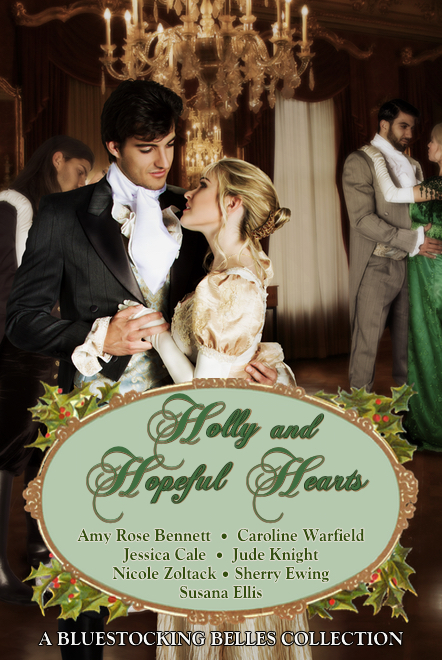 About the Book
When the Duchess of Haverford sends out invitations to a Yuletide house party and a New Year's Eve ball at her country estate, Hollystone Hall, those who respond know that Her Grace intends to raise money for her favorite cause and promote whatever marriages she can. Eight assorted heroes and heroines set out with their pocketbooks firmly clutched and hearts in protective custody. Or are they?
About the Stories
A Suitable Husband, by Jude Knight
As the Duchess of Haverford's companion, Cedrica Grenford is not treated as a poor relation and is encouraged to mingle with Her Grace's guests. Surely she can find a suitable husband amongst the gentlemen gathered for the duchess's house party. Above stairs or possibly below.
Valuing Vanessa, by Susana Ellis
Facing a dim future as a spinster under her mother's thumb, Vanessa Sedgely makes a practical decision to attach an amiable gentleman who will not try to rule her life.
A Kiss for Charity, by Sherry Ewing
Young widow Grace, Lady de Courtenay, has no idea how a close encounter with a rake at a masquerade ball would make her yearn for love again. Can she learn to forgive Lord Nicholas Lacey and set aside their differences to let love into her heart?
Artemis, by Jessica Cale
Actress Charlotte Halfpenny is in trouble. Pregnant, abandoned by her lover, and out of a job, Charlotte faces eviction two weeks before Christmas. When the reclusive Earl of Somerton makes her an outrageous offer, she has no choice but to accept. Could he be the man of her dreams, or is the nightmare just beginning?
The Bluestocking and the Barbarian, by Jude Knight
James must marry to please his grandfather, the duke, and to win social acceptance for himself and his father's other foreign-born children. But only Lady Sophia Belvoir makes his heart sing, and to win her he must invite himself to spend Christmas at the home of his father's greatest enemy.
Christmas Kisses, by Nicole Zoltack
Louisa Wycliff, Dowager Countess of Exeter wants only for her darling daughter, Anna, to find a man she can love and marry. Appallingly, Anna has her sights on a scoundrel of a duke who chases after every skirt he sees. Anna truly thinks the dashing duke cares for her, but her mother has her doubts.
An Open Heart, by Caroline Warfield
Esther Baumann longs for a loving husband who will help her create a home where they will teach their children to value the traditions of their people, but she wants a man who is also open to new ideas and happy to make friends outside their narrow circle. Is it so unreasonable to ask for toe curling passion as well?
Dashing Through the Snow, by Amy Rose Bennett
Headstrong bluestocking, Miss Kate Woodville, never thought her Christmas would be spent racing across England with a viscount hell-bent on vengeance. She certainly never expected to find love…
BUY LINKS for HOLLY AND HOPEFUL HEARTS
Amazon US:  http://ow.ly/INwa3049Ey3
Amazon UK: http://ow.ly/ZMuH3049ELM
Amazon Australia: http://ow.ly/TczG3049EQ2
Amazon Canada: http://ow.ly/IERm3049EYM
Smashwords: https://www.smashwords.com/books/view/664559
Kobo: http://ow.ly/Vx1n304jGzj
Barnes & Noble: http://ow.ly/LqCI304jGuS
iBooks: http://ow.ly/JcSI304jGWE