Dear reader, it is the duty of this newspaper to find the truth behind a scandal. Sometimes, all is not as it seems.
Nowhere is that more true than in the case of the scurrilous and sometimes indecent caricatures currently causing a stir in London. In his investigation, our correspondent had cause to observe a mob gathered out side of the townhouse currently rented by Lord and Lady R. He was much struck by the graceful and dignified form of Lady R., whom many believe to be the Lady Beast recently lampooned by less reputable purveyors of news than this find magazine.
Being much struck by the loyalty of her servants and her courage under fire, our correspondent sought interviews with several interested parties, some sympathetic and some hostile.
On balance, we are convinced that these interviews show that Lady R. has been deliberately maligned by those who wish to damage the lady's reputation for selfish ends.
Let us start by saying that most of the claims raised against the lady can be proved false. The lady is virtuous. She is also comely, except (presumably) for the scars she covers with a pretty mask.
The only claim that might have substance is that Lord R. married Lady R. for her money. Or, as the worst of the maligners put it, she bought herself a husband.  Marriage of convenience are not uncommon among the upper classes. Lord and Lady R.'s friends and supporters, however, assure us that the couple are childhood friens who made a love match and are devoted to one another.
We also spoke to a lady of Society who was discomforted when the gentleman she claimed as her own discovered her deceitful and unkind nature by comparison with that of the new bride of the gentleman's best friend. When confronted with his disdain, she chose to attack the bride, with ever more extreme and unlikely slanders.
Our final interview was the most disturbing. A cousin of the gentle lady insisted on his version of events. We will not insult our readers by repeating what he said. Suffice it to say that he has a monetary incentive for all of his remarks.
We came away more than ever convinced that greed and jealousy can corrupt a weak soul. Indeed, the most compelling sermon was not a better teacher than hearing vicious lies about a kind and noble person who deserves our admiration for the way she has faced vicissitudes that would have felled a less courageous soul.
This newspaper proclaims itself on the side of the charming Lady Beast.
Lady Beast's Bridegroom
By Jude Knight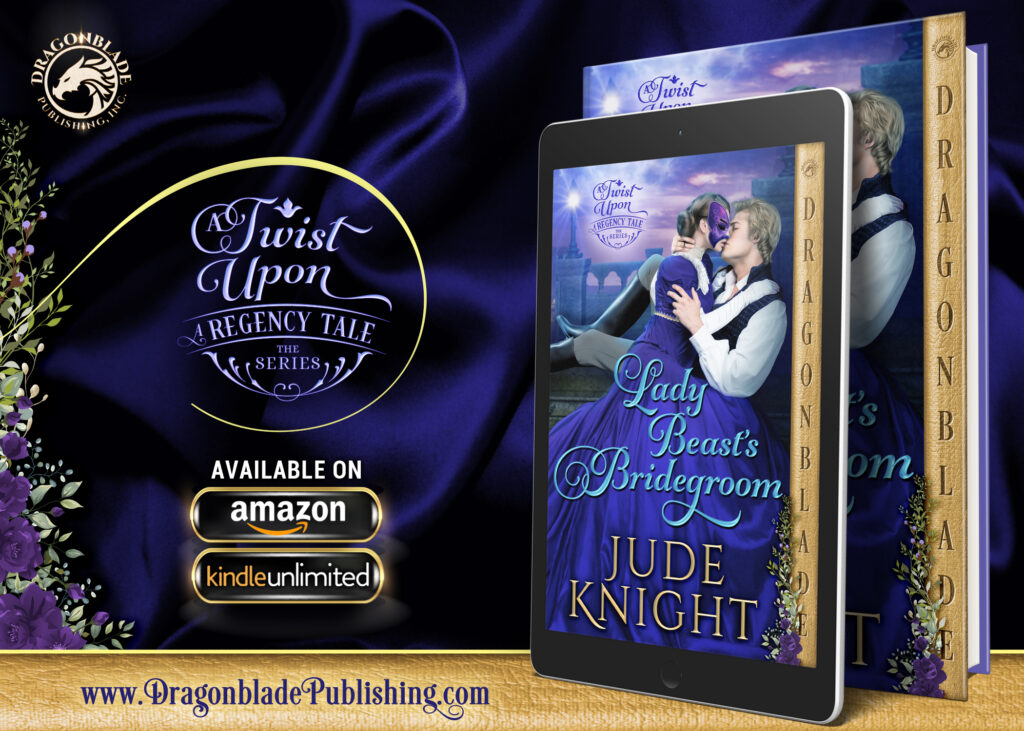 Welcome to book 1 in the new series with an exciting new twist on traditional fairy tales!
Lady Ariel lives retired in the country after being badly scarred by a fire. She hides her burns from others by donning a mask, only enticing more gossip by Society who has dubbed her "Lady Beast". Now, her second cousin, who inherited her father's title but not his private wealth, wants to have her committed so he can manage—and steal—her fortune. Only finding a husband will prevent the cousin from having his way.
Peter, Lord Ransome, a man so handsome Society has dubbed him "Beau", inherits not only his father's debts but also his burdens. He must manage and care for a stepmother who loathes him, her daughters, and his own two half-sisters, who spend more money than the estate can provide.
His only recourse is to find a wealthy bride to save his estate and his family. For him, that means marrying "Lady Beast". It's merely a business transaction, after all. But then Beau learns that true beauty lies in the heart.
When Society tries to turn them away, is the union and love of Beauty and the Beast strong enough to overcome prejudice and rejection?
A Twist Upon a Regency Tale
Lady Beast's Bridegroom
One Perfect Dance
Snowy and the Seven Doves
Perchance to Dream
Published 16 February. Buy now: https://amzn.to/3uJByrr
Join the launch giveaway on https://judeknightauthor.com/2023/02/09/week-3-of-lady-beasts-bridegroom-launch-giveaway/