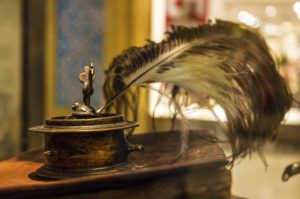 Dear Mr. Clemens:
You will be pleased to be informed that the latest gossip that will hit Society once you publish the information I now divulge will have sales of the Teatime Tattler soaring.
My sister and I were witness to none other than Lady Roselyn Winslow rushing from a house party in tears. One can only assume what she may have witnessed with her duke and his ex-mistress hiding away in a closed room. From the look on the Duke of Hartford's face once he emerged to race after Lady Roselyn, he was none too pleased. And his mistress you might ask? Well, she appeared as though there was more going on between her and the duke than just a conversation!
 I know you will see that such a juicy bit of tittle-tattle will not be hidden away from the enquiring minds of the ton.
Sincerely,
Lady Abigail Danver
Abigail looked up while her sister Prudence read the letter over her shoulder. "Will it do?" she asked.
Prudence giggled. "It will do very nicely, Abigail. Well done."
Abigail nodded and folded the letter. Sealing it with wax, she rang for a servant to deliver it to Mr. Clemens. She was certain Mr. C. would want such information no matter how late in the evening it was so he could include it in the morning edition of his lovely paper.
---
One Moment In Time
A Family of Worth, Book Two
Special pre-order price of $2.99
Bluestocking Belle Sherry Ewing is pleased to announce that One Moment In Time: A Family of Worth, Book Two is now available for pre-order. Get your copy at the special pre-order price of only $2.99!
One moment in time may be enough, if it lasts forever…
When the man Lady Roselyn Ann Winslow has loved since she was a young girl begins to court her, Roselyn thinks all her dreams have come true… until the dream turns into a nightmare.
Lady Roselyn is everything Edmond Worthington, 9th Duke of Hartford, could ask for in a wife and he is delighted to find she returns his love… until he loses her, not once but twice.
From England's ballrooms, to Berwyck Castle and a tropical island that is anything but paradise, Edmond and Roselyn face ruthless enemies who will do anything to tear them apart. Can they recover their one moment in time?
Buy links:
Amazon: https://amzn.to/2Qfcy5O
Barnes & Noble: http://bit.ly/2MalqGJ
iBooks: https://apple.co/2wXI68p
Kobo: http://bit.ly/2QduJsJ
AU: https://amzn.to/2CxuwxE
BR: https://amzn.to/2M5yVaN
CA: https://amzn.to/2oSad4E
DE: https://amzn.to/2Mbu5bP
ES: https://amzn.to/2NZNv5r
FR: https://amzn.to/2wXGs6J
IN: https://amzn.to/2CxGmrx
IT: https://amzn.to/2Nr140x
JP: https://amzn.to/2CzHFGz
MX: https://amzn.to/2NuxXJM
NL: https://amzn.to/2wXXXTy
UK: https://amzn.to/2NrVwTK
Bio:
Sherry Ewing picked up her first historical romance when she was a teenager and has been hooked ever since. A bestselling author, she writes historical and time travel romances to awaken the soul one heart at a time at night. You can learn more about Sherry and her published work at the links below.
Find Sherry Ewing at:
Website & Books: www.SherryEwing.com
Bluestocking Belles: https://bluestockingbelles.net/
Hearts Through Time: http://heartsthroughtime.com
Amazon: http://amzn.to/1TrWtoy
Bookbub: https://www.bookbub.com/authors/sherry-ewing
Facebook: https://www.Facebook.com/SherryEwingAuthor
Goodreads:https://www.goodreads.com/goodreadscomsherry_ewing
Instagram: https://instagram.com/sherry.ewing
Pinterest: http://www.Pinterest.com/SherryLEwing
Tumblr: https://sherryewing.tumblr.com/
Twitter: https://www.Twitter.com/Sherry_Ewing