Mr. Clemens is never quite sure what might be in his inbox, but this story begged for front page coverage. Even if the pertinent events happened fifty years after his time, and those remembering them were an unbelievable two hundred years in his future.
Crescent Creek is a quiet little town. Safe, well looked after, and loved by the local folks. Nice people, most of them. Even in the stories I told, trouble came to Crescent Creek, not within.
But the old men, those whose great-great-grandparents were born and died inside the town limits, love to recount the tragic tale of what's known as the Town Hall's Lady.
A young girl married to Joseph Jones, the richest and most influential man in Crescent Creek, Helen Jones sinned by falling in love with Nokosi, a warrior of the Ais/Costas Tribe.
The whole thing didn't amount to much in the Newspapers, as troubles with the native Indian Tribes were a daily occurrence.
Crescent Creek News, July 18, 1864

After reported disturbances with the Costas tribe, the Commissioner of Indian Affairs informed them if they created disturbances with the whites a sufficient military force would be sent to put them down.
We do know the real story from a letter that the Helen sent to a friend in her native Boston, though, and it's the tale of a broken heart.
Dearest Laura,

My heart died.

Joseph paid the Commissioner to send troops in Nokosi's village to destroy it. I know he will not see tomorrow's sun, not with how much Joseph paid. What I do know, is the wrongness in my doing as no wife has the right to yearn for another man but her Husband, and for that sin I will pay in this life and the next. Yet, my heart was, is, Nokosi's.

Today and always, my tears will fall for him.

I'd leave this place I hate to embrace a life of seclusion in a monastery but here, in the few places I shared with Nokosi, is where I can feel him.

So, I'll stay in this house, within these walls that had seen our brief joy, and remember him and what he gave me.
And so she stayed, even after she died many years later. The Jones' house became Crescent Creek's Town Hall and to this day, it is said you can hear Helen crying on the third floor, where her bedchamber was.

His Midnight Sun
by Viviana MacKade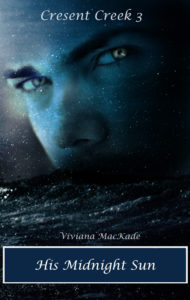 Tormented, fierce, and broken, sculptor Aidan Murphy has judged himself guilty. He yearns for love but pushes everyone away. He longs for acceptance but has lost the key to open his heart. Until he meets Summer Williams. Beautiful and smart, Dr. Williams promises haven for a man who believes he deserves none. All he has to do is let her in and risk his heart and soul.
Summer's managed to keep her inner light alive, even through tragedy. She's created a new life for herself and her daughter in Crescent Creek with loving, caring and fun friends–well, except brooding, breathtaking Aidan. She's used to keeping away from his type, though. All she has to do is ignore the pull of a man who's turning up to be much more than snarls and storms. Will her compassion and medical instincts let her?
Love can heal a broken soul and shake up a timid heart. Or it can unleash devastation and revenge.
Will Aidan and Summer survive the hurricane?
Release September 15, available for pre-sale
$ 0.99 FREE with KU
THE AUTHOR
Beach bum and country music addicted, Viviana lives in a small Floridian town with her husband and her son, her die-hard fans and personal cheer squad. She spends her days between typing on her beloved keyboard, playing in the pool with her boy, and eating whatever her husband puts on her plate (the guy is that good, and she really loves eating). Besides beaching, she enjoys long walks, horse-riding, hiking, and pretty much whatever she can do outside with her family.
Find me:
On my website http://www.viviana-mackade.blog/
On FB
On Twitter