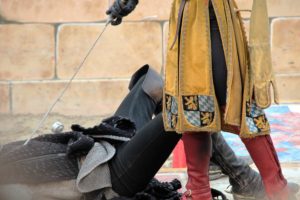 Rolf stood over his opponent, his sword aimed at the fallen man's chest. "Do you yield or do you wish to continue your quest to win yourself a bride?"
"I yield," the knight growled tossing aside his sword.
"'Tis a wise choice," Rolf declared with a smirk knowing he had one less man to defeat in order to win the fair Lynet as his bride.
Leaving the field, he made his way to the raised platform where the lady who owned his heart watched whilst he won yet another match. She smiled at his approach and whispered something in her sister's ear afore she left her side.
She stood at the stairs and he held out his hand to assist her. Her fingertips trembled in his palm afore he raised them to his lips once she descended to the ground. "Lady Lynet," he said when she raised her head to stare at him with clear blue eyes. "you are like a beam of warm sunshine to brighten my day."
"Sir Rolf," she murmured giving a short curtsey. "You flatter me with your words, kind sir. You have won yet another match I see?"
He chuckled. "Did you have any doubt I would not do all in my power to win?"
"'Tis not every day a woman has an entire company of men vying for her hand in marriage," she answered whilst her smile faded.
He hated seeing her sad. Pulling off his glove, Rolf brushed her cheek. "I vow you shall not be saddled with any of these fools who think they are worthy to have you as their wife."
Her hand came to rest on his cheek and Rolf's heart soared knowing she at least held some small measure of affection for him. "Oh Rolf," she said in a breathy whisper, "how I wish your words held some small measure of hope my life would turn out as I always imagined."
Afore he could reply, a cheer upon this lists rose, and their attention turned to see who had become victorious in the next match. Rolf grimaced seeing Ian MacGillivray raising his sword in a salute to Lord Dristan and Lady Amiria. He looked down upon the lady at his side and saw for one moment her eyes sparkling in delight afore such a look faded as quickly as it had appeared.
"Lynet," Lord Dristan called out motioning to her vacant chair next to his wife.
"I must return," she murmured and did nothing to hide her shudder when the next two warriors took to the field. "I shall see you at the festivities this eve and look forward to when you claim your victory dance."
But 'twas not the two soldiers upon the field that held Rolf's attention but the woman who had yet to leave his side. He gave her a formal bow that would have rivaled any at court. "I shall look forward to claiming my prize as long as 'tis you who shall be in my arms."
She stepped forward. A smile broke out upon her face yet again whilst she her hand moved to his chest. Gently she began to rub at the fabric on his tunic afore she took hold of the ribbon she had placed up his arm. "How I wish this tragedy was over…"
"You must needs know, my lady, I will do all in my power to win your hand," and your love he thought but could not voice such thoughts aloud.
"I know," Lynet replied afore she left him to resume her place next to her sister.
Rolf watched her for several moments and was even more irritated when Ian came afore the platform and bowed. Lynet lifted her chin, her gesture defiant but Rolf was not fooled into thinking the lady had no feelings for the knight who now stood afore her.
Rolf shook his head and left the lists, no longer wishing to witness the scene between Lynet and Ian. He was a fool to think the lady would come to love him as much as she had always loved Ian. But until Ian was the last man standing, Rolf would resolve himself to fight with ever fiber of his being in order to claim the lady for himself. He began to wonder what else he would have to do all in the name of love…
---
Rolf is a secondary character in Bluestocking Belle Sherry Ewing's novel A Knight To Call My Own. Currently the eBook can be read in the box set Romance Ever After for just $0.99 or read it for free in Kindle Unlimited!
A bundle of novels like nothing else you've ever seen before – eight bestselling authors, seven top-rated novels, and one brand-new story by a NYT Bestselling author. Welcome to ROMANCE EVER AFTER!
In this collection, you'll be swept away on the warm breezes of Time, from the romance and chivalry of Medieval & Elizabethan England, to the raw sex appeal of the Scottish Highlands, to the pageantry of the Regency era, and finally to the beautiful yet wild lands of the American West. Every hero has a heart, every heroine a fiery spirit, and every story a soul that bleeds passion. Indulge in this limited-edition collection with some of the top authors in their genre.
This bundle includes:
My Girl by Debra Holland – (NEW STORY) When a logging accident kills his friend and Felicity Woodbury's fiancé, Lars Aagaard steps in to lend his support. To keep Felicity's suitors at bay during her mourning period, the two act as if Lars is wooing her. But, already smitten, Lars hopes to turn the pretend courtship to real love.
The Iron Knight by Kathryn Le Veque – When hardened knight Lucien de Russe saves the life of widow Sophina de Gournay, their wonderful chance meeting starts a chain of events that could destroy them both.
The Rogue by Claire Delacroix – Ysabella knows better than to trust her charming husband—even when he insists he is being hunted. When Merlyn is killed, Ysabella is again Lady of Ravensmuir, where the truth must be hidden. Is Merlyn dead? If so, who loves her so sweetly in the night? If not, what is that wicked rogue's scheme?
Wicked at Heart by Danelle Harmon – A Beauty-and-the-Beast tale of love and redemption between a dark and brooding marquess and the woman who is determined to heal his tortured heart.
Highland Hunger by Eliza Knight – Ceana can't stand the arrogant Highlander she's up against in the war games, and yet she can't walk away. Macrath wants nothing more than to be rid of the troublesome need to protect the warrior lass. What starts out as a race to survive turns into passion to endure together.
Lady in Waiting by Denise Domning – Christopher Hollier will do anything to reclaim the title of Lord Graistan for his invalid brother. Maid-of-honor to the Virgin Queen, Anne Blanchemain hides a dangerous secret, one that sweeps them into events that might ultimately cost them their lives, and their love.
My Lady's Treasure by Catherine Kean – Lady Faye Rivellaux is desperate to save a kidnapped child. Former crusading knight Brant Meslarches seeks redemption from his past. Forming an uneasy alliance, they search for lost riches and find treasure worth more than gold.
A Knight to Call My Own by Sherry Ewing – Lynet of Clan MacLaren knows how it feels to love someone and not have that love returned. Ian MacGillivray has returned to Berwyck in search of a bride. Who will claim the fair Lynet? The price will be high to ensure her safety and even higher to win her love.
The Seventh Son by Ashley York – The sixth son bears a curse as certain as the seventh bears a blessing. When Tadhg MacNaughton's betrothed is ripped from his arms and married to another, he believes the legend is true. Is the warrior's love for the Irish beauty already doomed or does fate have something else planned?
Add this bundle to your library to savor again and again!
Buy Links or read for #FREE in Kindle Unlimited:
Amazon US  |  Amazon AU  |  Amazon CA  |  Amazon UK
A Knight To Call My Own is also available now as an audiobook.
Audio book buy links:
Amazon: http://amzn.to/2zc5oGz
Audible: http://adbl.co/2iGB54Q
iTunes: http://apple.co/2jP9ba5