Zoe hurried to her apartment door. The person on the other side must have some kind of an emergency, given the frantic pounding on her door. She undid the multiple locks and swung open the door to find her friend Meagan. She waved a bunch of papers in front of Zoe's face before handing her the documents.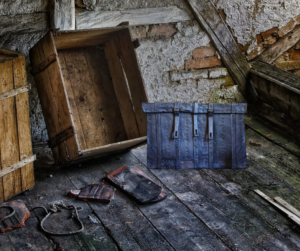 "You'll never believe what I found searching the library," Meagan exclaimed barging into the apartment and plopping down on the couch.
"Sure… come on in," Zoe said shutting the door and taking a seat next to her friend.
"Sorry. But I was just so excited I had to show you the proof that she made it," Meagan said with a wide grin. "Go on. Read it. I made a copy so we could have it."
Zoe sighed. "Have what?"
Meagan laughed. "Proof!"
"Can you catch me up here, dear?"
Meagan reached over to take the paperwork from Zoe. She flipped through several pages until she found what she was looking for. "It's all right here. You can read it for yourself. But this is proof that Bridgette traveled back in time. We don't need to keep looking for her because we won't find her here."
Zoe's brow rose and she attempted to hide her own smile of satisfaction. Her ability of seeing future events were a gift from her grandmother, several generations removed, but a gift all the same. She peered down at the paperwork and began to read:
Gentle Readers:
 It is with great amusement that I give you this latest bit of tiddle tattle coming from the twelfth century. Yes, you read that right. The twelfth century! I do so love a good story with magical developments that will ask yourself this… do you believe in time travel? One of our ever-efficient reporters just learned that the current owners at Dunster Castle found an old metal chest when a portion of a wall from the old keep fell. Inside the box was a letter on old parchment. The writer of this letter was none other than a lady named Bridgette, the Countess of Somerset who eluded that she came from another place in time. Whoever her friends Zoe and Meagan are, they can rest knowing she was safe. There were other treasures inside that were a puzzle to the reporter: a pen made of an odd material along with a slim rectangular box with an apple on it. No one seemed to know what the purpose of second item was, but it must have been important to the countess to conceal it inside the wall. So, I ask again, dearest readers… do you believe that time travel is possible?
S Clemons
Editor in Chief of the Teatime Tattler
 Zoe looked up from the documents and handed them back to Meagan. "Very interesting," she murmured.
"You knew!" Meagan all but shouted. "Why didn't you tell me?"
Zoe stood, went into the kitchen, and returned with a bottle of champagne and two fluted glasses. She popped the cork and proceeded to pour them a glass of the bubbly nectar. "It's that whole messing with the fabric of time issue. I needed to let it play out and let you learn Bridgette's fate for yourself."
"Do you suppose she was happy?" Meagan asked holding out her hand for the glass.
"She was," Zoe said with a laugh. "To Ulrick and Bridgette! May we one day all be reunited again."
Meagan gave her a quizzical look before she raised her glass in a toast. As the two friends began tot chat about what was going on in their boring daily lives, Zoe could only wonder when they, too, would slip through time to find the other half of themselves that had been missing. She hoped the wait wouldn't be too long.
---
This is an original piece by Belle Sherry Ewing who is celebrating the latest release of her medieval time travel Promises Made at Midnight: The Knights of Berwyck, A Quest Through Time (Book 6). Although this novel is part of a series, it can be read as a standalone. Read on to learn more about Sherry's latest book!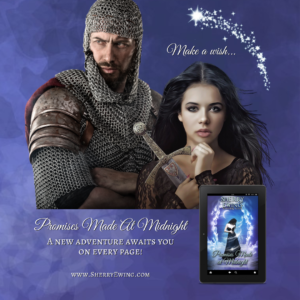 Excerpt:
Ulrick escorted the Lady Bridgette back toward the festivities. He tried not to stare but 'twas difficult when the woman next to him was one of the most beautiful women he had ever encountered. High cheekbones with a straight nose framed a face with clear skin and a neck as graceful as a swan. Her dark green eyes rivaled the brilliance of the leaves of a forest after the rain and her face was so beautiful it must make the angels weep in heaven.
He dared not look lower, and yet how could he not when he could see the creamy soft mounds of her breasts pushed up so the fabric of her dress barely covered her nipples. A jeweled necklace, surely costly, hung from her neck with the largest bauble nestled in her cleavage, tempting him even further. Her purple gown must be in the height of fashion somewhere abroad for, although similar to others he had seen women wearing at court, 'twas still… different… Not that he was an expert on what frippery women wore these days. Generally, Ulrick was more concerned about the treasure that awaited him beneath their gowns than anything else.
They approached the center of the village when Lady Bridgette came to a sudden halt. Her hand trembled whilst her fingertips clutched roughly to the fabric of his tunic.
"I don't remember this part of the fair," she whispered in concern, "and I was paying close attention to the orientation speaker."
"What speaker?" he asked, confused not only by the pattern of her speech but also what she thought was so unusual about what was before her.
She ignored his question but looked up at him with a frown. "It looks so… real."
Ulrick was unsure how to answer her and began to wonder if perchance she sustained a bump to her head that had addled her wits when she fell. Mayhap he should seek out Kenna, Berwyck's healer, and see if she could find out what was ailing the Lady Bridgette.
Before he could mention assisting her to the castle, she began tugging on his arm and pointing in the direction of a cleared field. A raised platform had been constructed for Dristan, Amiria, and those within their party so they might take their ease beneath the shade of an awning. Dristan's standard, depicting a fire-breathing dragon, flew high above upon towering poles.
"Jousting? I don't remember that on the program. Can we go watch?" Bridgette exclaimed, with renewed excitement, "that is, if you'd like to go with me. You may have other plans for the day."
"I cannot in all good conscience leave a woman unattended. I will accompany you, my lady, until you are reunited with those in your party," Ulrick answered, knowing he must needs perform his duty to the woman.
"Awesome!" she exclaimed rather loudly, before covering her mouth. "Damn… sorry about that. I'll try to get myself back into character, I promise."
Ulrick shook his head, more concerned than ever the longer he heard her strange speech. There was surely something wrong with Lady Bridgette. He peered at her an instant before they began to make their way across the field. Her eyes were lit with excitement at the sight of the tourney, clearly proving the woman was of a normal mind. He ignored the small nagging voice in his head and the odd premonition that another one of those future women had landed in his arms but a short while ago.
Promises Made at Midnight:
The Knights of Berwyck, A Quest Through Time
By Sherry Ewing
Sometimes all it takes to find your heart's desire is to make a wish…
After a series of failed relationships, Bridgette Harris would like a fresh start. If only she could escape her ex-boyfriend since they participate in the same renaissance fairs. While gazing at a granite statue of a handsome knight—her dream man—at one such fair, a mysterious elderly Scottish woman offers her a coin to toss into the fountain and make a wish. Bridgette can't resist, but nothing prepares her to suddenly slip through time.
Sir Ulrick de Mohan does not have time for love. He is charged with training possible recruits to become worthy guardsmen for the Devil's Dragon. The woman who magically appears out of thin air and falls into his arms must be one of those future ladies who continue to show up at Berwyck's gate. But she can't be for him.
Fate has brought two people together despite the centuries that should be keeping them apart. Will the growing love between them be enough to keep Bridgette in the past or will Time return her to where she should belong?
Buy Links:
Amazon US: https://amzn.to/36NpNrv
Apple Books: https://apple.co/3C1muIK
Kobo: https://bit.ly/3voNJvw
Nook: https://bit.ly/3M34Hpb
Books2Read: https://books2read.com/u/4Ap6xd
International Links:
Amazon AU: https://amzn.to/3JUrdhZ
BR: https://amzn.to/3vkhTjx
CA: https://amzn.to/3smRWxS
DE: https://amzn.to/33XTmWc
ES: https://amzn.to/3Isd7Ec
FR: https://amzn.to/3t7r1Fu
IN: https://amzn.to/3C1o4KE
IT: https://amzn.to/3t386LS
JP: https://amzn.to/35xcdYB
MX: https://amzn.to/3vgcp9r
NL: https://amzn.to/3sn4l4K
UK: https://amzn.to/33R8B2W
Angus & Robertson: https://bit.ly/35y6H7U
Thalia: https://bit.ly/3hod1Sa
Vivlio: https://bit.ly/3smTgke
Learn more at https://sherryewing.com/books/promises-made-at-midnight/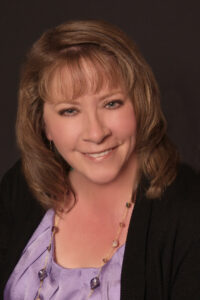 Bluestocking Belle Sherry Ewing picked up her first historical romance when she was a teenager and has been hooked ever since. A bestselling author, she writes historical and time travel romances to awaken the soul one heart at a time. When not writing, she can be found in the San Francisco area at her day job as an Information Technology Specialist. You can learn more about Sherry and her books on her website where a new adventure awaits you on every page at www.SherryEwing.com.
You can learn more about Sherry and her published work at these social media outlets:
Website & Books: www.SherryEwing.com
Bluestocking Belles: http://bluestockingbelles.net/
Amazon Author Page: https://amzn.to/33xwYhE
Bookbub: https://www.bookbub.com/authors/sherry-ewing
Facebook: https://www.Facebook.com/SherryEwingAuthor
Goodreads: https://www.goodreads.com/goodreadscomsherry_ewing
Instagram: https://instagram.com/sherry.ewing
Pinterest: http://www.Pinterest.com/SherryLEwing
Tumblr: https://sherryewing.tumblr.com/
TikTok: https://www.tiktok.com/@sherryewingauthor
Twitter: https://www.Twitter.com/Sherry_Ewing
YouTube: http://www.youtube.com/SherryEwingauthor
Sign Me Up!
Newsletter: http://bit.ly/2vGrqQM
Street Team: https://www.facebook.com/groups/799623313455472/
Facebook Official Fan page: https://www.facebook.com/groups/356905935241836/