The countryside is abuzz with stories of the latest visitors to Haverford Castle. Everyone knows that, when she is in residence on Mondays, Her Grace welcomes a selected visitor for afternoon tea; sometimes more than one. Rumour suggests that some of these visitors come from far afield.
None of her previous guests have been as strange as those seen entering the castle grounds this week. Monsters, some say; growling monsters with glowing eyes. Others speak of carriages with no horses; still others of strange styles of clothing the most exotic of imaginations could not have created.
Your correspondent cannot claim to know the truth of where they came from or how, but can only report what passed in front of my eyes.
Five couples visited Her Grace. The first pair were on horseback; the second in a buggy, much like that used by country vicars. Their clothing was not at all in the common fashion — the women wore sweeping skirts with waists at the natural level, and the men had long coats and narrow neck ties rather than cravats. But they were nothing to those who followed.
The third couple likewise rode on horseback, but both wore tight pantaloons in a soft blue shade. Yes, gentle reader, the woman, as well as the man, wore pantaloons.
The fourth couple rode some kind of two-wheeled machine, with a light fixed to the front that glowed brighter than a hundred candles. Even more startling than the light, the machine roared like a cotton mill or some other infernal engine. Like the third couple, these two wore blue trousers and calf-high boots, to which they had added black leather jackets. They also covered their heads with shiny head-gear in the shape of a ball.
The fifth couple were perhaps the strangest of all, seated as they were in the vehicle that others called a horseless carriage. It was unlike any carriage I have ever seen, being a low wheeled machine in a shiny red, with a long snout and a short rear, the centre having doors that gave access to the seating where the couple sat.
What they wore, I cannot say, for the doors concealed it. Nor can I begin to suggest where they came from. Beyond a doubt, however, they were invited guests, as where the others, for all were greeted by the Haverford butler and invited inside.
Does Her Grace traffic with the fairies? Or is there a scientific explanation for these odd happenings? The Teatime Tattler hopes someone knows, for we are mystified and Haverford Castle is not answering our questions.
The five couples that so intrigue our Teatime Tattler correspondent are from my New Zealand stories, which you'll find all together in my new collection, Hearts in the Land of Ferns. The book is coming out on 23 April, and will be a mere 99c in US dollars.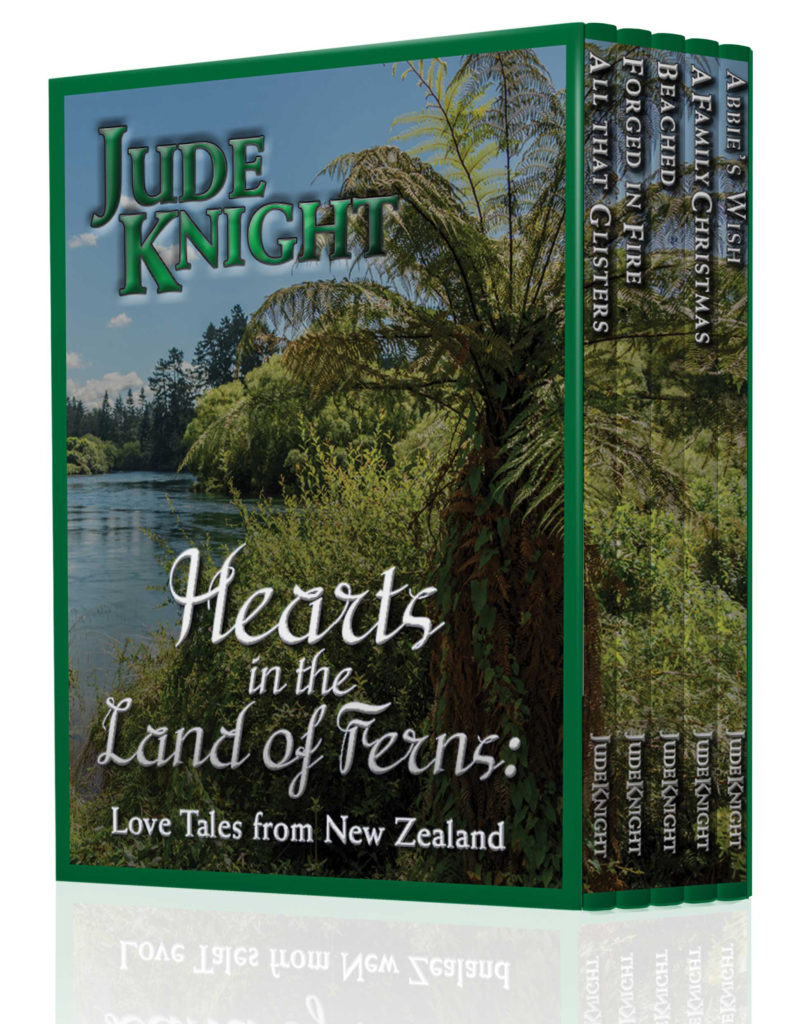 The historicals
Step into the 1860s in All That Glisters, set in Dunedin at the time of the first gold rushes. It was first published in Hand-Turned Tales.

Rose is unhappy in the household of her fanatical uncle. Thomas, a young merchant from Canada, offers a glimpse of another possible life. If she is brave enough to reach for it.

Forged in Fire is set in geothermal country just outside of Rotorua in 1886, and was first published in the Bluestocking Belles' collection Never Too Late.
Forged in fire, their love will create them anew.
Burned in their youth, neither Tad nor Lottie expected to feel the fires of love. The years have soothed the pain, and each has built a comfortable, if not fully satisfying, life, on paths that intersect and then diverge again.
But then the inferno of a volcanic eruption sears away the lies of the past and frees them to forge a future together.
The contemporaries
These were all previously published in collections by Authors of Main Street.
A Family Christmas: She's hiding out. He's coming home. And there'll be storms for Christmas.
Kirilee is on the run, in disguise, out of touch, and eating for two. Rural New Zealand has taken this Boston girl some getting used to, but her husband's family and her new community have accepted her into their hearts. Just as well, since she's facing Christmas and the birth of her baby without the man who wed her and sent her into hiding. What will he think when he comes home and discovers he's a father?
Trevor is heading home for Christmas, after three years undercover, investigating a global criminal organization. He hasn't spoken to his sister and grandfather since the case began. He hasn't spoken to Kirilee, his target's sister, since the day nearly nine months ago he married her and helped her escape. Will she want to stay married? And if so, will he?
In the heart of a storm, two people from different worlds question what divides and what unites them.
Abbie's Wish: Abbie's Christmas wish draws three men to her mother. One of them is a monster.
After too many horrifying experiences, Claudia Westerson has given up on men. She's done everything possible to exorcise the men in her life, short of changing her name and appearance. They're unpredictable, controlling and, worst of all, dangerous. Besides, all her energies are devoted to therapy for her daughter, Abbie, who is recovering from a brain injury.
But after Abbie is photographed making a wish for Christmas, Claudia begins receiving anonymous threats, proving her quiet refuge is not nearly hidden enough.
Who can she trust? Three men hope to make her theirs:
Jack, the driver from her daughter's accident
Ethan, her daughter's biological father
Rhys, a local school teacher and widower.
They all sound sincere, but which one isn't?
Beached: The truth will wash away her coastal paradise…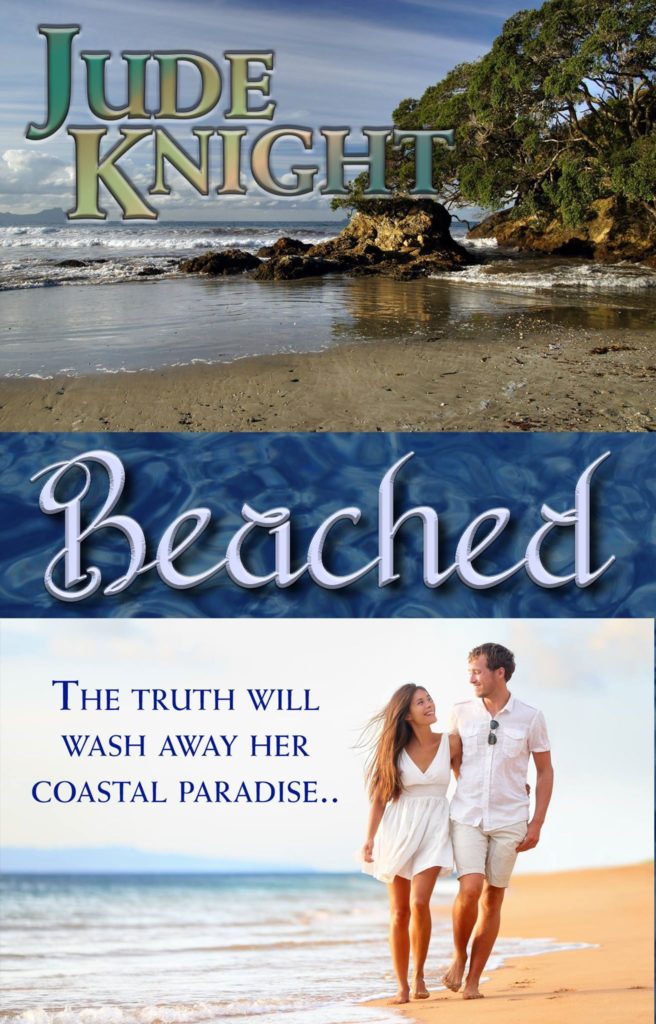 Grieving for the grandparents who raised her and still bruised from betrayals in New York City, Nikki Watson returns to her childhood home in Valentine Bay.
Zee Henderson has built a new life in New Zealand: friends, a job he enjoys and respect he earned for himself, without the family name and money he left behind.
The attraction between Nikki and Zee flames into passion, until Zee's past arrives on their doorstep and washes away their coastal paradise.
Buy links:
Amazon US: https://www.amazon.com/Hearts-Land-Ferns-Tales-Zealand-ebook/dp/B07NDT826B
Amazon Aus: https://www.amazon.com.au/Hearts-Land-Ferns-Tales-Zealand-ebook/dp/B07NDT826B/
Amazon UK: https://www.amazon.co.uk/Hearts-Land-Ferns-Tales-Zealand-ebook/dp/B07NDT826B
Apple iBooks: https://itunes.apple.com/au/book/hearts-in-the-land-of-ferns-love-tales-in-new-zealand/id1451855017?mt=11
Kobo: https://www.kobo.com/ww/en/ebook/hearts-in-the-land-of-ferns-love-tales-in-new-zealand
Barnes & Noble Nook: https://www.barnesandnoble.com/w/books/1130533818?ean=2940155970781
Smashwords: https://www.smashwords.com/books/view/921843