Sir Pinkerton Jones-Worthy, who always knows the latest gossip, was kind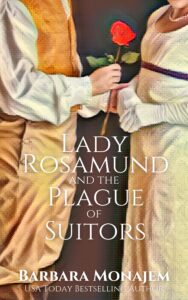 enough to give the Tattler an interview about the latest—and possibly the greatest—scandal in the ton.
Did Lord Derwent, heir to the Earl of Medway, murder his close friend, Lord Worsten? Lord Worsten's body, shockingly stabbed several times, was found in a ditch on the Great North Road the day after Lord Worsten abducted Lord Derwent's mistress―or did he? 
"Everyone thinks so," Sir Pinkerton said, "but my dear friend, Lady Rosamund Phipps, tells another story."
"Lord Derwent is her brother, so surely she should know," I ventured. 
"One would assume so, but one would also expect her to protect her brother to the best of her poor ability," Sir Pinkerton said with a sigh. "She claims Derwent left town with his mistress, and that the abduction story is pure fabrication. However…"
"Yes?" I prompted him eagerly.
"Lords Derwent and Worsten quarreled publicly the other day―in White's, of all places―and Worsten swore to steal Derwent's mistress."
"Ah!" I said, "Rivals in love. Or perhaps only lust, but gentlemen have been known to duel over such foolishness."
"Alas," Sir Pinkerton said, "if it were only a duel, which is an honorable way to settle a dispute. Unfortunately, there is nothing more dishonorable than murder."
"Especially such a vicious sort of murder. Stabbing! Leaving the corpse in a ditch, prey to scavengers and vermin." I shuddered. "How frightfully barbaric."
"Indeed, but the Bow Street Runners are in pursuit, and when they apprehend Derwent, he will be tried swiftly—and hanged." He paused. "With a silken rope."
"Isn't that only for peers?" I mused. "He's not a peer yet, merely the heir to one." I wrinkled my nose. "Not that the sort of rope would be much comfort when one is about to die."
Sir Pinkerton tittered. "I fancy not."
"Poor Lady Rosamund must be distraught," I said. "She suffered much in the spring from rumors about her fragile state of mind."
Sir Pinkerton puffed out his narrow chest. "Lady Rosamund needs a man to take care of her."
Perhaps. She does have a sizeable fortune. 
"What about the latest print by Corvus?" I asked. "It suggests that many so-called gentlemen are bandying her name about and vying for her hand in a horribly louche sort of way. The print implies that you, dear Sir Pinkerton, are one of those very gentlemen."
Sir Pinkerton bristled with affront. "How dare that rascally caricaturist insult me? I am nothing like those rakes. I adore Lady Rosamund. I care deeply for her."
Hmm. We shall leave it to our readers to judge his motives. 
"A little bird told me Lady Rosamund has just left town, heading up the Great North Road," I said. "Maybe she knows where her brother has gone and means to warn him, so he can escape to the Continent."
"She went after him?" Sir Pinkerton huffed. "In that case, I must leave town forthwith."
He hastened away. I hope I am not the cause of more trouble for Lady Rosamund. The last thing she needs, if she indeed goes to save her brother, is Sir Pinkerton getting in the way. We at the Tattler wish her luck―and fervently hope that Lord Derwent will escape the silken rope.
***
Lady Rosamund visits the bookshop with Miss Concord (her brother's mistress, whom she rescued from an abductor) and is accosted by two gentlemen who show signs of planning to woo her. Rosamund is aghast at the notion of remarrying—particularly not one of these men. Miss Concord has a better suggestion.
"If I were you, I would choose that lovely Mr. McBrae," Miss Concord said.
"I beg your pardon?" 
"He's head over ears for you," she said. "Surely you're aware of that!"
I managed a shrug. "I know he finds me attractive, but he doesn't intend marriage." Thank heavens, for that would make our situation even more awkward. It's bad enough that he disapproves of me and lets me know, and worse that he wants to make me his mistress. Not that he has asked me in so many words, but his actions have made it clear.
"No? Why not?" she asked.
"Because—because, well, it's preposterous," I said. "He's an impecunious Scotsman, and I'm the daughter of the Earl of Medway."
"So what? He's a gentleman and you are a lady." She stuck out her chin. "If you're in love with each other, why shouldn't you marry?"
"We aren't in love," I retorted, stopping myself just in time from spouting some nonsense about love matches being only for the underbred. Despite my best efforts, my mother's dictums tend to surge to my lips, especially in moments of disquiet.
The thought of intimacy with McBrae made me uneasy. Actually, the thought of intimacy with any man did—but admittedly, far less so with McBrae than with any other gentleman of my acquaintance.
I liked him, and he lusted after me. And to be fair, he seemed to have a certain amount of respect for my intelligence. To be fair again, he had taught me a certain amount about matters of which I had no previous experience, and he had also saved my life.
But none of this had anything to do with love. 
"Perhaps not yet," she began, then quailed slightly at my frown.  
"I don't plan to marry again," I pronounced.
She looked as if she wanted to ask why, but stopped herself, no doubt for fear of offending me. Good, for I had no intention of explaining myself.
It was a good thing McBrae didn't want to wed me. I couldn't possibly marry anyone, even if I wanted to. I would carry the reason for that to my grave.
***
LADY ROSAMUND AND THE PLAGUE OF SUITORS, Blurb 
Lady Rosamund's plan for a quiet return to London society goes awry when she rescues a woman fleeing along the road—the mistress of her brother, Lord Derwent. Rosamund takes her in, meaning to sort matters out with Derwent—but he has left town in a hurry, and soon the Bow Street Runners are after him for murder. If that wasn't trouble enough, several suitors are vying for Lady Rosamund's hand. 
Luckily, Gilroy McBrae is in London to help Rosamund save her brother. Will their strained relationship, along with his rivals for her heart, impede the race to unmask the real murderer before Derwent is caught and hanged?
Bio:
USA Today bestselling author Barbara Monajem wrote her first story at eight years old about apple tree gnomes. After publishing a middle-grade fantasy, she settled on historical mysteries and romances with intrepid heroines and long-suffering heroes (or vice versa). Sometimes there's bit of fantasy mixed in, because she wants to avoid reality as much as possible.
Barbara used to have two items on her bucket list: to make asparagus pudding and to succeed at knitting socks. She managed the first (don't ask) but doubts she'll ever accomplish the second. This is not a bid for immortality but merely the dismal truth. She lives near Atlanta with an ever-shifting population of relatives, friends, and feline strays. Learn more at www.BarbaraMonajem.com.
Social media links:
Facebook: https://www.facebook.com/barbara.monajem
Bookbub:  https://www.bookbub.com/profile/barbara-monajem
Goodreads: https://www.goodreads.com/author/show/3270624.Barbara_Monajem
Website: http://www.BarbaraMonajem.com
Buy links:
Amazon US: https://www.amazon.com/dp/B0BMGRR74Y/
Amazon Canada: https://www.amazon.ca/dp/B0BMGRR74Y/
Amazon UK: https://www.amazon.co.uk/dp/B0BMGRR74Y/
Amazon Australia: https://www.amazon.com.au/dp/B0BMGRR74Y/
Barnes and Noble: https://www.barnesandnoble.com/w/lady-rosamund-and-the-plague-of-suitors-barbara-monajem/1142786548
Kobo: https://www.kobo.com/us/en/ebook/lady-rosamund-and-the-plague-of-suitors
Apple: https://books.apple.com/us/book/lady-rosamund-and-the-plague-of-suitors/id6444872414