I write to you today, Tattler, in search of the woman I need to take back to my home. She has escaped me. Having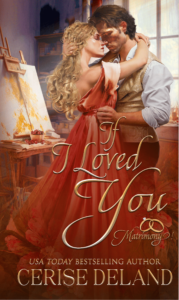 written to that other nefarious newspaper that publishes adverts for those who wish to find spouses, she has gone to London and become the lover of a fellow who is not worthy of her.  
I appeal to you to help me find her. He has taken her away, supposedly to marry her.
But I will not care. Married or not. Ruined by him or not, I will have her back. She is mine. Has always been mine. I care not that she resembles my dead wife. She is lovelier than that one and my wife knew it. Knew I craved this one.
If you hear from her, Tattler, you must write to me. I track her now. Papers in London and Brighton papers say the couple has gone to Brighton. 
I will take her from him when they least expect me. I will show her that she is meant for me alone. No matter what she thinks.
MATRIMONY! #1. IF I LOVED YOU
Love does not advertise. Love counts no wrongs.
But when a young woman needs to escape, she'll take an ad to find a man she can adore.
Verity Carr wants a new life in a new town far from her old home—and the vile threat to her body and soul. She comes from a fine family, has a good education and a bold ambition to become a portrait artist. She's ready to live her life with a man who will value her. A husband she can can respect—and in time, hopefully love. Yet valiant though she is, she questions if she can escape her past and one who will not let her go.
Can a gentleman to whom great wrong was done, build a new life with a true wife and leave the past behind?
Miles St.John Armstrong never should have wed his first wife. He vows to select a new one with logic and careful investigation—via advertisement. The young lady he selects is Verity Carr who is no ordinary woman. She has charm, wit and a beauty that sears his soul. No wonder theirs is a relationship built quickly on admiration and trust. No wonder their marriage becomes one built of mutual mad passion. 
But devoted as they are, their past comes to call.
And it asks of them the ultimate question: Can their love withstand the tempest and survive the terror?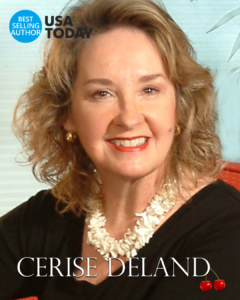 AUTHOR Cerise DeLand invites you to read her newest in a dramatically different romantic suspense inspired by the adverts to a spouse in Regency period!
Excerpt, IF I LOVED YOU. Copyright, 2023, Cerise DeLand.
Miles  had not known her for more than a few hours, but he'd seen her shock over such a sizable bequest. Certainly he could revel in the good fortune of anyone. But if she had suspicions about who had given her such a large inheritance and did not wish to discuss it with him, he could understand that, too. But her new-found gain, enough to support her at current standards in meager means for her lifetime, could lead her to break their agreement to marry. The possibility of losing her created an ache in his heart. A place he'd never expected to feel anything at all ever again. 
As they entered the Grosvenor Gate and passed the park wall, she strode more slowly and breathed more deeply. They took a turn on the path south and one glance at her told him she was more at ease.
"I hate to spoil your enjoyment," he said, "but I think we should not walk here much longer. The shadows grow deeper."
"You are right, of course." She had her hands in her coat pockets as she stopped and spun toward him. "You have been very good to me today."
He raised a hand, his smile wry. "No more gratitude, please. I am quite thanked."
She stopped, faced him and tipped her head, suddenly the coquette, though to him, she did not seem to have planned the spontaneity of such an attitude. She was without guile—and he valued that unexpected characteristic more than he could ever have imagined.
"You are a darling man," she said with an honesty that emphasized her simplicity and lack of artifice.
"You are kind to think so." He remembered a few instances when the moniker he deserved was the opposite. Savage. Insane. Gullible. All came to mind in a rush of bile. 
She put her hands to his and held tightly. "Do you still want to marry a woman you barely know?"
"I'd like to marry you, if you'll have me."
She shook her head as if the whole idea were impossible. "Why? Why?"
"I want a wife. A friend. I am lonely. You seem a gentle soul. I think we would do well together."
"I cannot imagine that you have not met a thousand young ladies you know better than me who would not make you a friend and wife because they do know you better."
But they knew his past, too. His wife. "I would never find happiness with any I've met. They see me as the mill owner, a cit with a new title, an upstart viscount, too rich for his title. They also see me as a widower." Not knowing I am more aggrieved than grieving. 
She stood immobile, only her large eyes searching his for what he would not reveal. "Did you love her?"
"When I married her, yes."
"And do you miss her?"
"No."
She nodded. "I see. Then your loneliness comes not from her lack."
"No. It does not."
She gulped. "Do you want children?"
He blinked and peered up at the deep blue clouds scudding across a darker moonlit sky. "I have not wished for that in many years. But now," he said as he met her frank gaze, "I believe I would."
She smiled as if he'd just given her the keys to the kingdom. "I would, too."
He stepped closer to her, dropped her hands and cupped her shoulders. Her luscious curves fit into the planes of his suddenly very needy self. "Might we proceed to getting them?"
She arched her neck and let her eyes dance into his. "First we must be wed."
"Will day after tomorrow do?"
"Quite well," she said on a delighted laugh. "And then we must become better friends."
He sent his fingers up into the heavy coil of hair at her nape. Her skin was as soft as charmeuse and her hair smelled of lavender. She'd been in his arms often today and her need had been great. Now, he would test to see if she might come for a new and startling reason. Might she come because she could want him? Want him as a man? As her lover?
She pulled back a little, a question on her plump lips. "Friends kiss."
"They do," he said with a smile that grew from a friend's to a ravenous man's. "Shall we?"
She studied his mouth and swallowed hard. "Oh, yes. From the moment I heard your voice on the Great North Road, I have wanted to know how you taste."
"Well, then," he said as he loomed over her lips, "we must not delay."
 She circled her arms around his shoulders and pushed up on her toes. "Please don't."
The temptation to take her with all the ardor he bore her raged through him. He could not devour her like a satyr. He was a man who had foresworn passion and love. A man of reason and temperance. But then…
She put her lips to his, a brush of warm temptation. The sensation of her desire met the one of his quest as if two stars collided in the dark of night. Blinded by it, he groaned and caught her up. Her mouth was lush, and as his tongue invaded, he knew how hot her body was. How sweet. He swept the inside of her mouth and felt her complete surrender. This was what he'd craved. A woman who might love him.
He pulled away, breathless, cupping her cheek. "Darling, we must stop."
In the shadows of the soft spring evening, she tipped her head and smiled at him. "You'll kiss me again?"
"As often as you wish."
There again was that sweet woman who drew him to her with the artless look of enchantment. "Must I tell you each time?"
"No," he said on a laugh and hugged her close, then set her from him. "Only look at me like that, my darling, and I am yours."
"As I am forever yours," she said and put her arm in his to turn and walk home. 
BUY LINK:  https://amzn.to/3nkslpf