It has come to this author's attention that a plot of seduction is afoot. While gentlemen of the ton are known for their penchant for seducing the fairer sex, one particular set is rumoured to have taken seduction to new heights.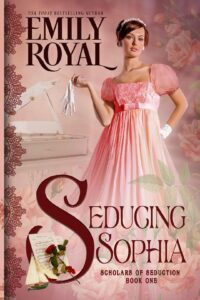 The rakish and, frankly, piratically handsome Duke of P—, has been overheard taking bets in the billiards room of a certain gentlemen's club on St James's. While this particular club is known for its bet book containing all manner of nonsensical wagers, the latest bets to enter the ledger are rumoured to have taken a more salacious turn—to seduce a number of women, to order.
Who might the unsuspecting victims be? This author suspects them to be the inmates of S— House, an establishment owned and occupied solely by women. The dashing Colonel F—, recently returned from the militia, and one of His Grace's closest friends, has been seen entering S— house, allegedly for the purpose of taking pianoforte lessons. If a man indulging in music lessons isn't enough to arouse suspicion, let me tell you, dear reader, that S—House is the ancestral home of none other than the Duke of P—, which his grandfather lost as a result of gaming debts, and which His Grace has often declared that he's determined to retrieve by any means necessary.
Perhaps those means include seduction. A certain Colonel F— has been seen in Hyde Park, with Mrs. B–, the resident pianoforte tutor of S—House. And, only yesterday, this author spotted Lord A—, another member of his Grace's set, walking out with Miss R–, the renowned purveyor of lapdogs to the ladies, and resident of S— House.
But, dear reader, a man who underestimates his quarry is a fool. The women of S— House have not secured their independence through luck alone. His Grace may yet learn that while the world in which we live is undoubtedly a man's world—an intelligent and capable woman will always triumph over a complacent man.
But, whatever fate awaits His Grace and his friends, this particular battle of the sexes promises to both amuse, and intrigue, this author for many months to come.
Seducing Sophia
The Scholars of Seduction, a band of rakes led by the Duke of Peterton, have pledged to seduce the women living at Summerton Hall, the Duke's ancestral home—which his ancestors gambled away—in order to win it back. But a rake should never underestimate his quarry. With hearts and homes at stake, who will triumph in the Battle of the Sexes?
Colonel Adrian FitzRoy is tasked with seducing Summerton Hall's resident music teacher, the widowed Mrs. Black. Expecting an elderly matriarch, he finds, instead, a delectable woman with an adorable young son. Soon, he questions his motives in seducing Sophia for a bet—a woman he's in danger of falling in love with.
Sophia Black found sanctuary for herself and her young son at Summerton Hall, where she teaches the pianoforte. When she discovers that her newest pupil is an army officer, she initially turns him away, but his natural talent for music, and kindness toward her son, win her over.
Determined to protect her heart, Sophia struggles to conquer her attraction to the man who ignites previously-unknown passions with his skilful hands and scorching kisses. But when she learns of Adrian's past, she realizes that the secret she's harboring could destroy their friendship, and shatter her heart forever.
Extract from "Seducing Sophia"
A deep cough made her jump, and she turned around.
A man stood in the doorway, leaning against the frame.
Not just leaning. He dominated it with his body. Broad shoulders filled out a smart, dark blue jacket, tailored to perfection. One hand was inside his pocket, the other hanging casually by his side. Long, lean fingers flexed, curled, and uncurled. Her gaze wandered over his body—the jacket, the highly polished black boots—then it settled on a pair of cream-colored breeches that fit his muscular thighs like a second skin, leaving little to the imagination. 
His body was so large…
So muscular…
So male.
He shifted his weight onto one leg and crossed his ankles, almost as if his position were intended to draw her gaze toward his very maleness. Her cheeks warmed with shame, but she couldn't tear her gaze away.
A deep voice spoke. "I think you'll find my face is up here."
Sophia looked up and her breath caught in her throat.
Clear blue eyes regarded her with appreciation. They radiated a sharp intelligence and something else—desire, and wickedness. Something she had not seen since…
She tried to swallow but her throat was dry. She curled her hands into fists only to find her palms slick.
His eyes darkened and a slight smile played on his lips while he held her gaze, as if he challenged her to look away.
But she couldn't.
His looks conveyed a savage virility. A thick head of hair as dark as a raven's wing surrounded a strong, angular face with dark brows, a strong, straight nose, and a full, sensual mouth.
He was, without doubt, the most handsome man she had ever seen.
Author Biography
USA TODAY Bestselling Author Emily Royal is a mathematics geek who grew up in Sussex, England and has always had a passion for romance and bad boy heroes in need of redemption. She now lives in rural Scotland with her husband, two daughters and a menagerie of pets including Twinkle, an attention-seeking boa constrictor.
Links
Website: http://www.emroyal.com/
Newsletter: https://mailchi.mp/e5806720bfe0/emilyroyalauthor
Bookbub: https://www.bookbub.com/authors/emily-royal
Facebook: https://www.facebook.com/eroyalauthor
Twitter: https://twitter.com/eroyalauthor