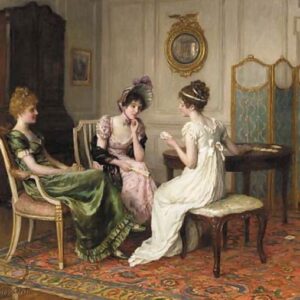 (This is a conversation between Lucinda, Lady Bittle who lives next door to the house Lord and Lady Beaumont rented for the York Season and her bosom friend Mrs. Almeria Thompson.)
Lady Bittle: "Almeria, I am so glad you could join me for tea. I have such news!"
Mrs. Thompson: "Please tell me it is about your new neighbors."
Lady Bittle: "Yes, indeed. They are Lord and Lady Beaumont. You his main estate is north of York, but they usually spend the Season in London, and here they are for the first time!"
Mrs. Thompson: "How curious. Do you know the reason?"
Lady Bittle: They brought with them a gentleman by the name of Lord Sextus. An unusual name to be sure. However, the younger ladies, and some of the older ones I am sure, will swoon over his broad shoulders and blond hair."
Mrs. Thompson titters: "He must be a younger son of at least a marquis, perhaps even a duke! Tell me, is he looking for a wife. He must be. And here in York!"
Lady Bittle: "Perhaps none of the young ladies in London were to his taste. In any event, that new young lady, Miss Staunton is apparently a friend of Lady Beaumont, and he has been introduced to her."
Mrs. Thompson: I can only suppose that her ladyship is matchmaking between Miss Staunton and Lord Sextus." She drinks a sip of tea. "Miss Staunton is quite lovely. Have you noticed that she resembles some of the Bigglesworth ladies?"
Lady Bittle: "Do you think they could be related? Perhaps that is the reason she chose York. To be near her relatives. One of her maids told my downstairs maid that she is from London."
Mrs. Thompson: "Hmm. That is a fascinating thought, but none of the Bigglesworth ladies seemed to know who she was. At the al fresco party, at least one of them was introduced to Miss Staunton, but none of them appeared to have known her before, and she did not say she was related to them."
Lady Bittle: "How disappointing. It would have been a great deal of fun to have discovered how they were related." She picks up a ginger biscuit. "I wonder if Lord Sextus met Miss Staunton in London and that is the reason he is here."
Mrs. Thompson clutched her hands to her breast. "How very romantic that would be. To think he convinced Lord and Lady Beaumont to hire a house so that he could follow her here! Come to think of it, he escorted her to the al fresco party. Yes, that must be it!"
Lady Bittle: "And Miss Staunton has been at the house next door a great deal, and every time the Beaumonts and Lord Sextus go out, she is with them."
Mrs. Thompson: "Where will they wed I wonder."
Lady Bittle goes to the window. "Not here. There is a wagon in front of the house. It looks as if they are preparing to depart."
Mrs. Thompson sighs. "We will have to read about it in the London newssheets. How disappointing."
From the new box set, Desperate Daughters, "I'll Always Be Yours" by Ella Quinn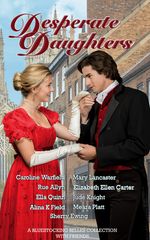 All her life Miss Harriett Staunton believed she was the natural daughter of an earl. In the merchant society in which she was raised, that only garnered improper proposals. Knowing she would never wed, she moved to York, far away from her London family.
Lord Sextus Trevor needs to wed. Unbeknownst to him his father has arranged a marriage. But before he is even told about the betrothal, he's whisked off to York, where he meets Harriett Staunton and must find a way to defy his father.
The Earl of Seahaven desperately wanted a son and heir but died leaving nine daughters and a fifth wife. Cruelly turned out by the new earl, they live hand-to-mouth in a small cottage.
The young dowager Countess's one regret is that she cannot give Seahaven's dear girls a chance at happiness.
When a cousin offers the use of her townhouse in York during the season, the Countess rallies her stepdaughters. They will pool their resources so that the youngest marriageable daughters might make successful matches, thereby saving them all.
So start their adventures in York, amid a whirl of balls, lectures, and al fresco picnics. Is it possible each of them might find love by the time the York horse races bring the season to a close?
Excerpt, I'll Always Be Yours
April, London docks.
"What the deuce?" Lord Sextus Trevor had no sooner left the ship upon which he'd arrived than he was bundled into a large traveling coach with a young matron he thought he remembered and a gentleman he didn't know at all. The lady looked a great deal like his mother, Catherine, Duchess of Somerset, but she had the most unusual turquoise eyes.
Convinced he wasn't being abducted he settled onto the comfortably padded bench. "I take it we are related?"
Her eyes began to twinkle as a wide smile graced her face. "I am your sister Thalia. This"—she motioned with her hand to the gentleman—"is my husband Giles."
"Ah, yes. I received letters about your marriage." Sextus looked at the baby sleeping on her lap. It couldn't be more than a few months if that. "But where are Hawksworth and Meg?" Sextus's eldest brother and his wife the Marquis and Marchioness of Hawksworth. "I understood I would be staying with them."
Giles, the Duke of Kendal placed a protective arm around Thalia. "You were until Meg received a letter informing her that the duke had arranged a marriage for you. We are ensuring that you never receive the letter he sent to you informing you of your pending betrothal."
Thalia closed her eyes and shuddered. "Be thankful you are of age, and he must have your agreement to any marriage."
Considering the truly horrifying marriages the duke, their father, had arranged for two of his sisters, one to a peer who had killed three of his wives, and the other to a pox ridden duke in Scotland, merely so that he could have property he wanted, Sextus had to agree. "I am indeed fortunate. But if I am not to remain in Town, where are we going?"
His sister smiled again. "You will be attending the Season in York. Giles and I are taking you to Marcella and Octavius. Friends of Meg's, Viscount and Viscountess Beaumont, who live just north of York, have leased a town house large enough to accommodate all of you. Lady Beaumont is very familiar with the local gentry and peers in the area. Granted, anyone who has a daughter to launch or who can afford it will be in Town, but she is convinced you will be able to find someone suitable."
Sextus regarded Kendal's amused mien. "Do you not have an estate somewhere in the area?"
"We do." Kendal stretched out his legs. "But having a duke and duchess attending the York Season is bound to cause more comment than an earl and countess who are known to live in the area. Neither Marcella nor Octavius have gone about much. It will be their introduction to York's Polite Society as well as yours. I have met Beaumont and his lady. Meg was right in asking them to sponsor all of you. I will add this required them to leave Town and return north."
That seemed to be above and beyond what one should be able to expect even of friends. Sextus quickly sifted through all that had been said and unsaid. "I take it that the lady the duke selected is not suitable. And not only does he not read the York newssheets, but unless there was something interesting that would be picked up by the London papers, he will likely not discover I am there."
Kendal inclined his head. "Correct. From what we were able to discover, the lady is the eldest child of a country squire and is content to remain with her father. The property is not entailed, and she stands to inherit."
"In addition to that," Talia said, "she is not particularly well educated beyond the basics." She raised a brow. "No foreign languages."
What the devil had the old man been thinking? "What does he expect me to do with a wife like that?"
"I'm not sure he cares," Kendal drawled. "I am positive there is property that he wants involved."
Author Biography of Ella Quinn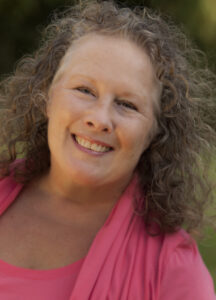 USA Today bestselling author Ella Quinn's studies and other jobs have always been on the serious side. Reading historical romances, especially Regencies, were her escape. Eventually her love of historical novels led her to start writing them.
     She is married to her wonderful husband of almost forty years. They have a son and two beautiful granddaughters, a Great Dane and a cat. After living in the South Pacific, Central America, North Africa, England and Europe, she and her husband decided to make their dreams come true and are now living on a sailboat. They cruised the Caribbean and North America and completed a transatlantic crossing from St. Martin to Southern Europe They will be sailing the Med for the foreseeable future.