Dear Readers, the Earl of Seahaven's daughters seem determined to raise eyebrows wherever they go, especially the beautiful, but too independent, Lady Josefina Bigglesworth. She may be one of the Seahaven diamonds and certain to turn heads during her season in York, but is this not all the more reason she ought to be careful about running off on her own? Even an innocent daytime excursion to a local apothecary shop in The Shambles may be viewed as too forward.
She has also been seen lately having tea with none other than the Duke of Bourne, York's most eligible bachelor, and it is said he could not take his eyes off her. Although the Dowager Countess of Seahaven is keeping quiet about it, several reliable sources present at the Castlegate Tea Room assure this Tattler the duke proposed to the lovely Josefina and she has accepted his offer of marriage.
The duke, that handsome devil, is taking Lady Josefina to his seaside estate outside of Whitby to meet his beloved sister. It is rumored she is ill and the doctors seem unable to cure her. Lady Josefina is known as quite the expert in curative plant medicines. Do her plant lore talents have anything to do with his desire to marry her? And will he marry her if she is unable to cure his sister? It would be a shocking scandal if he begged out, ruining the girl and her family. 
Desperate Daughters, Box Set, Bluestocking Belles and Friends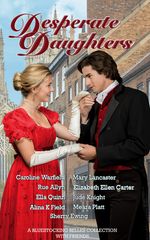 Blurb:
Lady Josefina would much rather spend her time studying plants and their healing properties, but her father, the Earl of Seahaven, has died and left the family impoverished. Marriage seems her only alternative until she meets the handsome Duke of Bourne in an apothecary in York's ancient Shambles. He offers her an intriguing proposition, a fake betrothal and a king's ransom as reward if she returns with him to his estate and finds a cure for his sister's illness. But will the true reward be his heart?
The Earl of Seahaven desperately wanted a son and heir but died leaving nine daughters and a fifth wife. Cruelly turned out by the new earl, they live hand-to-mouth in a small cottage.
The young dowager Countess's one regret is that she cannot give Seahaven's dear girls a chance at happiness.
When a cousin offers the use of her townhouse in York during the season, the Countess rallies her stepdaughters. They will pool their resources so that the youngest marriageable daughters might make successful matches, thereby saving them all.
So start their adventures in York, amid a whirl of balls, lectures, and al fresco picnics. Is it possible each of them might find love by the time the York horse races bring the season to a close?
About the Author, Meara Platt:
Meara Platt is an award winning, USA TODAY bestselling author and an Amazon UK All-Star. Her favorite place in all the world is England's Lake District, which may not come as a surprise since many of her stories are set in that idyllic landscape, including her paranormal romance Dark Gardens series. Learn more about the Dark Gardens and Meara's lighthearted and humorous Regency romances in her Farthingale series and Book of Love series, or her warmhearted Regency romances in her Braydens series by visiting her website at www.mearaplatt.com