Dear Readers, I am not at liberty to say how the original of the letter copied below came into the possession of The Teatime Tattler. Nonetheless we found the subject matter quite entertaining. We have redacted the name out of courtesy to the author and receiver. I will admit to great curiosity about the identity of the stranger cum butler and can only hope that further information comes to light. Be sure if it does our readers will be the first to know.
Respectfully, S. Clemens
Dearest A—-a,
My durance vile in York for the social season has begun. It is not truly vile. I'm happy to help my family, but I do wish I could help in some way other than being on display like a prize pig at market. The one blessing amongst all the balls, musicales, routes and nonsensical frivolity is the York Antiquarian Society. Inexplicably (at least to me), the society has changed the dates of its annual conference from autumn to May just before the York races begin their last week, which as you know, coincides with the end of the York social season.
You can have no idea how greatly I miss you and our conversations on Egyptian antiquities. Speaking with you about the challenges I am facing with verifying the translation of the Rosetta Stone, often helped me resolve an especially knotty problem or two. Mr. Young of the London Royal Society continues to be pleased with the quality of my work, and I am hopeful of finishing the Rosetta project for him before July. I pray my commitments to chaperone my younger sisters will not take too much time away from my work.
I was delighted to learn from your last letter that you and your charming husband are expecting a blessed event in August. I do so wish I could visit you in Oxford to help with your lying-in, but we both know that is not possible, so I'll waste no more ink on the subject.
I arrived in York on March 28th, several hours in advance of Patience and the rest of the family. I had volunteered to open our cousin, Lady St. A—'s house and see it prepared for the family's arrival. I had our redoubtable Mrs. Crewe with me. We are grateful that her brother, returning from the former colonies will act as our butler. However, he has not yet arrived, and we would have been without that essential household staff had it not been for the most peculiar event.
Mrs. Crewe and I had just entered cousin Rose's house. I left Mrs. Crewe to examine the state of the kitchen, larder and keeping room while I went above stairs to assess what might be needed in the bedchambers and public areas of the house. On my way to the bedchambers, I could not resist peeking into our cousin's small study. She keeps her most historically valuable mementos there and always had something new to show me when, as a child, I visited her with my papa. It is Cousin Rose more than anyone who inspired my interest in the antiquities.
I entered the study to discover we had an intruder. There was a man sleeping before the fireplace in one of Cousin Rose's wingback chairs. A decanter of liquid, I took it to be our cousin's favorite Strathnaver Whisky from the color and odor, sat with an empty glass on the floor beside the chair.
I was so surprised to see the man, that several moments passed before I decided what to do. I had in my reticule, a pistol, that Patience insisted I carry for safety since I was traveling with only Mrs. Crewe to guard me. I knew how to use the pistol, so I took it out of my reticule and pointed it at the man before I woke him by saying quite loudly. "Don't move!"
He decided not to comply. We struggled for the pistol and it went off. Fortunately, the only casualty was Cousin Rose's plaster mantlepiece. I tried to run, but he caught me. Then Mrs. Crew showed up with the watch in tow. The man released me. And a most curious conversation ensued. The result of that conversation was that, against all logic, I hired this stranger to act as our butler until Mrs. Crewe's brother can arrive and take over. I hope I've not done something foolish, though I very much fear I may have.
Oh dear. I'm being called to an 'emergency' in the schoolroom. Evidently the younger girls cannot agree on who owns which piece of chalk. I don't wish to miss today's post, so will continue this story in my next letter. Give my best to your darling spouse.
With love and affection,
B–s
Lady E——-h R. B———-h.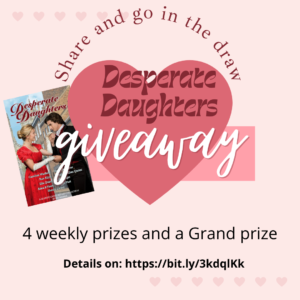 About The Butler & the Bluestocking: Rue Allyn's contribution to the Bluestocking Belles & Friends novella collection, Desperate Daughters, is a story of mistaken identity, and immediate–if a bit unrecognized–attraction. When Bess, the oldest of the nine Bigglesworth stepdaughters, first encounters the honorable Malcolm Marr she mistakes him for an intruder. He claims he's the butler so he will not be forced to leave this amazing woman. Bess is so smitten that despite some very logical misgivings she decides not to challenge his claim.
About Desperate Daughters: Love against the Odds
The Earl of Seahaven desperately wanted a son and heir but died leaving nine daughters and a fifth wife. Cruelly turned out by the new earl, they live hand-to-mouth in a small cottage. The young dowager Countess's one regret is that she cannot give Seahaven's dear girls a chance at happiness. When a cousin offers the use of her townhouse in York during the season, the Countess rallies her stepdaughters. They will pool their resources so that the youngest marriageable daughters might make successful matches, thereby saving them all. So start their adventures in York, amid a whirl of balls, lectures, and al fresco picnics. Is it possible each of them might find love by the time the York horse races bring the season to a close?
Available for Pre-order at $0.99 until launch day, May 17, 2022 https://books2read.com/u/bMwL17.