Greetings, readers of The Teatime Tattler. 'Tis I, Mr. Palmer, lifelong seeker of occult knowledge and experience. For those unacquainted with my talents, allow me to explain how I eavesdrop on history. To see and hear the echoes of a location, I need only stand in the space, close my eyes, and enter a trance which allows my soul to flee its mortal home and explore the boundless realm of the spiritual plane. Perhaps you read of my adventure at Ravenwood Keep in Northumberland. Shortly thereafter, I journeyed farther north to Nihtscua, a castle ruin whose name—meaning "Shadow of Night"—sparked my interest at once. I felt compelled to view its past, though I was unprepared for what awaited me.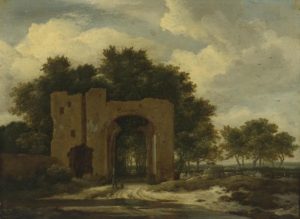 A word of warning. Many would deem the scene I witnessed to be of a delicate nature. Some might say scandalous. Keep your smelling salts close if you choose to read on.
A lord and his lady stood alone inside a well-appointed bedchamber. The woman motioned toward the blazing hearth, before which sat a round, wooden tub lined with white cloth.
"Your bath, my lord," she said.
He turned to her. "Really."
The hint of a smile touched her lips. "Really."
"Why?"
"Because you need to relax. Go on. Disrobe and get in while the water is still warm."
His eyes narrowed. "And where will you be?"
She shrugged, seemingly nonchalant, but her eyes twinkled. "Why, here, of course."
He frowned. "Don't you need to visit the garderobe or something?"
"Why so modest? You're beautifully built."
"Is that so?"
"Aye, and you know it. But if 'twill appease you, I'll go to the garderobe." She started toward the door, then paused and turned. "You're not undressing."
"You're not leaving," he countered.
She twisted her lips and exited the chamber. When she returned a short while later, the lord sat submerged from the ribs down in the water. She shut the door and leaned back against it. Motionless, she stared at him.
"Jocelyn?"
She blinked. "Aye?"
"Would you be so kind as to hand me the soap?"
"Oh. Of course." She advanced toward him. "Would you like me to wash your hair?"
His chest muscles flexed. "Thank you, but I can manage."
He scooped soft soap from the container she held out to him and worked it into his wet hair. Then he took another handful of soap and began to wash his body.
She moved to stand behind him. Studiously, he ignored her, even as he rinsed his hair.
Until she stepped into the tub with him.
She wore only her chemise, of which the bottom third became soaked. The cloth hugged her knees and shins as she sat on the opposite rim of the tub.
The lord frowned. "What are you doing?"
"I would've thought 'twould be obvious."
His gaze was riveted on her legs. "Where are your garments?"
"I'm still wearing one."
"But the others?"
"Beside yours, by the fire."
He lifted his gaze to hers. "By all that's holy, why did you remove—"
"Between the fire and the warm water, 'twas too hot."
"Yet you put your feet into the water. Doesn't that make you hotter?"
"Oh." She bit her lower lip. "I've been standing all day, and my feet ache." She squirmed on the edge of the tub. "My feet feel better, but now my backside is sore."
"What?"
"My backside, buttocks, derriere. Take your pick."
A muscle worked in his jaw.
"Wulfstan?"
He cleared his throat. "Perhaps you should stand up."
Again, she shifted her position. "I think I just need to…ah!" She pitched forward into the tub, and water splashed everywhere.
The shock of the moment wrenched me from the vision and sent me back to the castle's present ruin. Yet the lady's face stayed with me. Clearly, she endeavored to seduce her husband, while he seemed determined to resist her. What do you suppose happened next?
Excerpt from Soul of the Wolf by Judith Sterling
  Wulfstan pushed open the bedchamber door but hesitated on the threshold. Pale and wide-eyed, Jocelyn stood motionless in front of the gaping window. She stared at him as though he were the Devil incarnate.
"Is it the wolf you fear?" he questioned. "Or is it me?"
Jocelyn lifted her chin. "That depends on how much the two of you have in common."
Curbing a grin, he entered the chamber and shut the door. "We have more in common than you'd suspect."
"Oh, I suspect quite a bit."
"I suppose you would."
She crossed her arms. "What do you mean?"
Careful. Tell her gently. He gestured to the hearth. "Come sit by the fire."
"I'm warm enough, thank you."
"Then sit on the bed."
Her arms tightened against her torso. "I'd rather not."
He sighed heavily. "I'll keep my distance. You'll be quite safe."
Her eyes narrowed, but she lowered her arms. She marched to the bed, and as she sat, her tan tunic seemed to meld with the various shades of the pelts around her. Her long, elegant fingers raked the fur. "Happy?"
He swallowed hard. "Rapturous."
His mutinous mind conjured an image of her lying beneath him on the soft fur, arching toward him with the same abandon she'd shown at Woden's Circle. It stirred his blood, and his manhood. By law, her body was his to claim, his to devour at will.
Outside, the wolf howled a second time, prolonging the highest note with seeming ease. The sound shattered Wulfstan's fantasy, reminding him of his mission and the discipline he dared not forsake. He took a deep breath and quelled his arousal.
"Well?" said Jocelyn.
He cocked an eyebrow. Had she intuited his dilemma?
"Your vision," she prompted. "I've waited a lifetime to hear it."
He gritted his teeth. 'Twas now or never. "I see my visions from the viewpoint of the person I'm touching."
She gave him a nod. "In this case, from my point of view."
"Exactly. I was in a large, ornate bedchamber, standing before a woman with brown hair and amber eyes…"
About the Book
A Norman loyalist, Lady Jocelyn bristles when ordered to marry Wulfstan, a Saxon sorcerer.  She nurses a painful secret and would rather bathe in a cesspit than be pawed by such a man…until her lifelong dream of motherhood rears its head.
A man of magic and mystery, Wulfstan has no time for wedded bliss.  He fears that consummating their marriage will bind their souls and wrench his focus from the ancient riddle his dying mother begged him to solve.  He's a lone wolf, salving old wounds with endless work.  But Jocelyn stirs him as no woman ever has.
Their attraction is undeniable.  Their fates are intertwined.  Together, they must face their demons and bring light to a troubled land.
Buy it here:

Amazon https://amzn.com/B06WP4GSCR
Barnes and Noble https://www.barnesandnoble.com/soul-of-the-wolf
The Wild Rose Press https://catalog.thewildrosepress.com/soul-of-the-wolf
About the Author
Judith Sterling's love of history and passion for the paranormal infuse everything she writes. Flight of the Raven and Soul of the Wolf are part of her medieval romance series, The Novels of Ravenwood. The third in the series, Shadow of the Swan, will be released soon. The Cauldron Stirred is the first book in her young adult paranormal series, Guardians of Erin. Written under Judith Marshall, her nonfiction books—My Conversations with Angels and Past Lives, Present Stories—have been translated into multiple languages. She has an MA in linguistics and a BA in history, with a minor in British Studies. Born in that sauna called Florida, she craved cooler climes, and once the travel bug bit, she lived in England, Scotland, Sweden, Wisconsin, Virginia, and on the island of Nantucket. She currently lives in Salem, Massachusetts with her husband and their identical twin sons.
Website – https://judithmarshallauthor.com/
Facebook – https://www.facebook.com/judithsterlingfiction/
Goodreads – https://www.goodreads.com/author/show/16291161.Judith_Sterling
Amazon – https://www.amazon.com/-/e/B01MT3KB7L
The Wild Rose Press – https://catalog.thewildrosepress.com/2212_judith-sterling