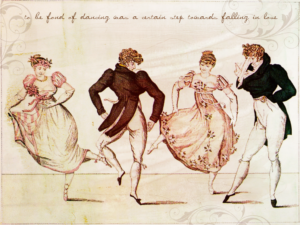 Dear readers,
No one likes to speak ill of a gentleman returned from the wars.
We must pay our respects to that country baronet who has returned as gallantly as any ancient knight to take on his father's title.
And surely all will… if Sir M. is ever seen at any social function, here or in the country, at all.
Apparently the gentleman is of good nature apart from the occasional raising of his voice. He has not inherited the icy sharp tongue of his mother, that Miss H. our readers may still remember for her public and very cutting rejection of her most highly-placed suitor.
Indeed, if the rustic reports are true, Sir M. is appropriately and publicly entertaining a young lady at his estate right now. And whether she is teaching him to ride again after the loss of his leg, or whether she is, as reported, a distant relative making him a gift of a biddable horse, surely the gentleman will be of better temper once he is astride again.
In this warm summer weather, it is only reasonable to venture abroad for fresher air, and if anyone happens upon a party with Sir M., they may confirm for themselves that his tendency to take off his coat in company is his only real fault.
There is nothing to the speculation that Sir M. has given shelter to a French spy, or that he has grown dissolute in his rural isolation. The gentleman remains gallant to anyone ladylike, and is far too clever to risk his reputation on anyone not like a lady.
* * *
Not Like a Lady
Letty's lost everything but one friend, and her horse.
She desperately needs to convince the fierce baronet to buy any horse but hers.
Now she's causing her own problems, because she can't stop touching the man she wanted to hate.
The only way Sir Michael Grantley knows how to be the baronet of Roseford is to do what his father did. But he's not his father; he's a salty ex-sailor who lost half a leg in the war with a far worse temper. Struggling to be the new baronet, he's desperate to get outdoors again – but for that he needs a biddable horse he can ride. He's not prepared for the horse to come with a woman who wants her own life… and who decides that the key to her future is helping him ride again.
Letty has never been anything even close to a lady. Sir Michael imagines that the lady of Roseford Manor will be like his mother: calm and elegant. Neither of them can resist the one person they ought to refuse.
A sensual, engrossing, enchanting romance between two people who can't keep their hands off one another.
Amazon: https://geni.us/notlikealady
Apple: https://books.apple.com/us/book/id1610132457
Kobo: https://www.kobo.com/us/en/ebook/not-like-a-lady-1
Google Play: https://play.google.com/store/books/details/Judith_Lynne_Not_Like_a_Lady?id=2BhYEAAAQBAJ
All buy links: https://find.judithlynne.com/950hat9ifa
EXCERPT:
"It's hopeless."
Michael swung himself down from the ropes using the handrails, and had only taken one crutch from Letty's waiting hands to swing only a step or two away and then collapse on the cool grass.
Letty dropped his coat on his stomach quite unceremoniously, then plopped herself down on the grass next to him.
"Hopeless might be too strong a word," she said but her dubious tone said that on the other hand, it might not.
Maggie had spent at least two hours walking in circles.
Michael's thighs were aching and his frustrations had peaked at least twenty minutes ago. "Hopeless."
Letty was watching Maggie crop placidly at the grass. Of all of them, she had to admit, Maggie looked the least exhausted. She had an infinite supply of patience, that horse. If the human wanted to walk around in circles forever, then by all that was holy, she would walk around in circles forever.
"I think we have to take off the stirrup."
"Oh, do you?"
Letty looked down at Michael's sweating, angry face. "I have not seen you sarcastic before, sir."
"Does it not increase my lordly appeal?"
"I don't know what that might be, but I daresay even without knowing what a lordly appeal should look like, I think that it does not."
Michael sighed and closed his eyes.
She let him lie there for a moment, then one of her hands covered his and she said softly, "Don't be discouraged, Michael, truly. It is only the first day."
He opened his eyes and looked up at her where she sat by his side. Even the sky was gray to match his mood, but she still had her sunny hair and sunny smile, and they eased something in his chest.
He said, "If you are using my given name to appease my bad mood, it is working."
* * *
Judith Lynne writes rule-breaking romances with love around every corner. Her characters tend to have deep convictions, electric pleasures, and, sometimes, weaponry.
She loves to write stories where characters are shaken by life, shaken down to their core, put out their hand… and love is there.
A history nerd with too many degrees, Judith Lynne lives in that other paradise, Ohio, with a truly adorable spouse, an apartment-sized domestic jungle, and a misgendered turtle. Also an award-winning science fiction author and screenwriter, she writes passionate Regency romances with a rich sense of place and time.
Come chat!
https://twitter.com/judithlynnepub
https://www.facebook.com/judithlynnebooks