Your proprietor, as is well known, is proof against the arrows of the mischievous son of Aphrodite, but sympathetic to those who fall subject to the god's shafts. Especially when their love seems doomed to disappointment, for who does not like a happy ending against the odds? Today, on behalf of the proprietors, The Teatime Tattler is publishing a special edition to announce a new book from the Bluestocking Belles; one in which no fewer than eight couples are surprised by Cupid's attentions.
Without further ado, allow your humble servant, Mr. Samuel Clemens, Editor, to present: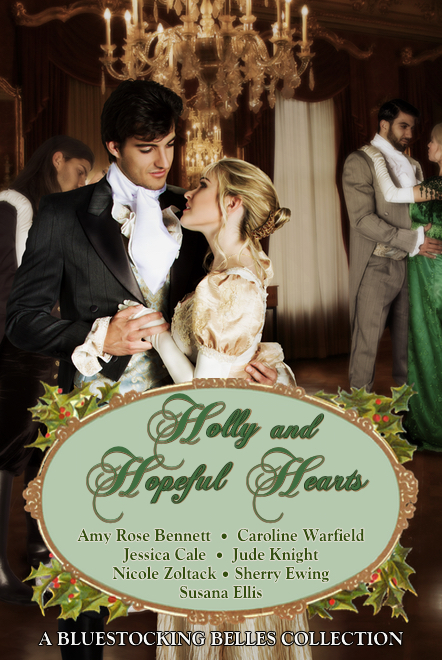 When the Duchess of Haverford sends out invitations to a Yuletide house party and a New Year's Eve ball at her country estate, Hollystone Hall, those who respond know that Her Grace intends to raise money for her favorite cause and promote whatever marriages she can. Eight assorted heroes and heroines set out with their pocketbooks firmly clutched and hearts in protective custody. Or are they?
Read about all eight novellas, and find pre-order links, on the Bluestocking Belles Holly & Hopeful Hearts page.
In between the seven main stories in the box set, one chapter at a time, we tell the story of the duchess's companion, and her search for a meaningful future. Can it be possible for a poor relation to find a suitable husband?
As the Duchess of Haverford's companion, Cedrica Grenford is not treated as a poor relation and is encouraged to mingle with Her Grace's guests. Perhaps among the gentlemen gathered for the duchess's house party, she will find a suitable husband?
Marcel Fournier has only one ambition: to save enough from his fees serving in as chef in the houses of the ton to become the proprietor of his own fine restaurant. An affair with the duchess's dependent would be dangerous. Anything else is impossible. Isn't it?
An extract from A Suitable Husband
Mademoiselle Grenford looked up as he approached, tipping her head a little to one side as she waited for him to speak.
"May I have the honor of this dance, fair shepherdess?" he asked.
She furrowed her brows for the briefest of seconds. "I do not dance, sir, but I will find you a partner—"
"Not dance? When your costume is made to swirl on the dance floor, and the music begs—nay, demand—for you to pay homage?" A slip there. He had pronounced homage in the French way.
Her eyes widened, but she said nothing, merely—oh joy—placed her gloved hand in his and allowed herself to be conducted through the doors to join the waltz.
They began slowly, his hands resting tentatively just above her waist, and hers placed lightly on his shoulders. He honoured the respectable distance due to a maiden, but as they began to circle one another in the dance, his legs shifted past hers and could not avoid repeated touching.
Turn, turn, and turn again. The candles of the chandeliers seemed to whirl above them, the other dancers disappeared, and he and Mademoiselle Grenford were alone in the ballroom. She swayed and dipped and twirled with him, light as a feather but far more substantial, a delight to his hands, his arms, and his legs.
Her eyes fixed on his, her face flushed, she murmured, "Monsieur Fournier, what are you doing here?"
It was a dose of cold water, jerking him back to reality. Would she rebuke him? Tell the duchess?
"One dance," he managed, almost begged. "I promised not to importune you, mademoiselle, but I thought… In costume, no one would know if I stole one dance."
Somehow, his feet kept moving, they kept dancing, round and round and round, their legs shifting past each other's again and again, their eyes still locked.
She smiled, a benison beyond his deserving. "This dance is not a theft, monsieur, when I give it willingly."
"Give?"
He was in heaven. He was no longer dancing; he was floating several inches about the ballroom floor. She knows me even in my disguise. She dances with me willingly.
His heart was too full for speech, and she said nothing more as they continued around the floor, oblivious to everything except the music and one another.
Marcel stepped back when the music ended, dropping his hands from her waist to her hands, unable to resist touching her for a moment more. "Thank you, mademoiselle. Thank you more than I can say. I will leave now, but you have given me food for many happy dreams."
"No." Mademoiselle Grenford folded her fingers around his and tugged him to follow her. By chance, they had stopped at the most poorly lit end of the ballroom, close to the corner where a door let on to a servant's passage, and it was to this she marched determinedly, with Marcel bobbing after in her wake.
No. Not that door. She was opening a door onto the terrace, and in moments, they were outside.
"I do not want it to end," she said. "Will you not consent to sit and talk with me for a little?"
Consent? Did she not know he would consent to the guillotine for her sake?
For more of our stories, see our individual blogs:
Valuing Vanessa, by Susana Ellis
A Kiss for Charity, by Sherry Ewing
Artemis, by Jessica Cale
The Bluestocking and the Barbarian, by Jude Knight
Christmas Kisses, by Nicole Zoltack
An Open Heart, by Caroline Warfield

Dashing Through the Snow, by Amy Rose Bennett