The Highlands are agog with the news of the impending marriage of Ailsa Cameron to the dreaded Laird Duncan MacLean. Clans MacLean and Cameron have been enemies since St. Columba walked these lands. All know these two clans rather break bones than bread. Now, they are binding together for peace.
And that poor lass, Ailsa Cameron—she is a sweet, tender soul they say. Ailsa the Tender— as she is known—will be no match for Black Duncan MacLean. The Laird is a man who likes to display the heads of his enemies on pikes, not display the type of affection the lasses like. The man doesn't smile and lives a spartan life few came withstand. Worse, he has vowed to kill any Cameron who steps on MacLean land.
Yet, there may be hope for the bride and her groom…Black Duncan has loved before and had his heart crushed like heather beneath a foot. If Ailsa can somehow reach the heart he has buried then a chance for love and happiness exists.
All fear that Ailsa doesn't stand a chance.
An excerpt from The Marriage Alliance
Duncan MacLean took stock of the lass. Her curtain of blazing tresses draped down to her hips. She had green eyes. Easy to notice since she gawked at him. Her complexion seemed fair, if not pale with fear. Her fine features exhibited a delicate quality yet a resoluteness radiated from her high cheekbones that should have held the rosy bloom of youth and health. Comely lass…If she closed her gaping mouth.
"She's puny," Duncan said to his two trusted commanders, Caelan and Lachlan. These two men had been at his side since he wielded a wooden sword. He valued their judgment, sought their advice and half the time adhered to it, and they guarded his back.
"It's her inferior bloodline," Caelan replied.
Duncan agreed. If Cameron men were stunted, it was only proper their women were even smaller than wee. He expected too much from a Cameron Female.
"At least, you're not wedding the Urquhart lass. What's her name?" Lachlan asked Caelan while peeking at the Cameron female.
"Nessie," Caelan grunted.
"Oh aye, the Loch Ness monster," Lachlan said, with a brief laugh. "At least this one's a bonnie lass."
"I do not care about her looks," Duncan replied, secretly pleased she bore no resemblance to her father.
Lachlan snorted. 'That's what every man says until he's shackled to a beast."
Caelan smirked and Lachlan puffed his chest with pride.
Duncan blocked out Lachlan. It still dumbfounded Duncan that he was taking a wife and a Cameron no less. MacLeans and Camerons had been enemies since before his birth but that ended with a priest and a vow before the Lord. Warring with the Camerons sounded much more thrilling than standing before a priest and vowing his life to her.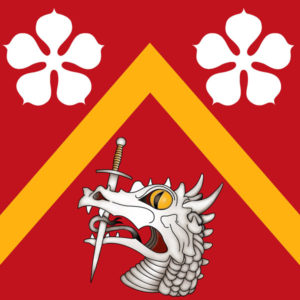 When the red-haired rat offered peace for both clans to war against their common enemy the MacKinnons, his plan shocked Duncan. When Cameron offered marriage to his only daughter, he felt insulted. For some daft reason, he never pulled his broadsword from it scabbard and cleave Cameron in half but instead, he sat and listened. For some reason unfathomable to him even now, he decided to wed the lass.
Duncan smirked. Much as he expected, this puny woman to behave as a Cameron, ready to run, she remained at his side. She must have realized there was no escape or rescue but she kept her head lowered.
He stared at the top of her head, waiting for her to spare him one glance. She had the loveliest hair he had ever seen, streaks of auburns, coppers, golds and bronzes blended to create her silky strands. He only beheld such radiant tones when the sun set over the highlands. In the deep recess of his mind, he was grateful her hair wasn't the palest of blonde. Hers pleased him.
It was convenient he preferred her waving tresses since he would only see the top of her head from the rest of his days. The woman hadn't looked past his chin.
That might not be a bad thing. He recognized her fear of him, after all, he was Duncan MacLean, and it was right he be feared. Yet, she risked his displeasure and wrath to state her wants even as her voice trembled but her daring pleased him. How much more spirit she had hidden away? Duncan wanted to seek it out, see her face color from it. Hell, he was enjoying the prospect of having her as his wife.
But she was Cameron.
Forgetting that truth could kill him.
He barely survived the last betrayal.
As he recited the vows, she leaned toward Father Murray. While he pledged his troth, never raising his voice but adding more bite when he heard her hiss, "Must he stand there with his arms crossed as such?"
Father Murray waved her to silence. She shrugged. Duncan smothered his grin. Aye, her spirit pleased him. She wasn't weak like other Camerons. When he vowed to love and cherish her, she humphed in a high-pitched tone like a mouse trapped in a cat's mouth.
He was the cat.
About the Book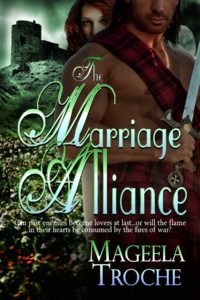 Her hand in marriage could secure peace and safety for those she longs to protect.
Lady Ailsa Cameron is not the most patient of souls. She has even slept through a few high masses. Still, this gentle lass never did anything wicked enough to deserve her father's pronouncement that she must wed the dread Black Duncan, Laird of Clan MacLean.
As leader of the Spartans of the North, Duncan MacLean has inspired many a gruesome tale throughout the majestic highlands and beyond. Duncan accepts Laird Cameron's offer of his daughter's hand in marriage and pledges to make war against their shared enemy, Clan MacKinnon.
Duncan aches to possess his ravishing bride as passionately as he vows never to lower his defenses again. Love blooms between them nonetheless, until betrayal incites a war. Clan MacLean is in danger as are Ailsa and Duncan – but the thing in most peril is their love.
Can past enemies become lovers at last? Or will the flame in their hearts be consumed by the fires of war?
Pre-order Link for The Marriage Alliance
About the Author
An Air Force brat, Mageela Troche has lived throughout the world then landed in New York City. She wanted to leave the same day she arrived. Yet, with her stubbornness, Mageela learned to like the place and the libraries were the main reason. Since she was a little girl, Mageela wanted to be an author and an actress, however, once in college, she changed her life plan in the pursuit of money. After all, college loans must be repaid.
With life's twists and turns, she returned to writing and focused on the romance genre. Mageela Troche's first break came when she sold a short story to a magazine. She sold two more before the publication of her historical romance novel, The Marriage Alliance. She has gone on to write four more novels and a novella.
Mageela is currently writing in the cramped corner of her Big Apple apartment. She is the proud owner of a Black-masked lovebird named Boobula. She loves to hear from her readers and can be found online at MageelaTroche.com