The Earl of M. has returned to England, after fifteen years overseas. This paper understands that he has been touring Europe, the Levant, and even the East since he was abducted from England when he was a mere schoolboy.
Our younger readers may not remember the rancorous battle when his father died; his stepmother and fraternal uncle claiming custody, and his maternal uncle insisting that his rivals wanted the young earl dead.No evidence was ever offered, except for accidents such as any befall any twelve-year-old. But then he disappeared, the only evidence of his continuing existence quarterly letters to his agents and lawyers.
With the Earl back in Society, all eyes are on him and the two from whom he fled: the Dowager Countess of M. and her constant companion, her husband's younger brother Lord D. P. If these two are disappointed that the younger man survived the many rigours of foreign travel, they hid it well at the Winshire Ball last night.
And if the Earl blames the older couple for the two unusual accidents and the street attack he has suffered since setting foot in London three weeks ago, he gave no sign of it.
Still such brushes with eternity must be giving him pause. He is understood to be looking for a bride. We look to see him apply the lessons in courting that we believe him to have learned in far-off climes.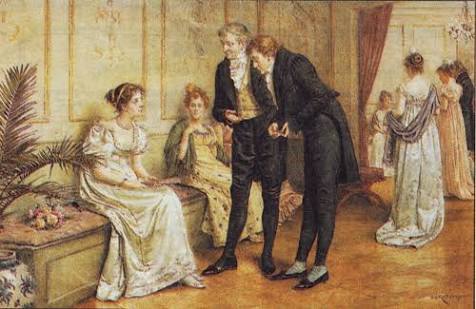 ***
This piece of gossip belongs to a short story I'm writing for my newsletter subscribers. I send out six free stories a year, and I post them on my website in password protected files open to my subscribers. Below is an extract from the beginning of the story; I hope you find it intriguing. Subscribe to my newsletter if you'd like to read the rest of it when I send out my November announcements (which will be about the publication of two more books: another Christmas novella and a collection of all four of my stand-alone Christmas novellas at a discount price for the four).
If you're into Facebook parties, I'll be talking about both publications (and others) at Caroline Warfield's Celebration of Holiday Reading today, and at the Bluestocking Belles' Never Too Late Release Party on 4 November. Hope to see you there.
***
The Mouse Fights Back
Tiberius thought of his wife as Mouse.
He'd had a mouse once; a little wild creature that he'd rescued from his step-mother's cat and carried off to the folly that he had been allowed to make his own because his step-mother did not care for wildernesses.
There, he'd nursed its wounds and released it, and for the rest of his long summer holiday, Mouse had eaten the food he left for it, occasionally even venturing from hiding while he was still in the room, though it would scurry away if he approached.
Miss Mouse—Miss Chausse was her real name, but he misheard it when he was introduced—had the same frightened, frozen stance when he first saw her, at the elbow of the fat sleek cat who he later learned to be her aunt, afraid to move lest her torturer stop pretending to ignore her and returned to her vicious games.
He wasn't here in Society to rescue mice, however, so he moved on to the next lady on his list. With his uncle determined to step into his shoes, Tiberius needed to fill his nursery, and he couldn't make a start on that without first obtaining a wife.
The search went poorly,not least because Mouse kept intruding. Not by design. She did her best to remain invisible. But Tiberius noticed whenever she was present and looked for her when she wasn't.
Wondering at himself, he once asked her to dance, but the experiment was not a success. She wouldn't look at him, stumbled when he spoke, and mumbled when she answered his questions. Still, she was graceful when he gave up conversing, and he fancied she gentled to his touch as they moved through the figures of the dance.
He might have tried again, except that he saw the fear in her face when he returned her to her aunt; saw her shrink into herself when another gentleman took his example and asked for her to partner him. The aunt's verbal onslaught when she returned from this second set left Mouse white-faced and fighting to hold back tears.
Tiberius could not solve her problems. He had troubles enough of his own, and needed a strong-minded wife who could protect and defend the new earl if one of the murder plots succeeded before Tiberius could prove that his uncle was the mastermind behind them. Him and dear step-Mama who, it transpired, was an intimate friend of Mouse's aunt. Two cats together.
Still, he stepped in to rescue the poor girl from the claws of some cats-in-training outside the ladies' retiring room one day, and another time punched a known debaucher in the nose and escorted Mouse out of the garden she had unaccountably entered.
"You should not have been out there alone," he scolded, keeping his voice as calm and gentle as he could with the anger and outrage still surging in his veins.
"My aunt–" Mouse coloured and stammered. Her aunt would be angry?
"I will not tell her, Miss Chausse." He meant to reassure, and instead received an indignant glare.
"She took me outside. She left me with… That man."
His hand convulsed on hers and she trembled, impelling him to gentle his touch. "The nasty old cat!"
His indignation must have given her courage, because she burst into an explanation, admirably succinct. "She is afraid I might marry, and remove my money from her grasp, and so she seeks to have me ruined, though she has not thought about how that might curtail her social life. But aunt is not clever, just cunning."
The speech was the longest he'd heard from her, and full of intelligence and even a certain bitter humour. "But surely…" Tiberius stopped, uncertain how to say that she must be in her mid-20s, with the spectre of marriage behind her.
"I am twenty-two, but my inheritance is in trust until I am thirty. And no one has shown any interest in me in five years since my come out until you… That is, until this year."
Ah. Tiberius had put her at risk by dancing with her. How our good deeds come back to haunt us.
"I am sorry," he offered.
Mouse did not pretend to misunderstand him. "You are not responsible. You did not make aunt a bully or my trustee a thief. Or me too much of a coward to stand up to them."
They had stopped on the terrace, far enough apart from others for this private conversation, but in full decorous sight of at least a score of people, and there her aunt found them, Tiberius's step mother and uncle at her elbow.
"Where have you been, you wicked girl?"