Dear Mr. Clemens,
Until last week, you enjoyed my greatest confidence that the Teatime Tattler reported London's juiciest gossip. But now I must pose this question: whyever was your coverage of the Duke's ball so woefully incomplete?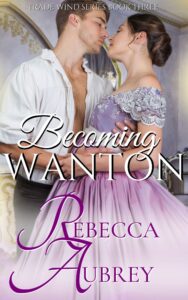 I have never before risked such correspondence, but I cannot resist, for I wish to know, sir. Do you abuse your discretion as publisher to protect certain lords in Parliament? Or were your usual sources so captivated by the obvious they overlooked the most delicious gossip? To be fair, most guests at the ball were not afforded my view…
Oh, I do not disagree that Lady Clara's scandal was noteworthy. An earl's sister and a Scottish industrialist? Yes, of course I gasped along with everyone else when that commoner brute swept her into his muscled arms after she swooned! And again when, carrying her to the terrace, he shouldered the very host of the ball out of the way! The Duke!
Any informed reader cannot, however, be surprised. This is the lady who withdrew from her coming-out season and rejected favorable courtships. Why, any close Mayfair neighbor can attest to the wicked music her fingers regularly elicit from her piano. Chopin's most fervent pieces!
The other honorable guests at the ball were agape at the Scotsman and Lady Clara, but I cannot purge a different passionate image from my memory. I shall share it with you, sir, on the chance that its omission from the Tattler was not occasioned by favoritism. 
At first I cursed being of such delicate stature and politeness that I did not forcefully maneuver to the front of the crowd. I now suspect a divine hand placed me, permitting me to witness…
No, before sharing that, first I must ask you—were you as gullible as I? Did you, too, believe the Marquess of Candleton was the proper statesman his activities in the House of Lords suggest? Were you taken in by the Marchioness's modest gowns and impeccable manners all these years? Do not feel foolish, for I also had the wool pulled over my eyes. No more.
What was Lady Candleton's expression full of as she observed the scene with Lady Clara? Not disapproval, as one might have assumed, nor gentle concern. No, she watched raptly and with envy—the kind with knowledge behind it. Her virtuous airs dupe me no longer. 
If that wasn't shocking enough, do be certain to sit before you read on. Lord Candleton, Britain's champion and architect of reform, was not watching the scene everyone else was, oh no. He had eyes only for…his wife! 
Suspend your disbelief; cast aside your assumptions about this lord and lady. Had you seen the fierce look of unfulfilled desire in Lord Candleton's eyes this Society Matron did, you would have no doubt. Mark my words, something is raging within the Marquess and Marchioness, something we would all agree has no place in a respectable marriage!
***
About Becoming Wanton by Rebecca Aubrey: 
This couple's dilemma? They're both married…to each other.
Lord William Dalfour, Marquess of Candleton, is in a terrible fix. Oh, he knows what's expected of him. By day, he's to face Britain's challenges as a notable member of the House of Lords. Night means siring heirs in the dark with his marchioness, but only with the utmost decorum. His animalistic urges…well, those are to be unleashed in the Thames Fencing Club. Or with a mistress—if he had one.
One does not engage in wantonness with one's wife and mother of one's children. Oh, no. One does not become enchanted by one's wife!
A respected society hostess and devoted parent, Lady Beatrice should be fulfilled by domestic bliss and having her husband's ear on parliamentary business. Behind closed doors, however, she dares to come into her own, asking for more and testing the limits of William's insistence on propriety—and his self-control.
No matter the pain his rejection inflicts, William's highest duty is to keep Bea wholesome. Isn't it? To protect her, even from himself? From herself. But what if honoring his wife means succumbing to their mutual craving? Worshiping her, body and soul…
Don't miss Trade of a Lifetime, Book One in the Trade Wind Series, about Lady Clara and James Robertson. 
Becoming Wanton on Amazon: https://www.amazon.com/dp/B0B4LZNWK5
About Rebecca Aubrey:
Romantic by birth. Author by choice.
Rebecca writes about strong women, the men they find compelling, and the passion that ensues. Oh, and their clothes come off—whether corsets or clergy collars, gowns or gun holsters, breeches or business suits.
Count on intense emotional and physical attraction, and meticulously-researched settings. Between daydreams, Rebecca has detailed plans for her next book, bake, and cocktail—and a vague notion of what's for dinner. Rebecca is also a lawyer and proud graduate of Smith College.
Visit her website and sign up for her newsletters at www.rebeccaaubrey.com.