Dear Readers,
Gazette insiders tell us there was an unchaperoned encounter between a certain deliciously mysterious earl and a flame-haired lady who's rumored to keep daggers hidden within her skirts. Both were apparently seeking a stolen journal and yet only one was the victor… And considering the gentleman in question was observed limping away from the encounter, wearing a ferocious scowl on his handsome brow, our money is firmly on the lady in question as having won the confrontation. Though if she did best the earl, one does wonder how she accomplished such a feat against what can only be described as a prime specimen of a male, whose athletic prowess is unparalleled and very much admired by the ladies of Society. One does wonder, indeed…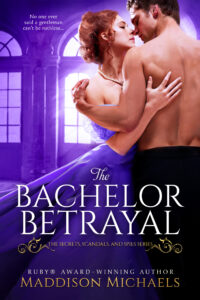 'Tis a question we shall be pondering as we wait with bated breath to see what the earl will do in reply. After all, the gentleman is not known as a man who gives up easily, in fact his tenacity is both admired and to be feared. The lady would do well to be cautious, very cautious, indeed. Though we've heard rumors that this particular lady in question is unlike other ladies; apparently, she prefers to she throw daggers, not dinner parties…. How delightfully wicked!
We suspect things are about to get dangerously scandalous… So, stay tuned, dear reader, for what is sure to be an extremely entertaining and perilous journey ahead as we eagerly anticipate the antics these two undoubtedly have in store for us. 
THE BACHELOR BETRAYAL by Maddison Michaels
Release date: 14 February 2022.
Buy link: www.books2read.com/TheBachelorBetrayal
BLURB:
He wants justice
Underestimating Marcus Black is the last thing his enemies ever do. After all, the respected Earl of Westwood is a deadly threat… when her Majesty needs him to be. And his only goal is to avenge his brother's murder. Which would be much easier if the viciously-skilled Lady Kaitlyn Montrose wouldn't swoop in, knee him in the bollocks, and then run off with his only lead…
She wants revenge
Kat is determined to avenge her beloved uncle's murder and nothing will stop her. Especially not the devastatingly handsome, and equally lethal Marcus Black. The fact that he's after the same target is a complication she hadn't planned on.  And as much as she enjoys taunting him, she has a job to do—one that doesn't include sparring with the infuriating man at every turn. Except Kat has a new plan… one that Marcus will just hate.
Now they'll have to work together… if they don't kill each other first
Individually, Marcus and Kat are deadly. If they worked together, they could be unstoppable. But when attraction gets in the way of vengeance, it's more than hearts on the line. And only one person can win…
AUTHOR BIO AND LINKS:
Indoctrinated into a world of dashing rogues and feisty heroines when she was a teenager and picked up her first ever historical romance, Maddison Michaels has been a prolific reader and writer of historical romance ever since. She is the bestselling author of six books, including THE DEVILISH DUKE which won the 2019 RWA Australia Historical Romantic Book of the Year.
Writing historical romance is Maddison's way of time traveling back to Victorian London to experience a cornucopia of intrigue, romance and adventure all from the comfort of her living room! She also loves incorporating her previous 16 years experience as a police officer into the mystery and suspense elements of her books.  She lives in Sydney, Australia with her own handsome hero, beautiful daughter and fur baby, and she always starts her day with a cup of liquid gold…coffee – just quietly, she's addicted to the stuff!
Maddison absolutely loves to hear from her readers and you can find her at http://www.maddisonmichaels.com/ or on most social media platforms!
Author Links:
Website: http://maddisonmichaels.com/
Facebook: https://www.facebook.com/MaddisonMichaelsAuthor/
Twitter: https://www.twitter.com/mmichaelsauthor
Instagram: https://www.instagram.com/maddisonmichaelsauthor/
Goodreads: https://www.goodreads.com/author/show/17367583.Maddison_Michaels
Amazon Author Page : https://www.amazon.com/Maddison-Michaels/e/B079LXRLQ7