Dear Readers,
We rarely venture into happenings in the West Country, but just this morning received a most unusual letter from our infrequent Falmouth contributor, Mrs. Crowther. She's been most helpful in the past, sharing far-flung on dits from passengers alighting from the international packets.
But now, she's related something more, shall we say, shocking. As shocking as events can get in Falmouth. Come to think of it, if the happening she related is to be relied upon, it would be even more shocking in Mayfair. Your editor must admit he's never quite seen the like of this scandal, which if it had unfolded in London, would have rocked the ton to its core.
Consider this scene: A duke and duchess of the realm race their separate conveyances (pell-mell along a dangerous coastal road) to a local theater performance of Othello in Falmouth. Our correspondent assures us, since we sincerely doubted the veracity of such a tale, Her Grace is first to the theater in her high, sporty curricle with smart, matching grays.
His Grace, the Duke of Sidmouth, follows behind in his heavier, more sedate carriage. Of course, he is also obliged to convey additional guests, but according to reports from reliable bystanders, gamely tries to keep up with Her Grace's frightening speed.
At the edge of town, the curricle slows to a more sedate pace and then rolls to a stop at the theater near the harbor front. You can imagine the amazement of the crowd outside the theater when Her Grace and the widowed Marchioness of Blandford alight, unaccompanied, and turn over the conveyance and lathered cattle to the tiger. The two women proceed to the ducal family box inside the theater before the arrival of His Grace.
Since no one in the family is prone to gossip, and the servants at Bocollyn are too loyal to offer so much as a peep, speculation has been rampant. However, one footman (after several rounds of ale at a local inn on his day off) did hint to an acquaintance of our correspondent that Her Grace had returned from the ducal honeymoon weeks earlier than the duke, but when pressed would say no more.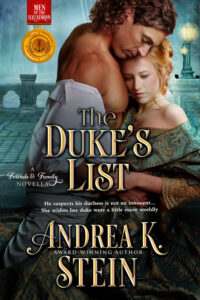 About the Book, The Duke's List

The former Jane Lemon's overnight transformation into a duchess, thanks to her father's deathbed maneuverings, has been something of a shock. She's spent most of her life in London, where her mother's free-spirited salons brought her into contact with a world of discreet, privileged sensuality. Now she must deal with a stuffy duke who accuses her of being a tarnished woman. He wants a duchess who will make love in the dark of night, without any imaginative embellishments, for the sole purpose of producing an heir. If only he were willing to bend a little her way…
Cornelius, Duke of Sidmouth, has his limits. He assumed his arranged marriage to a Cornwall heiress would go as smoothly as his well-run estate, Bocollyn. A man expects decorum and modesty in his bride, not unbridled sensuality, and wantonness. He can't believe she left him on their honeymoon in Venice. When he returns home, she's already there, in charge of his beloved horses and living in his retired stable master's cottage. Now he must start all over and woo his duchess.
Will she give him a second chance? Will he be able to suspend his pride a little to give her what she needs?
"The Duke's List," is live now on Amazon here: https://amzn.to/3c804cR
An Excerpt:
November 1820, Bocollyn House, Cornwall
Sidmouth sipped at his coffee, prepared just as he liked it, and stared out the window of the small, dark parlor at the far rear corner of Bocollyn House. When he'd insisted on taking breakfast there each morning, his housekeeper, Mrs. Smythe, had given him an odd look, but had complied.
None of the servants dared say a word, but they all knew. His Grace, the Duke of Sidmouth, had chosen to take his meals in the smallest, darkest room in his vast manor house because the window looked out on his stable master's cottage.
He did not presently have a stable master, because he'd delayed replacing old Crofton who'd retired more than a year ago. That decision had come to haunt him now that he'd been bested by his duchess. Her Grace, the sultry and delectable Jane, had occupied the vacated cottage ever since she'd left him and returned to Bocollyn after that fateful night in Venice. He'd apparently not only burned a marital bridge, but chopped the damned thing up into small pieces and built a raging bonfire to consume it.
Across the way, in the stable master's cottage, his duchess chirruped happily on with his cousin's son and his ward, Nicholas, at her side, embarrassing proof of the cold ashes of his marriage.
Eight-year-old Nicholas, Marquess of Blandford, and his two slobbering monster mastiffs were temporary guests at Bocollyn. The boy's mother, Lady Harriet, formerly Marchioness of Blandford, was spending time with her new husband, Lieutenant Bourne, on Sidmouth's yacht, The Falcon.
His duchess and the boy had formed a mutual admiration society and played endless games of cards. He strongly suspected she was teaching Nicholas to be a Captain Sharp, but could not for the life of him catch the two of them in any untoward tricks. He was allowed to join them at the cottage for supper each evening, but he had to return to his own abode at the end of his nightly drubbing at cards.
The previous night, his duchess had worn a blush-colored beaded silk gown that swayed and rustled with every move of her voluptuous body. It seemed as if each time he joined them for supper, Jane found yet another gown designed to drive him insane.
Once his cousin's husband returned to his ship and she finally retrieved her tribe of boy, dogs, and their attics-to-let grandmother, he had plans for his duchess. He could barely keep from rubbing his hands together in anticipation.
But for now, he had to be satisfied with staring across his stable yard, like a hungry schoolboy standing in the rain outside a warm bakery with the smell of hot raisin buns heavy in the air.
About the Author
Andrea K. Stein, the daughter of a trucker and an artist, never knew it would take the hard-work ethic of her father to achieve the light-filled magic of her mother's art. After helping raise a combined family equaling the Brady bunch without Alice, she retired early from a 30-year career as a newspaper and publishing professional and fled to the mountains. She interspersed a seven-year stint as a Colorado ski patroller with nautical adventures as first mate to a crusty, old British delivery captain, accumulating some 20,000 miles at sea. While delivering yachts up and down the Caribbean, she also earned a USCG offshore captain's license. Now, she tells award-winning tales of the high seas from her writing room in Colorado. She has eleven titles self-published on Amazon.
Andrea can be found at the following online haunts:
Facebook – https://www.facebook.com/authorandreakstein
FB Private Group – https://www.facebook.com/groups/andreaksteinsfeistyheroines
Pinterest – https://www.pinterest.com/highseasromance/_saved/
Instagram – https://www.instagram.com/author_andrea_k_stein/
Twitter – @andreakstein
Website: https://www.andreakstein.com