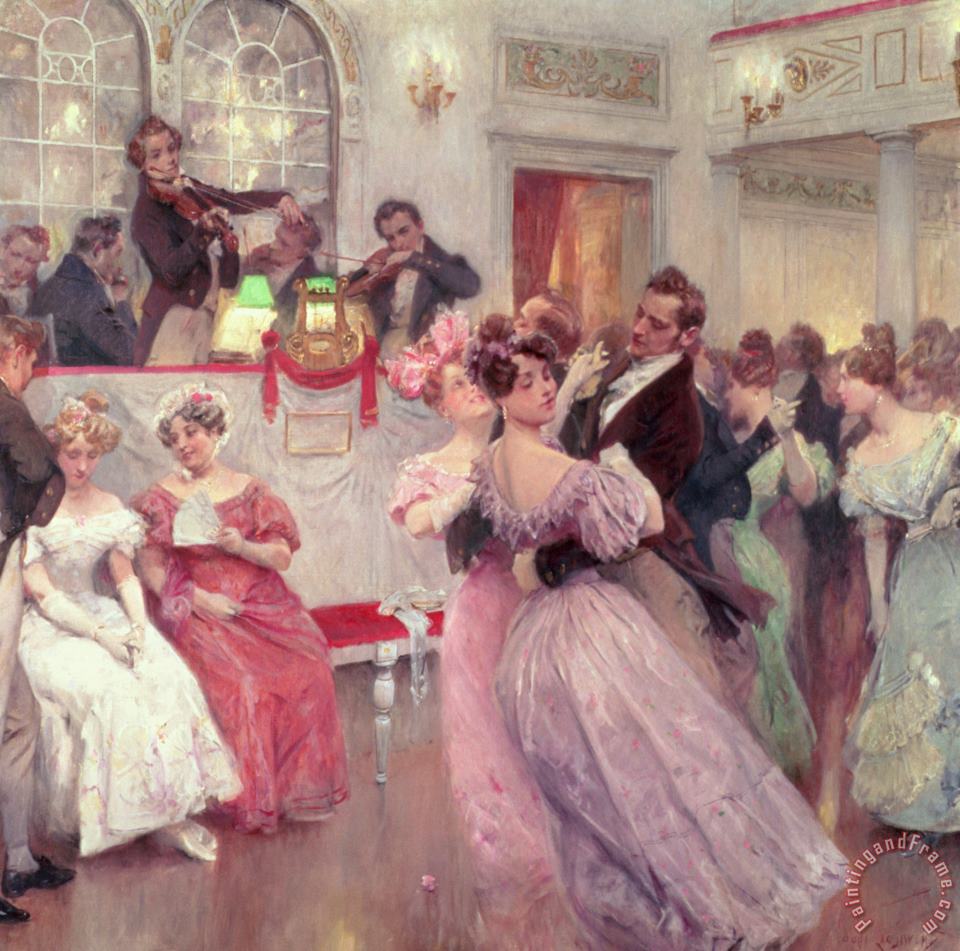 Dear Reader,
I must report to you a shocking set of events that has the polite world reeling and convey to you my deepest regrets that, if all is proven true, a stalwart fixture of society will no longer be received.
Lady Witherspoon, who rarely misses an event of importance, was a guest at Miss Jocelyn Stafford's birthday ball. While the guest of honor seemed to comport herself with the refinement one has come to expect from a gently-bred maiden, Lady Witherspoon sensed something was amiss and made a point of seating herself at the young lady's table when the buffet was set out.
Her guardian, Lord Ralston, never left her side and  answered most of the questions put to the girl. When Lady Witherspoon peered into Miss Stafford's face, she detected a tan. A tan! Miss Stafford never leaves home without her bonnet and was as pale as a ghost just last week. When she remarked on it, Ralston said Miss Stafford had taken up strolling in her mother's garden without her head covering. Not only that, the girl's spoken words seemed to have odd inflections.
Could this be an imposter?
Rumors, spread by servants who should know not to speak of their betters (and of course, we never listen to such gossip), have speculated that a guest spirited into Lady Siltsbury's house two days ago late at night is not a widowed relation seeking total privacy, but another daughter who closely resembles Miss Jocelyn. Could Jocelyn have a sister? Surely not a twin.
I shudder to think of how this could be true as Lord Siltsbury departed these shores and hied off to the colonies years ago and has never returned. Of course he was a mere second son at the time. He generously allowed his wife, who is terrified of sea travel, to remain.
I will leave this with you, dear reader. If indeed Lady Siltsbury has tried to fool polite society by foisting an imposter on the ton, then shame on her. And if it is true (and I sincerely hope for the sake of all involved it is not) who is this mysterious look-alike and where is Jocelyn?
Ah, these mysteries are enough to still my faint heart. I must ring for my vinaigrette before penning my next report.
—An Anonymous Correspondent
Scandal's Deception
Jane Stafford, raised in America, is shocked to learn she is a wealthy heiress, her late father was an earl, and her English mother is alive. Anxious to meet the woman she long-thought dead, she travels to London, only to be whisked away by her sinfully handsome guardian to a remote estate to be "schooled" in the ways of the ton.
Gilbert Carmichael, Lord Ralston, chafes at having to make a rebellious young heiress acceptable to society, especially one who is impetuous and blatantly democratic. Because the instruction she needs is more than deportment and dancing. It's also about how to spot a rake who might woo her for her fortune.
When Ralston learns his ward is to be used as a pawn in an elaborate scheme involving a secret impersonation, he will move heaven and earth to keep her safe. Because proximity has brought the uncomfortable knowledge that his interest may be more than duty—it just might be love.
Buy Link: https://www.amazon.com/dp/B098BBLPR4/
Excerpt
Jane lowered her head as she entered Papa's room, loathe to gaze on her father in his pale, weakened state. The darkened room smelled of camphor and some other sickly-sweet substance she couldn't place. She dragged a wooden chair to the side of the bed and sat, her hands clasped firmly in her lap.
Papa turned his head to face her. "My dear."
She leaned closer to hear what he had to say, her throat tightening once again.
"I'm here." She swallowed and forced herself to look into the feverish eyes.
"You will be amply provided for. Hornsby has the details."
"I know, Papa. I'm not worried about my future."
He smiled and her breath caught. "After…after my funeral, he has instructions to purchase passage for you on a ship bound for England."
Jane leaned further forward, not sure she heard correctly. "England? I shall stay here in Maryland. I do not know anyone in England."
He turned his face away, his breaths coming faster. The doctor rose from his chair by the fire and peered into his patient's face. "You need to rest, Mathew. Speaking is taking your energy."
"No. I have to tell her."
Jane picked up his cold hand, a chill skipping along her spine despite the heat in the room. "Tell me what?"
He turned back to her. "You have relatives in England who will care for you."
She hunched her shoulders and bent closer, astonished by her father's words. "Who?"
He closed his eyes, as if gaining strength, then opened them.
"Your mother."
Jane squeezed his hand and shook her head. Poor Papa. How cruel for such a brilliant man to be delusional at the end. Her mother was dead. Died in childbed. She'd been told as soon as she was old enough to ask.
"I've written to her," he whispered. "She's expecting you."
He lapsed into a coughing fit, the doctor by his side. Janie rose and moved away, her brain unable to process what she'd been told. His mind was tricking him. It must be the pain.
Maddie, standing by the door, hurried in and led Jane out of the room, seating her in a chair in the hall. She handed her the glass she still carried and told Jane to sip slowly. "You need this, child."
Trying to process Papa's words, Jane took the glass and held it in both hands, mesmerized by the candlelight playing on the facets of the crystal.
England. Your mother. I've written to her.
How odd for him to say such a thing.
She sipped from the glass and handed it back. "Maddie? Wasn't I born in this house? You were here, weren't you?"
"You were nearly a year old when your Papa offered me the position of both housekeeper and nanny. It was difficult for me to care for a house and a child, but he paid well so I accepted. I've never regretted it."
You have relatives in England.
"Did you ever ask about my mother?"
"It wasn't my place. I assumed she must be dead, although I found it odd he never spoke of her."
"I assumed the same. Whenever I asked about her, he said it was too painful to discuss. So I stopped." She stared at her tightly clasped hands. "You heard what he said?"
"I did and I have to tell you I'm bewildered."
The door opened and the doctor came out. A long-time friend of Papa's, Dr. Hadley shook his head. "He's gone. I'm sorry."
Maddie shrieked, her hand covering her mouth. Jane sat silently in the chair, cold to the core, chilled by an ugly premonition.
Her life was about to undergo a momentous change.
And not for the better.
Meet Pamela Gibson
Author of eight books on California history and seventeen romance novels, Pamela Gibson is a former City Manager who lives in the Nevada desert. Having spent the last three years messing about in boats, a hobby that included a five-thousand-mile trip in a 32-foot Nordic Tug, she now spends most of her time indoors happily reading, writing, cooking and keeping up with the antics of Ralph, the Rescue Cat. If you want to learn more about her activities go to https://www.pamelagibsonwrites.com and sign up for her quarterly newsletter and occasional blog. Or follow her in these places:
Bookbub: www.bookbub.com/profile/pamela-gibson
Facebook: www.facebook.com/pamgibsonwrites/
Twitter: www.twitter.com/pamgibsonwrites
Website: www.pamelagibsonwrites.com
Goodreads: www.goodreads.com/pamgibsonwrites
Amazon: www.amazon.com/Pamela-Gibson/e/B00MKVB4XE