Dear Euphemia,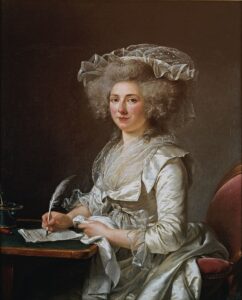 Can you enlighten me about the boisterous clan of Bigglesworth women that have invaded York Society this Season? The younger daughters are being launched (one might say cast upon us) and are being feted hither and yon as "the Seahaven Diamonds." Anyone who is anyone scurried about hoping for invitations to the grand ball they hosted to celebrate said launch, though my own invitation went astray. But that is neither here nor there.
York is virtually crawling with Bigglesworth women. One cannot pay a morning call on a friend without encountering two or three of them, as if they travel in packs. One encounters them in the shops. Some were seen dragging some poor bored children along the walls for a history lecture. Others are rather too cozy with the horse racing scene. Always they are dressed fashionably, which leads one to wonder. How are they managing the expense?
You live near Starbrook and are quite cozy (or so you claim) with the new Earl of Seahaven's Dear Wife. You gave me the impression in times past that the earl left the widowed countess with little or nothing. How did that chit, the former countess—the fifth wife in a row who failed to produce a male child—manage a season for all those stepdaughters, even the ones clearly on the shelf? Can you enlighten me?
One wonders whether one ought to befriend some or all, or even if one ought to receive them. As if the number and questionable situation weren't enough, morals are in question. My maid heard a story from our footman who took ale with another footman, one that had been hired by the Bigglesworths—temporarily, mind you, to handle the undiscerning crowds that descended on them after their ball. That person testified that at least one of those young women was seen creeping out of a closet with her clothing askew and her hair out of place in the company of Viscount Stanbeck's shabby younger brother who purports to be a curate. What must they teach young clergy these days?
Do write back quickly. The Season moves swiftly, and that baggage and her tribe of daughters are everywhere. Ought I avoid them?
Sir William, my dear husband, sends his regards.
Yours
Marian, Lady Smithers
About the Book: Desperate Daughters
Love Against the Odds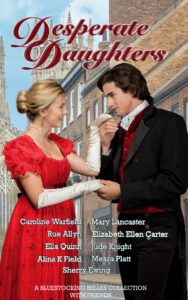 The Earl of Seahaven desperately wanted a son and heir but died leaving nine daughters and a fifth wife. Cruelly turned out by the new earl, they live hand-to-mouth in a small cottage.
The young dowager Countess's one regret is that she cannot give Seahaven's dear girls a chance at happiness.
When a cousin offers the use of her townhouse in York during the season, the Countess rallies her stepdaughters.
They will pool their resources so that the youngest marriageable daughters might make successful matches, thereby saving them all.
So start their adventures in York, amid a whirl of balls, lectures, and al fresco picnics. Is it possible each of them might find love by the time the York horse races bring the season to a close.
Among them?  "Lady Dorothea's Curate," by Caroline Warfield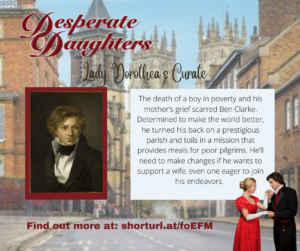 Employed at a hotel in order to assist her stepmother, Lady Dorothea Bigglesworth had no use for a title. It would only invite scorn, or, worse, pity. Plain Miss Doro Bigglesworth suited her fine.
Ben Clarke dedicated his life to helping the neediest. It gave his life meaning. He tended to forget the younger son of a viscount went by "Honorable."
Working together at Pilgrim's Rest, neither saw the need to mention it to the other, before fate separated them. When they were formally introduced after an unexpected reunion— in a ballroom in York—shock rocked them both. Can their budding love survive?
You can find links to various vendors here:
https://bluestockingbelles.net/belles-joint-projects/desperate-daughters/