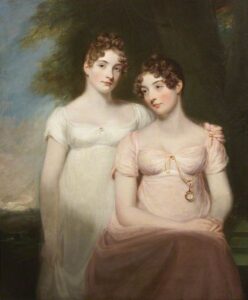 Abigail Danvers paced behind her sister as she penned the latest gossip they learned at the Valentine's Day ball in Bath. If Prudence didn't hurry, they would never get the information to Samuel Clemens at The Teatime Tattler in time for the morning edition. Perhaps this might not be a bad thing after all…
"It's done," Prudence finally said before standing up to allow Abigail to sit at the desk. "Tell me what you think."
Abigail continued her pacing. She had recently begun to wonder if being an anonymous reporter for The Teatime Tattler was worth their time and energy. They'd never find husbands if they spent all their time snooping into other people's business.
"I'm certain it's fine, Prudence."
A heavy sigh left her sister. "Just look at it, for heaven's sake. A second pair of eyes are helpful."
"Very well," Abigail replied taking a seat and beginning to read.
This just in, gentle readers!
If you missed the charity Valentine's Day ball in Bath, and honestly anyone who is everyone was present, then you didn't witness the latest gossip. A certain Miss M.d.C. was spotted dancing without a proper introduction to an unknown gentleman. There was much speculation after she was escorted from the ball by her sister on exactly who this very fine-looking man was. Stay tuned for more news on what this young Miss will get herself involved in next. It's never a dull moment where this young lady is concerned.
An Anonymous Reporter for
The Teatime Tattler
Abigail began folding the letter. "It's fine," she replied curtly.
Prudence frowned. "What's wrong with it?"
"Nothing at all. It's just me. I'm in a foul mood," Abigail replied. "I'm getting a bit tired of constantly blabbing all we see for Clemens instead of focusing on finding our own husbands."
Prudence laughed. "Miranda de Courtenay deserves everything she gets!"
Abigail's brow lifted. "Does she, Prudence? Honestly, it was only a dance. What harm was done?"
"But it was Miranda de Courtenay!" her sister bellowed.
"Never mind. Just send the darn thing," Abigail snapped. "Mr. Clemen's will be pleased with it even if I am questioning our involvement."
Prudence grabbed at the letter and called for a servant to have it delivered post haste. Abigail wiped a tear from her eye and went to her room. She'd worry over where her life would lead from this point forward in the morning.
---
This is an original post is from Belle Sherry Ewing whose novella Before I Found You: A De Courtenay Novella (Book Three) releases on February 8th. Recently found in the Belles' box set Storm & Shelter, it will now be available for individual sale.
Before I Found You:
A De Courtenay Novella (Book Three)
By Sherry Ewing
Release Date: February 8, 2022
A quest for a title. An encounter with a stranger. Will she choose love?
Miss Miranda de Courtenay has only one goal in life: to find a rich husband who can change her status from Miss to My Lady. But when a handsome stranger crosses her path at a Valentine's Day ball, her obsession with titles dims. Might love be enough?
Captain Jasper Rousseau has no plans to become infatuated during a chance encounter at a ball. He has a new ship to run, passengers to book, and cargo to deliver. But one look into a young lady's beautiful hazel eyes, and he becomes lost. Does love at first sight really exist?
Their paths continue to cross until they are both stranded in Fenwick on Sea. Their growing connection is hard to dismiss, despite Miranda's childish quest for a title at all cost. But what if the cost includes love?
Buy Links:
Amazon US: https://amzn.to/3EMDFgS
Apple Books: https://apple.co/3FNrW2W
Barnes & Noble: https://bit.ly/3qK7BVM
Kobo: https://bit.ly/3HmHIC0
Books2Read: https://books2read.com/u/4XDrva
International:
Amazon AU: https://amzn.to/3EEGAIo
Angus & Robertson: https://bit.ly/3FKMpp6
Vivlio: https://bit.ly/3pIP5he