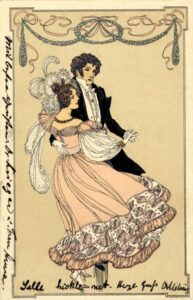 June 25th, 1850
Over the years, many in London Society have set scruples aside to visit Hampstead's infamous Cortwood Manor. Sadly, this indulgence must come to an end. One acknowledges that the Brightley sisters have always danced just on the right side of propriety. With her masked ball, however, Lady Charmaine has at last taken matters too far. 
Lady Charmaine's gaming tables have long been the toast of the ton. One admits to partaking of this harmless pleasure, in the name of charity for our beloved city's deserving poor, of course. The Brightley sisters are rightly famed for their philanthropic endeavors, and so one might forgive Lady Charmaine for her eccentricities and avoidance of potential suitors. 
Or rather, such was the case before this masquerade. Whilst sampling Cortwood's finest champagne, guests were subjected to the spectacle of Lady Charmaine dancing not once, not twice, but thrice with the same raven-haired gentleman. Comely enough, from what one could observe, he moved like an angel. But neither refined looks nor a talent for the art of the dance excuses his behavior. Pretty is as pretty does, as they say. 
Not only did this pair stare into one another's eyes during the first waltz, but they threw all common sense aside with the mazurka. For the sake of those gentle souls unfamiliar with this dance, it is a most curious export from Eastern Europe. In the outrageous version on display at Cortwood, the gentleman lifts the lady. Now, pray turn your head for a moment if you feel faint, for this rogue placed both hands on Lady Charmaine's waist to perform these sordid lifts. The impudence! One remembers a time when the mere mention of such a dance would have ruined a young woman. 
After this debacle, it remains to be seen if Lady Charmaine will suffer such a fate. And what will happen to her poor sisters, Lady Arabella and Lady Rosalind? Naturally, one doesn't wish these innocent young women to suffer for the eldest sister's mistakes. Nonetheless, the extent to which we overlook such unacceptable behavior in the young must make our poor queen swoon in despair. 
One supposes that Lady Charmaine's careless disregard for the rules of decent society stems from the Brightleys having no family but for a lenient father. Given these unfortunate circumstances, our collective responsibility is to ensure these young women have stricter guidance henceforth. And if anyone is aware of the identity of the masked stranger who danced with Lady Charmaine, implore him to take the right course of action and propose. 
In the meantime, my fellow tattlers, take great precautions when visiting Cortwood Manor, lest you become the next center of a scandal.
Georgiana Dangicourt
The Duchess of Denberry
A duke with a past. A lady with no future. One magical night could change everything.
Charmaine Brightley will soon lose her place in the world. Her father is ill, and a distant male cousin is in line to inherit the family estate. In the meantime, guests flock to Lady Charmaine's lavish parties and gaming tables, all designed to raise money for the "deserving" poor. However, if the ton were to discover the identities of the actual recipients of their philanthropy, the revelation would ruin Charmaine.
Not that Charmaine cares what anyone thinks. Ever since her devastating first year out in society, she has given up on love. As far as Charmaine is concerned, passion is a ridiculous dream, meant only for the young and foolish.
Until a dashing stranger appears at her masquerade, and their mutual desire catches fire.
After an ill-fated duel, Duke Konstantin "Kosta" Rostov abandoned Russia for England. Accustomed to privilege and power, Kosta is now a servant of a cruel stepfather. Determined to restore both his reputation and that of the family he shamed, Kosta sneaks away to a masquerade ball at Cortwood Manor, where he meets the alluring Charmaine Brightley.
For years, Duke Konstantin restricted his romantic affairs to discreet, worldly, and married women. Despite their thrilling connection, Kosta understands he has no place in Lady Charmaine's life. So when his stepfather sends him back to Cortwood, Kosta can't resist the opportunity to see her one more time. But Kosta's stepfather has his reasons for pushing them together. And those plans could destroy Charmaine Brightley, the woman who has finally captured Kosta's heart.
About the author, Halley Larkin
My new series features three free-spirited sisters preparing to leave an estate they love but cannot inherit. Along the way, their fates entangle with those of a disgraced duke, a missing heir, and a bold young earl. In February, Midnight Masquerade is on sale for $0.99. The novella prequel Maid Takes Marquess will release in March and is free for newsletter subscribers. You can sign up here: https://halleylarkin.com/subscribe.
When I'm not reading or writing, you might find me planning a costume for the next San Diego Comic-Con. I live in California with a spoiled tabby cat named Jonesy.