Dear Readers,
I've been given permission to share a most interesting letter received by a dear friend from a lady in York regarding a topic most appropriate as we approach the Eve of All Hallows. Without further ado, I include the letter in its entirety.
My dear Lady S,
We've excitement in these parts–an actual haunting! My dear husband is beside himself, wishing to cast off his responsibilities and rush to the coast because of news received from the esteemed Reverend N. F.—pardon me, he is now Sir N. F.! Do you remember the dear man? He is at present compiling an encyclopedia of northern folklore. You were visiting us when he came through York with his daughter, Miss M.F., on his way to the manor he inherited.
Oh, but now I recall, you were unable to join us for dinner that night, and you would so have enjoyed such amiable guests. Miss F. is rather a great galloping spinster, hopelessly on the shelf, and shamelessly skeptical of her father's inquiries, but entirely delightful. Sir N. is blessed to have her to care for him in his old age, and she'll inherit the manor, as there isn't an entail. The possibility of wealth (if the enterprise can be made profitable as he hopes) might increase the poor dear's chance at marriage (though whether any worthy man can be found in that part of the county is questionable).
But I digress from the most exciting news. My husband has always believed that the Manor's legendary ghostly guest is a Popish priest enclosed within the walls. However, Sir N has written that the general speculation of the villagers is that the culprit is the late Squire, who was a scandalous fiend. Sir N. inquired whether we might assist with finding servants willing to relocate to the wilds of Yorkshire, and unafraid of the resident ghost.
For indeed, there does appear to be a ghost! The priest it might be, but more than likely the villagers have the right of it—oh, you have heard the story, have you not? The last Baron, Sir N's distant cousin, died there terribly. Of course, there's also a very old rumor about bigamy and a stolen inheritance—a generational curse, as it were, but I cannot quite remember the details of that story.
I can only imagine that Miss F is beside herself, what with needing reliable staff. A more practical and grounded woman…a confirmed spinster, you know…could not be found. She must be such a great help to her father as he tromps about chasing goblins for his book. And yet, even while researching the supernatural, one needs the comforts of a good cook and a few maids.
I shall write more as I Iearn of it. My love to the children.
Does that not whet your appetite to learn more, dear readers? Read on!
About the Book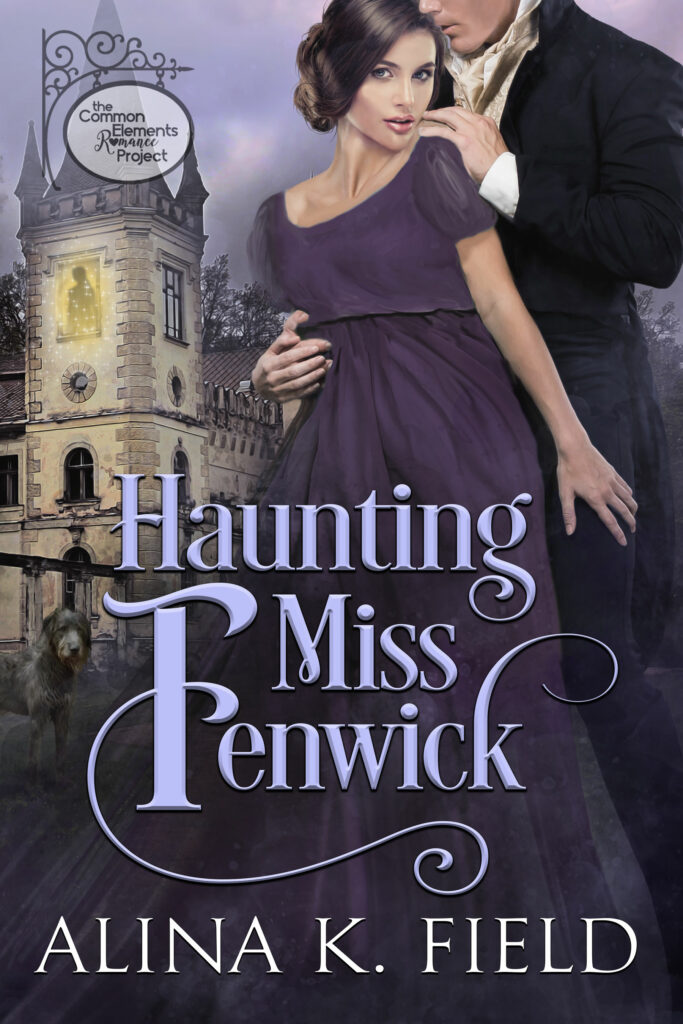 Thrilled to finally have a permanent home, a Squire's daughter won't let a supernatural creature scare her away. While hunting the ghost she doesn't believe in, she stumbles upon a mysterious flesh and blood man who might be the key to all of her problems.
When the new Squire moves into Fenwick Manor, an ex-army officer secretly searching the sprawling medieval wreck devises a plan. First, the manor's legendary ghost will chase servants away. Then, he'll convince the new residents to leave.
But the Squire's spirited daughter soon has him wondering if he might have found a perfect comrade in arms to help battle old enemies and find the proof that will clear his family name.
Buy Links:
About the Author
Award winning author Alina K. Field earned a Bachelor of Arts Degree in English and German literature, but she prefers the much happier world of romance. Though her roots are in the Midwestern U.S., after six very, very, very cold years in Chicago, she moved to Southern California and hasn't looked back. She shares a midcentury home with her husband, her spunky, blonde, rescued terrier, and the blue-eyed cat who conned his way in for dinner one day and decided the food was too good to leave.
She is the author of several Regency romances, including the 2014 Book Buyer's Best winner, Rosalyn's Ring. She is hard at work on her next series of Regency romances, but loves to hear from readers!