A delicious bit of news recently came across this editor's desk from a most reliable source. Knowing our readers at the Teatime Tattler, I had to rush to get this out for the morning edition that involved the upper ton!
I have it on the highest authority that a certain young Lady C, who recently made her debut just this season, was caught in a compromising situation at a house party with none other than Lord d C. Not only did half the ton witness their indiscretion as they frolicked at the entrance to a maze, but Lady C's father, the Duke of A, watched in horror as his youngest daughter was all but ruined right before his eyes.
Lady C can say goodbye to her hopes of one day becoming a duchess. After this fiasco, she'll have to settle on being a Countess instead.
Excerpt:
"I suspect, before long, we shall all be family, if Grace and your uncle have anything to say on the matter." Adrian assumed there would be a wedding celebration in the near future.
"Do you think so?" she whispered, her eyes bright with excitement. "We would see each other often if they were to marry."
Adrian cleared his throat, stepping several paces backwards to distance himself. She, in turn, advanced. "Yes, well… I suppose such may be the case. Time will tell."
"Time… yes… time is all we need. Will you wait for me Lord de Courtenay… Adrian?"
"W-wait for you?" he stammered. "Where the devil is your chaperon?" Good Lord, what had he gotten himself into? This situation had gotten out of hand faster than he ever expected. He went around her to open the door, but the key was missing. Turning back, she waved what he needed.
"Looking for this?" she laughed.
The little scamp! "Lady Celia," Adrian began, holding his palm upward. "The key, if you please."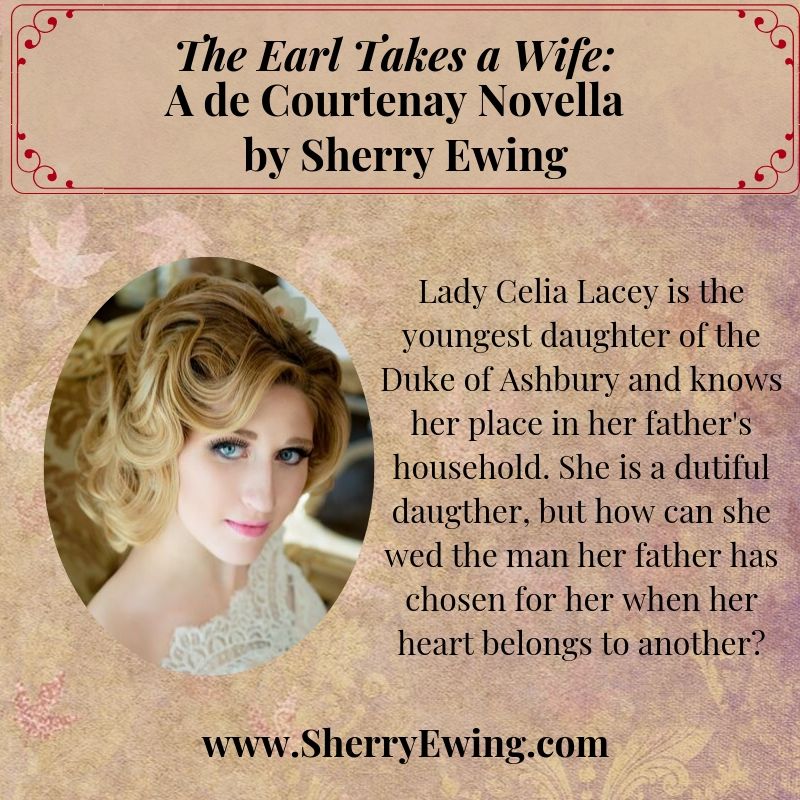 She laughed. "Oh, very well," she replied, handing the shiny brass object over; it was still warm from her touch. "You do not have to be so formal. As you said, we might be related one day."
Adrian turned the key in the lock and opened the door. "All the more reason to adhere to the rules of Society. You are the daughter of a duke and should not be alone with a single male, especially me."
A giggle of girlish delight burst from her lips. "I am certain I am perfectly safe in your company, Adrian," she said, dropping all formality between them.
---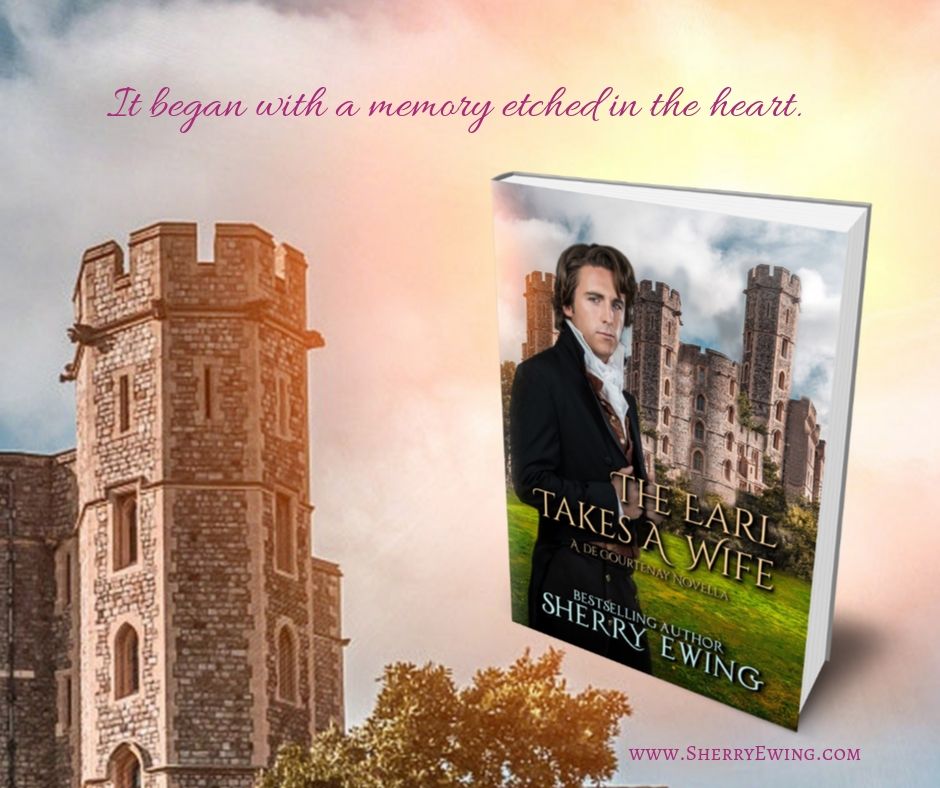 The Earl Takes A Wife:
A de Courtenay Novella
Release date October 29, 2019
Pre-order for $0.99
It began with a memory etched in the heart.
Lady Celia Lacey is too young for a husband, especially man-about-town Lord Adrian de Courtenay. But when she meets him at a house party, she falls in love and cannot get him out of her mind. Will he ever think she is old enough to become his wife?
Adrian finds appealing innocent Lady Celia Lacey impossible to forget, though she is barely out of the schoolroom and a relative by marriage. If they are constantly in each other's company, then how can he move on without her?
His sister's deceptions bring them together but destroys their happiness. Can they reach past the hurt to the love that still burns?
The Earl Takes A Wife first appeared in the Bluestocking Belles' box set, Valentines From Bath. It's now available for individual sale.
Buy Links:
Amazon US | Apple Books | Barnes & Noble| Kobo
Amazon AU | Amazon BR | Amazon CA | Amazon DE | Amazon ES | Amazon FR | Amazon IN | Amazon IT | Amazon JP | Amazon MX | Amazon NL | Amazon UK
More about Sherry:
Sherry is proud to be one of the Bluestocking Belles. Sherry picked up her first historical romance when she was a teenager and has been hooked ever since. A bestselling author, she writes historical and time travel romances to awaken the soul one heart at a time. When not writing, she can be found in the San Francisco area at her day job as an Information Technology Specialist.
You can learn more about her on the tab above or visit her on one of these social media outlets:
Website & Books
Amazon
Bookbub
Facebook
Goodreads
Instagram
Pinterest
Twitter
Sign Me Up!
Newsletter
Facebook Street Team
Facebook Official Fan Page