Mr. Clemens, Editor
Tea Time Tattler
Fleet Street, London
Dear Sam,
My news is certain to astonish you, sir. There's a great deal to tell, some of it I can hardly believe it myself. I composed my thoughts while under a mulberry moon but now take pen in hand to inform you.
Eliza Wells, the millright's daughter, was whisked off by her uncle Joseph Wells to visit him and her cousins in California after her grandmother suffered a stroke. Eliza doesn't understand why her grandmother hasn't responded to any of her letters. Her grandmother, worried because she hasn't heard from Eliza, is nobody's fool. She arranged for former railroad detective Kit Halsey to investigate. And a good thing, too, for Joseph has ulterior motives and Eliza is trapped. Can you imagine her dilemma?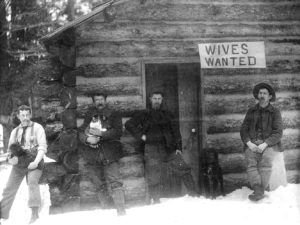 Ruby is running from her parents and large family to the unknown of Charlie Ransom. She answered his ad for a mail-order bride and agreed to meet him at Sundown Ranch just outside of Duston, Texas. Hope rose in her heart as she thought of being loved by him and having a house to herself. She wasn't afraid of work, but she wants it to be for herself and a loving husband. Sick of war, Charlie left Ohio and bought a ranch in Texas. Now Ruby won't marry him until he can tell her he loves her. Will he find her love worth the wait when four orphans and a tornado of trouble surround him?
Mr. Clemens, don't you grow sad knowing there are so many orphans in the world? Former orphan train child, now grown, Mercedes "Merry" Murphy Bird, is the successful co-owner of a boardinghouse in Mockingbird Flats, Texas. She sure seems to find rescuing three quirky orphans from the orphan train irresistible even if it isn't quite legal. Merry is determined to give the children a better life than she endured at the hands of the Nebraska couple who adopted her. I figure there'll be a family for Merry. Boardinghouse resident and lawyer Blake Woolfe has come to town to take over the law practice of his late uncle. Blake is the eldest of ten children and spent far too much time caring for them and his mother to want anything to do with children now. I'm sure you can sympathize with him.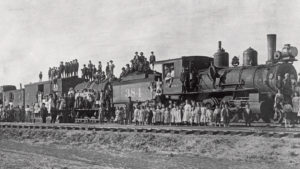 Children's Aid Society authorities don't exactly know that Polly Friday Bird and her sister are single and neither woman is going to volunteer the information. Polly hated the life she and Merry led after they were adopted by a surly Nebraska couple who really wanted free drudges. Polly believes the boardinghouse she and Merry purchased is an ideal place to raise a family for Polly with a large yard, numerous rooms, and a good school nearby. Still, when the authorities appear, she may need a husband in order to keep her children. She is trying to convince Manford "Ford" Daily to marry her and then leave. This is humorous, sir, because Polly's problem is that Ford won't go. I must confess I laughed in many spots when I heard her story.
But, I shall move on to a serious part of my news. Poor dear Ada Weathered has only two weeks to pay the mortgage on the land her father left her. In spite of her working two jobs, she simply won't have the money to pay by the deadline. Donal "Mac" McTiernan chased deserters to Brady City, Texas, and hoped it would be his last duty for the Army. When Ada and the Texas cavalryman met Mac was so taken with that redhead with green eyes that he isn't sure he can complete his mission and help her save her land.  I'm sure you join me in hoping so.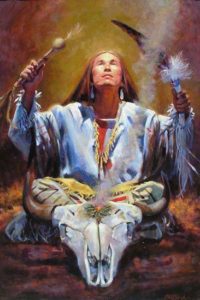 Prepare yourself because the next tidbit is frightening. Anya Fleming's son Willie-boy found his father hanged in their barn six months ago. The boy hasn't spoken a word since and is now gravely ill. Anya is convinced her late husband haunts her son. Anya knows the only person who can help her when in comes a specter, her former love, Yellow Smoke, now a powerful shaman. Yellow Smoke was devastated when Anya married Lewis Fleming but doesn't know Anya was forced to do so. I hope Yellow Smoke will overcome his resentment and help Willie. I know you'll join me in my good wishes.
A bit of fun news is that a widow buys a groom. Katherine Parnell needed a husband to help her operate Maggie's Baked Goods and raise her four-year-old son. She had no intention of remarrying until Jim Sutton landed in the Meadow Creek jail for defending her. He inherited land and was hoping to make this community his home. Jim has demons of his own and doesn't want to get close to anyone. Join me, Mr. Clemens, in hoping these two can find happiness together.
After delivering his sister to Freedom, Matthew is ready to find Matthew's freedom. He's been running from a guilty conscience. Mr. Clemens, you and I know that it's not possible to outrun our conscience. Brenna is determined to provide for her son—even though he fights her at every step. Jobs are scarce but men are plentiful and marriage may be the only way Brenna can survive. If Brenna and Matthew unite to save her son, will her the boy tear them apart?
Another frightening situation occurred when Aurora Cavender went off to Utah in search of her twin brother, Jason, who was reported dead. She didn't expect to encounter the cad who abandoned her at the altar years ago, Garret Mosely. He insisted he wasn't Garret though and calls himself Nebraska Joe of the Hell's-Gate Gang. Aurora knows her twin isn't dead, but believes he's injured. Well, I tell you! She was captured by a ruthless gang and had to rely on Garret to help her rescue Jason and escape Robber's Roost.  The outcome of it all is that the lady lassos an outlaw.
I do so hope you've enjoyed my news. Until next time, I remain,
Your faithful correspondent,
Caroline

Only 99 cents for a limited time! Amazon buy link: http://a.co/99Odsch

Excerpt from A FAMILY FOR MERRY: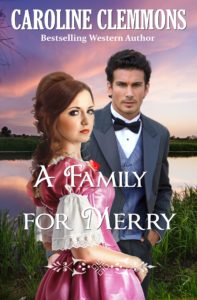 Tears burned the back of Merry's eyelids when she surveyed the children. They lined up as if going to slaughter. Some wore hopeful expressions, some fearful, some so downtrodden their eyes were those of old people in young faces. Several in particular tugged at her heartstrings—the ragtags, the unadoptable. What would happen to them?
A scrawny little girl whose nametag said Abigail limped. Problem was, she sometimes changed legs. She hovered around a toddler labeled Tamara. Occasionally, Abigail brushed against Tamara and the baby would cry.
Merry suspected Abigail pinched the baby to make her appear disagreeable. Tamara was a pitiful sight. Mucous drained from her nose and red spots were on her exposed skin. On closer examination, Merry decided the spots were from a paint crayon.
Sorrow and mirth warred inside Merry. What an ingenious child Abigail was. The poor girl must be frantic thinking she'd be parted from Tamara.
A boy whose nametag read Calvin stood with feet braced, arms crossed, and a stubborn expression locked on his face. His age would be around nine. He glared as if he dared anyone to adopt him. No one did.
Merry got Abigail's attention. "You must be tired from standing on your bad leg while taking care of Tamara. Why don't you both sit here beside me?"
Abigail pulled at a lock of her disheveled hair. "Both of us? You mean Tammie can stay with me?"
"Yes, that's what I mean."
Abigail picked up Tammie and deposited her at Merry's side then promptly sat beside her so that she and Tammie were mostly obscured by the skirt around the table.
Merry motioned to the boy. "Calvin, I can see you don't need anyone to look after you, but would you help me by standing beside Abigail to make sure no one bothers her or Tammie?"
He didn't move for a full minute before he inhaled and released a deep breath. "S'pose I can." Slowly, he ambled to stand behind Abigail and Tammie, as if daring anyone to touch the girls.
Merry wrote the names of the three children on the list and her name as the person adopting. To mask the fact there was no husband, she wrote her first name and then sort of scribbled her middle and last name in what she hoped passed for a husband's name. Murphy Bird could be a man's name.
Beside Merry, Polly whispered, "What are you doing?"
"You know exactly. I am not deserting these children to chance."
Polly's eyes sparked fire. "Neither am I. You can put my name down for Evelyn and Noah. You know that no one will adopt a boy who's mute, at least not for any decent purpose."
Polly rose and stepped over to the two she'd chosen. "Evelyn, Noah, I'd like you to come live with me."
Hope sprang into Evelyn's eyes as she clasped Noah's hand. "He don't never talk but he's good and real smart."
"I'm sure he is. He won't have to talk at our house unless he wants to." She took Noah's free hand and led the two to the table.
The two children sat on the floor beside Polly's chair as Abigail and Tammie did at the table's other end.
When Polly had reclaimed her place, she leaned near Merry. "Can we really get away with this?"
"Proceed as if everything is secure and above board. We can do this, Polly. We can't let these children suffer as we did just because we don't have husbands."
"They'll each have a wonderful home with us. We'll love them as if we'd given birth to them."
"Exactly. And we have the room and a good place for them to live and grow. Aren't you excited?"

The anthology UNDER A MULBERRY MOON contents are:
A FAMILY FOR MERRY, Caroline Clemmons
A FAMILY FOR POLLY, Jacquie Rogers
ADA AND THE TEXAS CAVALRYMAN, Carra Copelin
COMES A SPECTER, Keta Diablo
MATTHEW'S FREEDOM, Cissie Patterson
MILLRIGHT'S DAUGHTER, Zina Abbott
THE LADY LASSOS AN OUTLAW, Charlene Raddon
THE WIDOW BUYS A GROOM, P. A. Estelle
WORTH THE WAIT, Patricia Pacjac Carroll
Check out the blog and Facebook page:
http://Facebook.com/UnderAMulberryMoon
http://underamulberrymoon.blogspot.com

Bio for Caroline Clemmons
Through a crazy twist of fate, Caroline Clemmons was not born on a Texas ranch. To make up for this tragic error, she writes about handsome cowboys, feisty ranch women, and scheming villains in a small office her family calls her pink cave. She and her Hero live in North Central Texas cowboy country where they ride herd on their rescued cats and dogs. The books she creates there have made her an Amazon bestselling author and won several awards. Find her on her blog, website, Facebook, Twitter, Goodreads, Google+, and Pinterest.
Click on her Amazon Author Page for a complete list of her books and follow her there.
Follow her on BookBub.
Subscribe to Caroline's newsletter here to receive a FREE novella of HAPPY IS THE BRIDE, a humorous historical wedding disaster that ends happily—but you knew it would, didn't you?