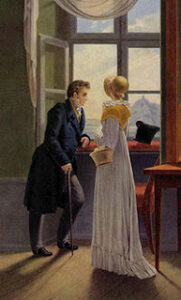 Your dearest Lady Tattler has just learned several rather interesting tidbits surrounding a newly-come-to-his-title duke. Far be it from me to judge, but seems rather odd that said duke is now residing at the Dower House of a particular residence known for taking in misfits while trying to conceal their identity, instead of one of his ducal estates. One can not help but wonder if the late duke left his affairs in a less than, shall we say, a ducal state. Or perhaps it has something to do with the disgraced daughter of a baron who now finds herself in the unfortunate circumstance of having to—prepare yourselves, dear reader, for this shocking turn of events—work for a living at that particular residence for misfits.
And then, there is the ongoing saga of the young lady who disappeared from society after some unfortunate gossip in Bath. It is rumored that a distant relative rushed her away before further assumptions circulated. However, this author has since learned that the lady in question has in fact run away with her lover and was spotted near a certain Dower House.
Are these tidbits related? Only time will tell.
As always, I leave it to you to judge for yourself.
Yours truly,
Lady Tattler
Blurb and links for A Duchess for Christmas:
Grace Banks is much looking forward to her first Christmas at the Home for Desolate Ladies. As its proprietress, she is keen to bring comfort and joy to the gentlewomen who have taken refuge there, and also enjoy the festivities herself.  However, the sudden arrival of a visitor threatens her plans, for she and he are not strangers.
Edward, Duke of Tavistock, is searching for his young cousin. Winifred went missing after departing Bath under a cloud of gossip, and there is reason to believe she is currently residing at the Home. But he also has another motivation for visiting: Grace, the woman he loved and mysteriously lost, before learning she had married someone else.
Edward wants answers, but Grace is not sure she can bear raking over the past. He appears to believe she forsook him for another, when it was news of his engagement to a young heiress that sent her running. That, and a secret she feels she may never be able to share…
Can the spirit of Christmas and love from the past, heal the present, and bring a happy future?
https://www.barnesandnoble.com/w/a-duchess-for-christmas-alanna-lucas/1142013648
https://www.kobo.com/us/en/ebook/a-duchess-for-christmas
https://books.apple.com/us/book/id6443284509
https://www.amazon.com/dp/B0B9Q3VDKK 
Excerpt: A Duchess for Christmas
Mrs. Elkins interrupted her musings. "Oh, and don't forget to hang mistletoe."
Grace swallowed hard. "Mistletoe?"
"Yes, of course. We simply must have mistletoe. The decorations wouldn't be complete without it." 
The last thing she needed was a sprig hanging over her head. She could still feel the sensations pulsating through her from the embrace she'd shared with Edward the day before. If she was going to stay firm, she simply could not let that happen again. 
She was about to argue when, Mrs. Elkins added, "Mr. Elkins is quite the romantic and always looks forward to a quick kiss under the mistletoe." The older woman's eyes softened. "Our first ever kiss took place under it, oh nearly thirty years ago."
Grace inhaled deeply and kept her mouth shut. Mrs. Elkins' memories were too precious to tarnish with her own selfish wants. She would simply have to avoid Edward. No, think of him only as His Grace.
"Mrs. Banks," Molly called to her with much enthusiasm. "I'm to assist you."
At least she wouldn't be alone. Safety in numbers, plus concentrating on the pleasant task of decorating for the season should be a nice distraction.
"Excellent. Where shall we begin?"
"The drawing room," Molly started with excitement. "I've had ever so many ideas about how the room should look. I think the gold ribbon would go nicely in there."
Before too long, the adornments were well under way. Molly indeed had a very specific vision as to how the room should look, which didn't bother Grace in the least. She was pleased that the staff found joy in decorating, too. 
Molly's soft humming filled the room and soon, Grace found herself joining in the carols as she draped garlands of greenery over the mantle. She took a step back and admired her handwork. A few more strands of tinsel would be perfect.
"I need to get more ribbon, Mrs. Banks," Molly called from the opposite end of the room. "I'll be back soon."
Some last touches, and Grace was just about finished with her little corner of the room. All that was left was for her to hang a sprig of mistletoe above the door that connected to an adjoining sitting room. The size of this house and the abundance of rooms never ceased to amaze her. What was even more shocking was that Lord Kenwreck had won Rose Park in a game of chance. Why anyone would ever gamble away their home was beyond reason.
She reached up and attached the mistletoe to the hook already in place. "There," she began with satisfaction. "I think it looks beautiful."
"You're standing under the mistletoe," a low, deep voice brushed across her neck.
Edward. When did he enter the room? Had Molly notified him of her whereabouts? She had the funny feeling her well-meaning staff were plotting against her. Turning her head slightly, she met his gaze, and the past and present collided. She was tired of denying her feelings for him. One kiss surely could not hurt.
Edward lifted her chin with a gentle finger, then whispered in her ear. "I've dreamt about kissing you under the mistletoe for too long." He trailed soft kisses along her cheek until his lips were only a breath away from hers. "Tonight, it becomes a reality."
Taking her lips in a slow, thoughtful kiss, he enticed her to open up to him. She gasped when his tongue flicked her lips, and then she was full against him and kissing him back as if it were her very reason for living. He backed her against the wall as his mouth did wonderful things, and she wrapped her arms about his neck, bringing him closer. 
Good heavens!
"It's time for the Yule Log to be brought in!" Mrs. Kirkby's ecstatic announcement reverberated from the main hall.
"I need to go." Grace's legs were wobbly, and her cheeks were hot with passion. She made some inane excuse about the reason for her hasty retreat. "I will be expected… to help." 
Alanna Lucas Bio and links
Bestselling, award-winning author, Alanna Lucas pens Regency-set historicals filled with romance, adventure, and of course, happily ever afters. When she is not daydreaming of her next travel destination, Alanna can be found researching, spending time with family, tending to her garden, or going for long walks. She makes her home in California with her husband and children, and too many books to count.
Just for the record, you can never have too many handbags or books. And travel is a must. 
https://www.facebook.com/AuthorAlannaLucas/ 
https://twitter.com/alannalucas27