Enclosed is a private correspondence found in the F. Carter family secretary in 1871. The letter, originally from Mrs. Mary Westmore (né Reynolds) addressed to Mrs. Lavinia Fitzroy (né Lawton) in Bath, England dated December 4th, 1839, has been faithfully copied below.
My Dearest Lavinia,
You may perhaps recall that my beloved niece, Ellen, is to be married in the new year? We are all beyond pleased that she has captured the heart of one of the Carter boys and will be moving here to Weymouth! There is a fly in the ointment of our
happiness, however. My brother. 
Rafe has called upon me to assist Ellen with her wedding preparations, but during my recent visit to Cherrybrook, I was reminded forcefully that, for someone so ruled by schedules, he shows surprisingly little aptitude for managing his personal affairs. My niece quite runs the household (all but my brother's dogs, who are wholly without manners), but she is so efficient and indulgent that I fear Rafe cannot see how bereft he will be without her! 
Ellen confided in me that she will not be easy unless her father remarries, so together we have hatched a plan. This is where you come in, dear friend. Several of our friends credit you with having made worthy matches under your watchful eye, and so I implore you… would you apply your matchmaking talents to Rafe's situation?
I have enclosed a list of qualities he demands in a wife. Please make of it what you will. 
Do apprise me of your answer as soon as you are able, for I do not expect my brother's agreeability to last long. His stubbornness grows by the day. I wonder if you will find him much altered from the boy you once knew?
Affectionately yours,
Mary
The book: Matchmaking Gone Wrong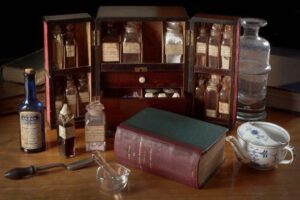 The clock is ticking! Widowed Dr. Rafe Reynolds will soon be left alone when Ellen, his daughter and favourite backgammon opponent, weds.  
Shortly before the Christmas holidays, Ellen and his meddling sister Mary, convince Rafe to let them find him a suitable wife. Rafe reluctantly agrees, but he insists that love doesn't matter at his age, and ladies who are loud and demanding need not apply. 
Mrs. Lavinia Fitzroy, exuberant widow and old friend, is bold, well-connected and entirely uninterested in marriage for herself. She is just the woman to help find the gruff doctor a wife, but finding the perfect match for Rafe proves to be as thorny as winter holly. One minute everything is going as smoothly as clockwork, and the next, it's gone to the dogs!
Will Lavinia discover the perfect bride…one who ticks all the boxes for the doctor?  Only time will tell!
Book Four in the Cherrybrook year, "Time Will Tell" may be read alone. With older protagonists, it's a later-in-life romance (kisses only)!
BOOK LINKS:
https://www.amazon.com/dp/B0BJ7ZJYTX
https://www.charlottebrothersauthor.com/time-will-tell
(The rest of the series is wide, but I'm keeping this exclusive to Amazon for the first few months)
ABOUT THE AUTHOR: Charlotte Brothers
I grew up with an emotional support book. You know, the girl who never leaves home without one tucked under her arm "in case"?
For me, this was usually an English classic or high fantasy YA with a strong romantic subplot. When I finally read my first genre romance novel at the gentle age of forty, I was happily swept away! Once reading romances became a beloved habit, penning my own quickly followed. 
Currently, I live in Michigan, USA, with my delightful family, beloved pets, and a busy bird feeder. I do my utmost to write heartfelt stories about memorable characters with a dash of humor and playful prose. If you're a Jane Austen, Elizabeth Gaskell, Georgette Heyer, or (actor) Richard Armitage fan, you're my kind of book friend!A