Gentle Reader,
Dowager Duchess M is throwing a house party with a motley assortment of guests. I dare swear most are little better than treasure seekers.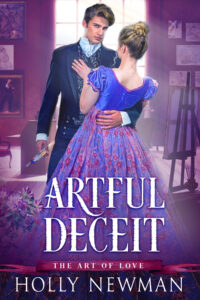 Worse, she has loudly and publicly welcomed the Duke of E to her home as Viscount R! Now everyone is calling him Viscount R and the man can't get a word of correction into the conversation.
The absent Viscount R is a suitor for AH, the Duchess's granddaughter, but this author suspects AH finds the Duke a more compatible companion. If she doesn't, she should!
Given the Duchess's reputation as a prankster, the next couple days should prove entertaining. 
Purchase Link: https://www.amazon.com/Artful-Deceit-Art-Love-Book-ebook/dp/B09XRCHTP7
Blurb for An Artful Deceit:
What happens when a Duke is mistaken for a Viscount—on purpose?
Add that to two Michelangelo sketches, hidden passages, vanishing and reappearing art, threatening messages, conniving art collectors, arrogant academicians, a Bow Street agent, a lovelorn couple, and an elderly prankster.
It's enough to give a Duke a headache.
Miles Wingate, the Duke of Ellinbourne, was not supposed to be at the Dowager Duchess of Malmsby's house party. He was supposed to be in London preparing for the spring opening of the Royal Academy of Art, yet here he was, a stand-in guest for his injured cousin, Viscount Redinger.
This was taking family loyalty too far. The only rational person at the house party was Miss Ann Hallowell, the Duchess's granddaughter, and as his luck would have it, his cousin's intended!
Thrown together when he's mistaken for his cousin, Miles and Ann join to unravel the house party mysteries. But every time they pull one mystery thread free, another appears, for seemingly everyone has a hidden agenda—including the Duchess!
Excerpt from An Artful Deceit:
"Yoo-hoo! Viscount Redinger!" called out Lady Oakley. She stood on the terrace and waved at him. Even at the distance across the grounds Miles could tell she was smiling. She fairly bounced as she waved to them.
Ann dropped his arm as they turned to face Lady Oakley
Ann huffed; her mouth set in a straight line. She crossed her arms over her chest. "She knows you are not Redinger," she said crossly.
He nodded. "I'll warrant your grandmother does as well." He slid a sideways glance at Ann. "I think your grandmother and Lady Oakley are up to some mischief," he murmured.
"Why do you say that?"
"When the maid showed me to my rooms—the suite reserved for royalty, I might add—she called me Your Grace."
"You're in the purple passion suite!" Ann exclaimed. "That is what my cousins and I called that suite."
A laugh burbled up inside her, then she finally broke into uncontrollable laughter.
"What? What is it?" he asked.
"You are probably right as to mischief," Ann said as she struggled to get her laughter under control. "I should have realized she has been good for too long!"
"I don't understand," Miles said.
"My grandmother loves pranks. Not nasty ones, but fun ones. She was always thinking up pranks to pull on her grandchildren when we were growing up," Ann explained as Miles smiled and waved back at Lady Oakley. 
"We should probably be heading back to the main house anyway. The wind is picking up and there is the beginning of a chill in the air," he said as he put on his jacket. 
It impressed Ann that he could shrug into his coat without the assistance of his valet.
"The maid, I believe her name is Donna," he continued, "addressed me as 'Your Grace'. I did not tumble to the import of that action until an hour later. If the staff knows I am not Redinger, then I believe your grandmother does as well. So, I've decided to play along," he said as they walked back to the house and Lady Oakley.
Lady Oakley tried to wave them to her at a faster pace; however, Miles chose to ignore that bit of body language and take his time with Miss Hallowell. He enjoyed her company.
 "What do you mean?"
"I shall answer to Redinger."
"But you're a Duke! That's so disrespectful!"
"Perhaps it would be if I had been raised to the expectation, but I wasn't. I am a clergyman's son."
"You have said that before. Do you hold that as some trump card?"
"I suppose in a way I do. It is my way of honoring my father and not allowing myself to become caught up in the title and lose my sense of perspective with those around me." He laughed. "Too many others do that for me!"
The twilight breeze quickened. Treetops swayed and garden flowers bent before it. The chilling breeze snatched Ann's untied bonnet from her head.
"Oh!" Ann whirled around to try to catch a ribbon, but the wind sent the bonnet twenty feet away before dumping it to the ground and rolling it over and over.
Miles thrust his sketchbook into Ann's hands and ran to rescue the bonnet. When first he stooped to pick up a ribbon, the wind playfully skittered it out of his reach. He quickly moved again to the capture the errant headgear and planted his boot on the end of the ribbon to lay claim before the wind could play again.
When he turned back to look at Ann, he found his breath caught in his chest. While the wind had played with Ann's bonnet, it had played with Ann's hair as well. Strands whipped free of their confining pins and framed her face in a riot of dark blond curls and waves. This would be a portrait worth painting, he decided, not some staid formal sitting. She was beautiful. Not in the London marriage mart diamond-of-the-first-water sense. She was too real. Her eyes glittered brightly, her cheeks showed a delicate blush that owed nothing to artifice. His cousin was getting a prize, and Miles felt disconcerted by that thought.
About Holly Newman:
Holly lives near the Florida Gulf Coast with her husband and six cats. An Artful Deceit is her 11th novel. When she is not writing she likes to read, garden (more like perpetually pulling weeds) and take walks.
Website: https://hollynewman.com/
Facebook:  https://www.facebook.com/HollyNewmanAuthor
Pinterest: Reading, Writing, Not 'Rithmatic