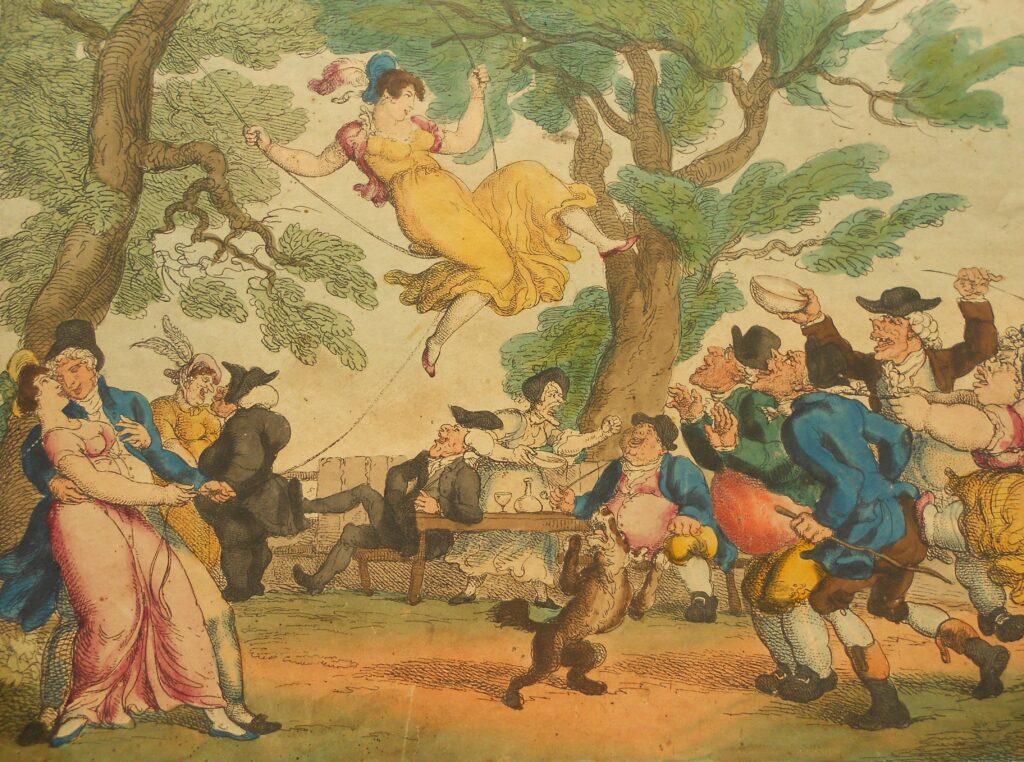 Sam, I have a doozy of a story for you this time. You told me the other day that the Truant Earl is back in England, and that you hoped he wasn't ready to settle down. That man has been good copy for at least decade, even though he hasn't set foot in the country for almost half as long again. But his lovers, his fights, and all his other adventures have kept your readers entertained ever since we started to write about him.
Well, you'll be pleased to know that–for from settling down–he has taken himself off to a house party. And not just any house party. His lordship has left for a week in the country with none other than Lord S.! That's right. Lord S. whose house parties are a byword for sin and debauchery. Apparently the two of them were at school together.
The thing is, Sam, that isn't the story. The Truant Earl's countess is in London, too. Or she was. Came to collect her husband, found out that he had gone to S.'s party, and took off after him.
Will Lady C. retrieve her husband? How will she know? She hasn't seen him since their wedding, when they were both all but children. What if she chooses the wrong man? This is, after all, one of S.'s parties! Anything could happen.
Perhaps Lady C. can turn her husband to the paths of righteousness. Or perhaps, just perhaps, she is about to fall down the slippery paths of sinful delight.
I'm getting myself off to the nearby village in the hopes that I can find a few loose tongued servants. More in my next letter.
The Truant Lord Clairmont by Jude Knight
Lady Clairmont goes to a scandalous house party to retrieve her truant husband after his return to England from a nine-year absence. What she discovers is unexpected.
A short story in Sunflower Season a fundraiser collection for Ukraine
SUNFLOWER SEASON is a charity collection featuring stories (some never-been-published and some old favorites) by over 70 — that's right — SEVENTY of your favorite Historical Romance authors. ALL royalties will be donated to humanitarian relief in Ukraine. This set was released on June 7, 2022 and will only be available for a limited time. Preorder now and enjoy a summer of historical romance!
Featuring novellas, stories and novels by Sabrina Jeffries, Christi Caldwell, Amalie Howard, Virginia Heath, Caroline Lee, Golden Angel, Bree Wolf, Lori Ann Bailey, Nicole Locke, Natasha Blackthorne, Royaline Sing, Lenora Bell, Sabrina Jeffries, Amy Quinton, Janna MacGregor, Annabelle Anders, Rachel Ann Smith, Eva Devon, Sandra Sookoo, Tabetha Waite, Diana Bold, Sadie Bosque, Cheryl Bolen, Erica Monroe, Kate Bateman, Cara Maxwell, Tracy Sumner, Jenna Jaxon, Jane Charles, Eliza Knight, Mariah Stone, Robyn DeHart, Wendy LaCapra, Hildie McQueen, Madeline Martin, Amy Rose Bennett, Ava Bond, Kristin Vayden, Piper Huguley, Fenna Edgewood, Kathryn Le Veque, Caroline Linden, Nancy Yeager, Dawn Brower, Celeste Barclay, Lauren Royal, Michele Pollock Dalton, Glynnis Campbell, Rose Pearson, Erica Ridley, Sydney Jane Baily, Deb Marlowe, Rebecca Paula, Amanda Mariel, Christine Sterling, Ava Stone, Lauren Smith, Sawyer Quinn, Caroline Warfield, Jessica A Clements, Jude Knight, Anna St. Claire, Tamara Gill, Gina Conkle, Charlie Lane, Terri Brisbin, Bronwen Evans, Emmanuelle de Maupassant, Merry Farmer, Tammy Andresen, Cecelia Mecca, Meredith Bond, Christine Donovan, Lana Williams, Carrie Lomax, Eve Pendle, Bethany Bennett, Bianca Blythe, Maggie Dallen, Samara Parish, Anna Campbell and more????
Again, ALL proceeds will be donated to Ukrainian relief efforts. We are not affiliated with any charities but are only doing what we can to provide help for the innocent people who've lost so much as a result of this senseless tragedy.
Buy now at your favourite retailer. https://books2read.com/Sunflower-Season-For-Ukraine