Edmond Worthington, 9th Duke of Hartford, set down the morning paper with a scowl. He had read the same paragraph more than a half dozen times. Unfortunately, the print did not change. He had sent for his sister Gwendolyn to join him. How like her to keep him waiting. They had not been on friendly terms since he had told her he must honor their father's dictate that she wed.
He heard his butler opening the front door admitting his sister. "Good morning, my lady," he said. "His Grace is waiting for you in the blue dining room."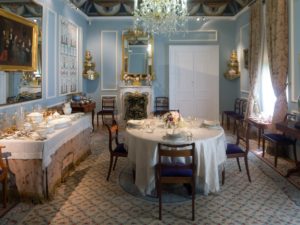 "Thank you, Giles," Gwendolyn replied making her way into the room. She looked lovely this morning in a light pink frock printed with a tiny rosebud pattern. Taking off her bonnet, she placed it upon the table to look upon him. "Will this take long?" she asked with a raised brow. "I have an appointment will my dressmaker."
He slid the paper in her direction. "Take a look… fifth page. You cannot miss it."
"Really, Hartford… what is all the fuss about?"
He only nodded to the paper and peered at her over the rim of his teacup. Gwendolyn opened the paper to scan the contents. Her eyes widened in shock as she read.
This just in Gentle Readers…
The Teatime Tattler has found out from a most reliable source (aka the "D" sisters) that a certain married woman (Lady S) has been seen in the company of a man who is not her husband (Lord D). They may have started out walking side by side in Hyde Park, but the sisters insisted they saw Lord D kissing Lady S. This juicy tidbit for this correspondent could not go unpublished. Such an affair only makes us wonder if the lady's husband is in the know…
"Good heavens!" she exclaimed, all but falling into a nearby chair.
Edmond stood before heading to the sideboard to pour his sister a cup of tea. "You really need to be more careful, Gwen, when you plan such a liaison. What if Sandhurst finds out?"
The cup rattled upon the saucer when she took a sip. "I did not plan this, Hartford. And how did Prudence and Abigail Danvers see us?"
"They are Society's busybodies and have been known to let that rag, the Teatime Tattler, in on our family's business. Anything they say should not come as a surprise."
"What am I to do? Sandhurst will not be pleased…" she whispered.
"I am unsure if I should berate you for your foolishness or help see you out of this situation. I hope our brother Brandon was not involved with any of this." Her downcast eyes told him all he needed to know. He cursed.
"Do not take this out on Brandon. He was only trying to help," she pleaded.
"I suggest you cancel your appointment and head straight home. If you are lucky, Sandhurst will not see this scandal sheet… that is, if you can destroy the paper before he gets to it."
Gwendolyn retrieved her bonnet, practically running towards the door. He called for his butler. "Send a message up to my brother's room and inform him I wish to see him," Edmond demanded.
Brandon had a fair amount of explaining to do. Edmond took another sip of his tea wondering what he would need to do next in order to keep their family reputation intact.
---
You can learn more about Gwendolyn's story by reading Nothing But Time: A Family Worth, Book One. But Gwendolyn's story is only the beginning. Look for Edmond's journey to finding love in One Moment In Time: A Family of Worth, Book Two coming soon!
Nothing But Time: A Family of Worth,
Book One
Blurb:
They will risk everything for their forbidden love…
When Lady Gwendolyn Marie Worthington is forced to marry a man old enough to be her father, she concludes love will never enter her life. Her husband is a cruel man who blames her for his own failings. Then she meets her brother's attractive business associate and all those longings she had thought gone forever suddenly reappear.
A long-term romance holds no appeal for Neville Quinn, Earl of Drayton until an unexpected encounter with the sister of the Duke of Hartford. Still, he resists giving his heart to another woman, especially one who belongs to another man.
Chance encounters lead to intimate dinners, until Neville and Gwendolyn flee to Berwyck Castle at Scotland's border hoping beyond reason their fragile love will survive the vindictive reach of Gwendolyn's possessive husband. Before their journey is over, Gwendolyn will risk losing the only love she has ever known.
Excerpt:
Gwendolyn peeked through lowered lashes at the man who had held her attention. She had not meant to be caught staring at him but she could in no way pull her gaze from his. With a single glance, her heart fell, silently crying at the injustice of it all. No man should be so handsome, nor should she experience a connection with a complete stranger clear on the other side of the room. She gazed into the depths of her tea wondering if perhaps it was laced with something that caused her infatuation with a stranger.
 She had watched his companion leave their table and Gwendolyn needed to stifle a satisfied smile the moment he was left alone. His clothes suggested he was wealthy, for they were immaculate. His hair was a deep rich auburn and she could see where the light of the dining room reflected the hints of red within the depths of his locks. His eye color could not be determined from this distance but that did not matter in the least. He was the first man who had ever made her heart flip end over end. Such an emotion certainly never happened with her husband and she knew it ever would.
Buy Links:
Amazon US   |Amazon AU  |  Amazon BR  |  Amazon CA  |  Amazon DE  |  Amazon ES  |  Amazon FR  |  Amazon IN  |  Amazon IT  |  Amazon JP  |  Amazon MX  |  Amazon NL  |  Amazon UK
NOTE:  Nothing But Time is currently enrolled in Kindle Unlimited but will soon be wide to all eRetailers.
Bio:
Sherry Ewing is proud to be a member of the Bluestocking Belles. She picked up her first historical romance when she was a teenager and has been hooked ever since. A bestselling author, she writes historical & time travel romances to awaken the soul one heart at a time. Always wanting to write a novel but busy raising her children, she finally took the plunge in 2008 and wrote her first Regency. She is a member of Romance Writers of America, the Beau Monde & the Bluestocking Belles. Sherry is currently working on her next novel and when not writing, she can be found in the San Francisco area at her day job as an Information Technology Specialist.
You can learn more about Sherry and her published work on these social media outlets:
Website & Books 
Amazon
Bookbub
Facebook
Goodreads
Instagram
Pinterest
Twitter
Sign Me Up!