Dear Mr. Clemens,
As I reported some days ago (and was gratified to see included in your publication) chaos continues to reign here and it would behoove you, I say most respectfully, to send a reporter to investigate.
There are just far too many French women muddling about with our menfolk. And as if we didn't have enough of our own boys returning from the army, we have others just visiting and bringing with them foreign ways. Why, one of them is an officer said to have learned some fancy way of opening foreign bottles from Napoleon himself. Not to mention that he's said to have smuggled in some sort of fancy wine under the noses of the Customs Officers.
That one is residing, of all things, at the home of our local Justice of the Peace. A family friend, they say, but he's been seen taking up with a French woman, a gel who appeared out of nowhere with an older woman in tow, an old relic who claims to be English and a Lady. Hah. I doubt it. She is said to have set her cap for our Justice of the Peace while her little French friend cavorts with the officer and chases about town seeking her own fortune.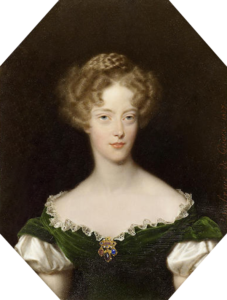 Do send a reporter! I am far too busy with baking for the Harvest Festival to investigate and send regular dispatches. There is much to report, even among the Quality of our town!
Yours Sincerely,
Eunice Fillmore, spinster.
About the Book: Under the Harvest Moon
As the village of Reabridge in Cheshire prepares for the first Harvest Festival following Waterloo, families are overjoyed to welcome back their loved ones from the war.
But excitement quickly turns to mystery when mere weeks before the festival, an orphaned child turns up in the town—a toddler born near Toulouse to an English mother who left clues that tie her to Reabridge.
With two prominent families feuding for generations and the central event of the Harvest Moon festival looming, tensions rise, and secrets begin to surface.
Nine award winning and bestselling authors have combined their talents to create this engaging and enchanting collection of interrelated tales. Under the Harvest Moon promises an unforgettable read for fans of Regency romance.
Story blurbs here: https://bluestockingbelles.net/belles-joint-projects/under-the-harvest-moon/
Preorder now: https://books2read.com/UnderHarvestMoon
Includes Under the Champagne Moon, by Alina K. Field
Orphaned as a child by the French Revolution, Fleur Hardouin's road has not been easy. Homeless again, she seeks an advantageous marriage as a matter of security. But when she crosses paths with a handsome young captain who, years ago, came to her rescue, she must choose between her heart's desire and practicality.
Saved from French troops by a French vintner, Gareth Ardleigh promised to find his rescuer's granddaughter, Fleur, for a marriage that will unite two branches of the family business. But when he finds her, he must choose between honoring a promise or pursuing the woman he loves.
Release Day October 10, 2023